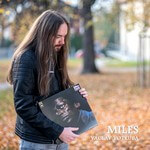 Naša (Česko-Slovenská) hudobná scéna je plná zaujímavých osobností, bez ohľadu na to, či sa bavíme o mladších, alebo starších ročníkoch. Dovolím si však tvrdiť, že v posledných rokoch sa objavila (alebo skôr prejavila?) jedna persóna, ktorá vyniká vo výraznej miere. Reč je o Václavovi Votrubovi,  človeku pôsobiacom vo viacerých kapelách. Túto jeseň si však pre fanúšikov prichystal aj jeden sólový EP album nazvaný Miles.
Hneď s prvými tónmi titulnej a zároveň prvej piesne bude každému jasné, že Václav sa odklonil od svojich dominantných žánrov, ktorými sú dark, doom, gothic, a priklonil sa skôr ku kombinácii jazz, ambient, elektronika. Práve vďaka tejto kombinácii sa k nám dostáva neskutočne pohodová, zároveň nesmierne kvalitná muzika, ktorá dokazuje, že svet hudby skutočne nemá hranice.
The Little Big Man ako song numero 2 pokračuje v kombinácii už spomínaných žánrov, ale zároveň máme možnosť počuť aj elementy metalovej hudby, z ktorej Václav vzišiel – konkrétne krásnu melancholickú atmosféru, schopnú povedať toho naozaj veľa nejednej duši.
Taktiež môžeme v obidvoch skladbách počuť aj krásny, rovnako nesmierne kvalitný ženský vokál, o ktorý sa na celej nahrávke postarali Barbora Urbanová a Veronika Seidlová. Na zmätenie nepriateľa potom pokračujeme songom s poradovým číslom tri, ktorý nesie názov Eleven. Pre zmenu máme tentokrát dočinenia s čisto inštrumentálnou vecou, kde najviac dominuje elektronika. No a na záver máme osamotený kúsok nazvaný Solitude, kde je možné zachyiť už aj nejaké tie rockové vplyvy.
Suma sumárum, ako som už napísal vyššie, EP Miles búra všetky predsudky zakorenené v hudbe, keď mixuje viacero, možno sa dá povedať až protichodných žánrov dokopy. Jazz a elektronika sú určite najdominantnejšie, avšak dôjde aj na ambient a dáky ten rock. Avšak recept na túto mixtúru je nesmierne kvalitný a vyvážený, a tak si trúfam povedať, že si na svoje prídu všetci fanúšikovia vyššie spomínaných žánrov. Album je zároveň aj rozumne vyrovnaný medzi tými pohodovejšími, a naopak melancholickejšími výtvormi. Inštrumentálna stránka je teda na veľmi vysokej úrovni. To isté možno povedať aj o tej vokálnej. Jediným negatívom tohto albumu je pre mňa osobne málo skladieb, pretože určite by som rád počul viac.
Čiže ak patríte medzi ľudí, ktorým nerobí problém prekračovať hranice žánrov, a zároveň hľadáte kvalitnú hudbu, tak si určite zadovážte album Miles. Stojí za to.
Lineup:
Václav Votruba – Klávesy, mellotron, gitara, basa, bicie
Hostia:
Veronika Seidlová – spev (2,4)
Barbora Urbanová – spev (1)
Luděk Štěpánek – saxofón (1,2,3)
Petra Votrubová – klávesy (4)
Tracklist:
Miles
The Little Big Man
Eleven
Solitude
Rok vydania: 2017
Vydavateľstvo: Supraphon
Youtube ukážka:
Linky:
http://www.vaclavvotruba.cz/
https://www.facebook.com/votrubacz/?pnref=lhc
http://bandzone.cz/vaclavvotruba
Hodnotenie: 5,5/6