Light The Torch – details of their upcoming album 
2. February 2018

American metalcore supergroup Light The Torch (before Devil you Know) will release new album Revival on 30. March.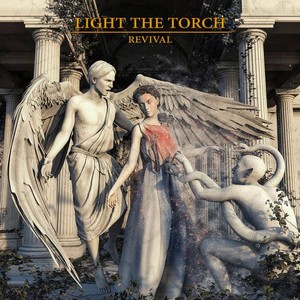 Tracklist:
Die Alone
The God I Deserve
Calm Before the Storm
Raise the Dead
The Safety of Disbelief
Virus
The Great Divide
The Bitter End
Lost in the Fire
The Sound of Violence
Pull My Heart Out
Judas Convention
This day they published videoclip for first song from it – Die Alone

The album artwork, was designed by Artusato.
Links:
https://www.facebook.com/LightTheTorchOfficial/?fref=mentions
Source of Information: https://www.facebook.com/nuclearblasteurope/
KOBRA AND THE LOTUS UNVEIL ALBUM DETAILS FOR 'PREVAIL II'! On North American Tour With THE TEXAS HIPPIE COALATION this April!
2. February 2018
Photo: Nat Enemede Photography
KOBRA AND THE LOTUS kept their word and will soon deliver the second part of their opus magnum one year after the successful release of rock juggernaut Prevail I!
Prevail II is the proverbial yang to the yin and continues right where KOBRA AND THE LOTUS left off in 2017. Set for a release on April 27th 2018 with Napalm Records, the band has now unveiled the cover artwork and track listing for their hotly anticipated Prevail II!
Says vocalist Kobra Paige: "Humanity. One of the greatest struggles of our human existence is to retain it. This sequel album takes a deeper dive into the darkness of our psyche and explores the personal torment and struggle we inflict upon ourselves, one another, and the earth. It has become common place for people to give up on themselves and lose their belief in their abilities and self-worth. This in turn affects our daily actions/behaviour. We are a cripplingly, self-harming species BUT we are also profoundly capable beings of altruism, evolution, and positivity. This album will close the 'Prevail' double sequel on the lightest of all notes by acknowledging that every single person has a desire to be and deserves to be truly seen, loved, and heard. When the ignorance is cleared, we can recognize that we are all in this together."
Tracklist:
Losing My Humanity
Let Me Love You
Ribe
My Immortal
Human Empire
Heartache
Velvet Roses
Modern Day Hero
You're Insane
White Water
The Chain
Let Me Love You (Acoustic Bonus Track)
KOBRA AND THE LOTUS know perfectly well what it takes to cater for the needs of every metal, hard & classic rock fan. With Prevail II the Canadian four piece delivers the grande final to their emotional and musically diverse Prevail-series while showing all of the band's facettes at its best: This is Pure Rock adrenaline!
Set for a release on April 27th 2018, 'Prevail II is now available to pre-order HERE!
In support of KOBRA AND THE LOTUS' brand new album, the band will be touring the States with THE TEXAS HIPPIE COALITION, make sure to catch them live on the following dates:
4/19 Salt Lake City, UT @ Metro Music Hall
4/20 Denver, CO @ Hermans Hideaway
4/21 Colorado Springs, CO @ Sunshine Studios
4/22 Kansas City, MO @ The Riot Room
4/25 Johnson City, TN @ MarX The Spot
4/26 Atlanta, GA @ The Masquerade
5/03 Louisville, KY @ Trixies
5/05 Winchester, VA @ Blue Fox
5/07 Providence, RI @ Alchemy
5/09 Rochester, NY @ Montage Music Hall
5/10 Clifton, NJ @ Dingbatz
5/11 New York, NY @ Kingsland
5/12 Harrisburg,PA @ Harrisburg Midtown Arts center
5/13 Warrendale, PA @ Jergels
5/15 Cleveland, OH @ Agora Ballroom
5/16 Flint, MI @ The Machine Shop
5/17 Joliet, IL @ The Forge
5/18 Battle Creek, MI @ The Music Factory
5/19 Racine, WI @ Route 20
5/20 St Louis, MO @ Fubar
5/23 Seattle, WA @ El Corazon
5/24 Portland, OR @ Hawthorne Theatre
5/25 San Francisco, CA @ DNA Lounge
5/27 Los Angeles, CA @ 1720
5/30 Phoenix, AZ @ Marquee Theater
6/01 Fort Worth, TX @ The Rail Club
6/02 Houston, TX @ Scout Bar
6/03 Austin, TX @ Come And Take it Live
Links:
https://www.facebook.com/KobraAndTheLotus
https://www.kobraandthelotus.com
https://www.napalmrecords.com
Source of Information: Napalm Records Promotion Team
SIGNS WORLDWIDE RECORD DEAL WITH
NAPALM RECORDS TO RELEASE FOURTH ALBUM
A DYING MACHINE
1. February 2018
Announcement Video Can Be Seen Here: https://youtu.be/qa6tGCWozAY
And Exclusive Fan Bundle Pre-Orders Now Available At:
https://www.fret12.com/collections/tremonti
Tremonti, the band comprised of Mark Tremonti on vocals/guitars, Eric Friedman on guitars, and Garrett Whitlock on drums, have signed a new worldwide record deal with Napalm Records. The band will be releasing their fourth full-length album, A Dying Machine, via the label. A teaser video from Mark announcing the album can be seen via Napalm's YouTube page here:
Napalm Records is home to metal notables such as DevilDriver, Otep, Myles Kennedy, Hoobastank, Life Of Agony, Monster Magnet, Kamelot, and W.A.S.P. among others. The label is also home to Mark Tremonti's other powerhouse band Alter Bridge and recently released the critically acclaimed collection Live From The O2 Arena + Rarities.
"I'm really looking forward to partnering up with Napalm again after they did such an excellent job promoting Alter Bridge," explains Mark Tremonti.
"We are thrilled to work with TREMONTI and are looking forward to a bright future with the upcoming releases!" adds Thomas Caser, Managing Director of Napalm Records.
Tremonti are currently in the studio recording A Dying Machine with longtime producer, Michael "Elvis" Baskette. The release date of the album will be announced in the future, but fans can go to https://www.fret12.com/collections/tremonti to pre-order the new album in various fan bundles. There is also an exclusive listening party and performance event scheduled for May 12th at the Social in Orlando, FL that is currently on sale. Tremonti has been confirmed as direct support for Iron Maiden throughout Europe in July. The band has also confirmed slots at Carolina Rebellion, Lunatic Luau, Graspop Metal Meeting, Hellfest & Wacken Open Air.
Mark Tremonti is the Grammy Award-winning guitarist and songwriter known for his work in the critically acclaimed Alter Bridge and in the multi-platinum rock juggernaut Creed. Having sold over 50 million records worldwide, Mark is the man behind massive hits like "My Own Prison", "Higher", "Isolation" and "Addicted To Pain."  His sound is recognizable and has garnered him a loyal fan base worldwide. Guitar World dubbed him "Guitarist of the Year" three consecutive years in a row, and he ranked as the "fourth greatest heavy metal guitarist ever" in Total Guitar.
Links:
https://www.marktremonti.com
https://www.facebook.com/MarkTremonti/
Source of Information: Napalm Records Promotion Team
ORPHAN SKIN DISEASES: DEAL WITH LOGIC IL LOGIC RECORDS
1. February 2018
Logic Il Logic Records & Burning Minds Music Group are pleased to announce the signing of alternative rockers, Orphan Skin Diseases, for the release of their eponymous debut album. Orphan Skin Diseases were formed in 2015 by drummer maestro Massimiliano Becagli, known on the Italian scene as the drummer for respected heavy metallers No Remorse. The Orphan Skin Diseases line-up was completed by the addition of skilled musicians from the Italian rock/metal scene: Gabriele Di Caro (ex Sabotage, ex Outlaw – Vocals), Juri Costantino (ex Creation – Bass) & David Bongianni (ex Virya, Little CB – Guitar). The band's style was built by mixing the influences from each musician in order to reach a refined and personal sound. Progressive rock music, heavy metal influences, funky hints and alternative elements are perfectly mixed and balanced to create a powerful-but-catchy experience.
However, music is not the only distinctive side of Orphan Skin Diseases. Their artistic approach shows comprehensive research on the lyrical side, with songs facing hard and challenging themes. The depletion of earth's resources and the dominance of financial lobbies are just a couple of examples, along with a structured analysis of human emotions and personal life experiences. The name of the band is taken from an international database granted to doctors around the world, who can read and insert data about unusual and unknown skin diseases; essentially another way to show a strong and helpful approach toward innocent and defenceless human beings. In 2017, the band entered the studio to record their official debut album, which is in the final mix/mastering stage at the Atomic Stuff Studio (Isorella – BS – Italy) under the technical supervision of sound engineer Oscar Burato. The tracklist, release date, and first official single will follow in the forthcoming weeks.
Links:
https://www.orphanskindiseases.it
https://www.facebook.com/orphanskindiseases
https://www.burningmindsgroup.com/logic-illogic
https://www.facebook.com/logicillogicrecords
Source of Information: Atomic Stuff Promotion