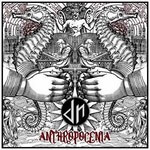 Black metalová scéna nepatrí k veciam, ktorými by bolo Francúzsko typické. No, ako to už býva, tak kapely tohto žánru nájdeme aj tam. Medzi ne patria napr. DunkelNacht. Tí začali pôvodne ako dark ambient projekt gitaristu Heimdalla, no niekoľko rokov už fungujú ako plnohodnotná kapela. V septembri minulého roka vydali štvorskladbové EP Anthropocenia.
To je charakteristické atypickým vyvážením skladieb, kde v slede tvrdých a úderných partií udrie náhla melodika. Na death/black metal je to nezvyčajne melodické. V hlbších tónoch growlu mi spevák pripomína speváka z The Project Hate alebo ex- Grave Jorgen Sandrstrom.
Hlavnou zbraňou celého EP je budovanie atmosféry. Do hudby sa občas pridajú aj klávesy.  Pri mixe a postprodukcii majú činely nádherný zvuk. Basa je na takej úrovni, aká má byť. Chválim aj nápadité logo a obal vytvorený pomocou ihly na plechu.
Záverečný verdikt: EP, ktoré poteší black/deathových, ale aj melodikov.
Lineup:
M.C. Abagor – Spev
Heimdall – Gitary
Alkhemohr – Basa
Tegaarst – Bicie
Tracklist:
Anthropocenia
Extinction
Nenia
Ikonoklazt
Rok vydania:  2017
Vydavateľstvo:  WormHoleDeath
Youtube ukážka:

Linky:
http://www.dunkelnacht.info/
https://www.facebook.com/DunkelNachtBand/
Hodnotenie:    4,5/6
Páčil sa ti tento článok?