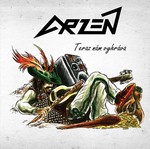 Viac než šesť rokov prešlo od tak trochu ,,experimentálneho" CD terchovských folk rockerov Arzén – Odpovede. Na tom aktuálnom Teraz nám vyhráva ,,chlapci z kraja Jánošíka" experimenty opustili a vrátili sa k ich typickému štýlu – hard/heavy rocku s folkovými motívmi.
Po úvodnom intre začnú pekne z ostra – energickou titulnou Teraz nám vyhráva. V nej vytasia všetky svoje zbrane – čiže špecifický zvuk, ktorým je táto kapela typická od začiatku jej tvorby, folkové motívy a taktiež pomerne unikátny spev frontmana Jara Gaža. Okrem toho je to jedna zo skladieb kde budeme okrem ,,rockových nástrojov" počuť aj ,,folkové inštrumenty", konkrétne husle hosťa Vladimíra Moravčíka.
Energia a dynamika dominuje na celom albume, pomalšia vec je tu iba jedna – päťka Dievčatko. Všetky skladby sú v podstate kombináciou folkových a rockových motívov.
K dokonalosti to dotiahli v deviatke Keď som išiel za ránky (melodické riffy + píšťalka). Až mi je trochu ľúto, že spomínané folkové nástroje sú iba v troch piesňach.
Z hľadiska hudobných výkonov k členom prakticky nemám výhrady, max. spevák Jaro mohol trochu pridať… Tým určite nemyslím žeby spieval zle, v minulosti  však dokázal viac pritlačiť na pílu (Boli to ručičky).
Texty pochádzajú z pera členov kapely (Jaroslav Gažo, Paľo Cabadaj), dvoch externých autorov a sedem piesní sú vlastne ľudové veci v ,,arzeňackom" kabáte.
Terchovčanom Arzén sa na záver roka 2017 podarilo vydať mimoriadne vydarený album, s potenciálom zaujať rockerov, metalistov ale aj ľudí mimo tento žáner. Jednoznačne si zaslúži umiestnenie v prvej topke.
Lineup:
Jaroslav Gažo – sólový spev
Pavol Cabadaj – gitary, spev
Igor Klein – gitary, vokály
Miroslav Fedor – basa
Ján Heinrich – bicie, perkusie
Hostia:
Vladimír Moravčík – husle (2)
Marcel Comendant – cimbál (5)
Patrícia Hanuliaková, Margaréta Kadašiová, Mária Pavlusiková – zbory (8)
Marek Pastirik – píšťala (9)
Rudy Zajac – vokál (4,7)
Tracklist:
Intro II.
Veru sme my chlapci
Páslo dievča pávy
Anička
Dievčatko
Jánošík
A ja smutný …
Danka, Janka
Keď som išiel za ránky
Pálené
Tmavá nôcka, tmavá
Hučia hory, hučia
Rok vydania: 2017
Vydavateľstvo: Topfest s.r.o.
Youtube ukážka:

Linky:
http://www.arzen.sk/
https://www.facebook.com/arzen.terchova/
Hodnotenie: 5/6