Judas Priest – turné k albumu Firepower bez Glenna Tiptona
12.2.2018
Gitarista heavy metalovej legendy Judas Priest – Glenn Tipton sa neobjaví na chystanom turné k chystanému albumu Firepower. Dôvodom je Parkinsonova choroba, ktorá mu bola diagnostikovaná už pred 10. rokmi. Jeho náhradou bude známy gitarista Hell a producent Andy Sneap.
Glenn povedal: ,,Chcem aby ste všetci vedeli, že turné prebehne a neopúšťam kapelu – jednoducho sa zmení moja úloha. Nevylučujem svoj návrat na pódia, keď sa budem na to cítiť. Teším sa, že v nie príliš vzdialenej budúcnosti sa znovu uvidíme."
To, že je stále členom kapely odkázal aj spevák Rob Halford.
Linky:
http://www.judaspriest.com/
https://www.facebook.com/OfficialJudasPriest/
Zdroj: http://www.blabbermouth.net/, Foto: www.wikipedia.org, www.metal-archives.com
Conan – chystaný album
12.2.2018
Popri neustálych koncertoch po celej Európe a Spojených štátoch britskí stoner metalisti Conan dávajú do kopy nový štúdiový album. Volať sa bude Existential Void Guardian a svetlo sveta uzrie 31. augusta 2018.
Linky:
http://www.hailconan.com
http://www.facebook.com/conancavemanbattledoom
http://www.napalmrecords.com
http://www.facebook.com/napalmrecords
Zdroj: Napalm Records Promotion Team
SURGERY – "Absorbing Roots"
CD-JEWEL BOX (17.2.2018)
11.2.2018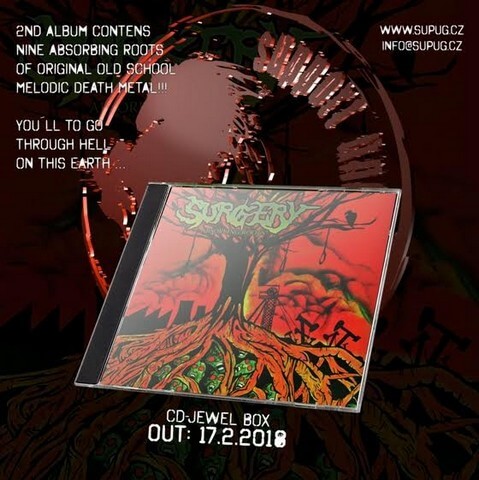 Nová akvizice v naší stáji se prezentuje tvorbou, jenž kombinuje klasické žánrové prvky s melodickými linkami, které pak společně s vokálem otiskují do jednotlivých skladeb jasně rozpoznatelný rukopis, v záplavě dalších kapel tak důležitý.
Veškeré tyto ingredience budou zastřešeny dílem nazvaným "Absorbing Roots", jenž navazuje na 6 let staré debutové album "Descent".
Originální grafický koncept vytvořil Adam Parazit Šluch a jeho studio Old Skull Artworks.
01. Absorbing Roots
02. Clinic Death
03. Image in the Mirror
04. Paradise
05. River in Silence
06. Hands in Chains
07. Mental Demise
08. Grime
09. Depressive Reality
Recorded, Mixed and Mastered by Martin Barla at MF studio, Poprad 2017
Music & Lyrics: Surgery (2014-2017)
Cover artwork: Adam Šluch – Old Skull Artworks
Photography by: Radoslav Vastuško
SURGERY:
Miroslav Tatranský – guitars
Petr Mikolaj – drums
Radoslav Body – guitars
Rastislav Šelleng – vocals
Róbert Hanečák – bass
Facebook: https://www.facebook.com/Surgery.Poprad/
Bandzone: http://bandzone.cz/surgery
Contact: helljahve@azet.sk
Oficiální trailer:

Objednávejte na:
http://www.supug.cz
Zdroj: Support Underground
Páčil sa ti tento článok?