Judas Priest – tour to  Firepower album without Glenn Tipton
12.2.2018
Legendary guitarist of Judas Priest, Glen Tipton, wouldn´t perform on concerts from tour to Firepower. Reason is Parkinson's disease. It was diagnosed him ten years ago. He has asked PRIEST producer and HELL guitarist Andy Sneap to play instead of him.
Glenn said: ,,I want everyone to know that it's vital that the JUDAS PRIEST tour go ahead and that I am not leaving the band — it's simply that my role has changed. I don't rule out the chance to go on stage as and when I feel able to blast out some PRIEST! So at some point in the not-too-distant future, I'm really looking forward to seeing all of our wonderful metal maniacs once again."
Rob Halford said for U.K.'s Kerrang! magazine: ,,There's been a lot of emotion today with the announcement, but we're very happy for Glenn, that he's been able to make a decision that's good for him and where he's at right now," Halford said. "Glenn's thing was that this was all about the band. It was the band, the band the band. And we said, 'No, it's about what's best for you,' and he said, 'No, I want what's best for the band.' Which just goes to show you where his heart is at."
Links:
http://www.judaspriest.com/
https://www.facebook.com/OfficialJudasPriest/
Source of Information: http://www.blabbermouth.net/
12.2.2018
While constantly touring all over Europe and the United States, CONAN are currently putting the final touches on the follow up to their latest 2016-studio record 'Revengeance'! Now the band unveiled first details about their upcoming full length, titled 'Existential Void Guardian' and which will see the light of day on August 31st 2018 with Napalm Records!
Says guitarist & vocalist Jon Paul Davis: "Existential Void Guardian expands upon our previous lyrical and conceptual ideas. Bringing the listener's focus from the screens of our favourite arcade machines to the minds of the characters through who's eyes we view the 2 dimensional plane. Chris Fielding produced this album at Skyhammer Studio and we had audio wizard James Plotkin handle the mastering again. Artwork will be by Tony Roberts."
Beside a heavy UK-touring schedule with MONOLORD this Spring, CONAN are currently on tour in North America. Make sure to catch these doom heavyweights and their massive wall of sound live on the following dates!
CONAN on tour with THE DITCH AND THE DELTA:
2/12: Salt Lake City, UT @ Urban Lounge
2/13: Boise, ID @ Neurolux
2/15: Seattle, WA @ Chop Suey
2/16: Portland, OR @ Sabertooth Fest*
2/17: Eugene, OR @ Old Nicks
2/18: San Francisco, CA @ Thee Parkside
2/19: Los Angeles, CA @ The Echo
2/20: Phoenix, AZ @ Yucca Tap
2/21: Albuquerque, NM @ Sister Bar
2/22: El Paso, TX @ Neon Rose
2/23: Austin, TX @ Lost Well
2/24: Little Rock, AR @ White Water Tavern
2/25: Memphis, TN @ Growlers
2/26: Knoxville, TN @ Pilot Light
2/27: Atlanta, GA @ The 529
2/28: Asheville, NC @ Mothlight
3/1: Richmond, VA @ Strange Matter
3/2: Washington, DC @ Atlas Brew Works
3/3: Philadelphia, PA @ Kung Fu Necktie
3/4: Brooklyn, NY @ Saint Vitus
3/5: Providence, RI @ Alchemy
3/6: Boston, MA @ Middle East Upstairs
3/7: Rochester, NY @ Photo City
3/8: Cleveland, OH @ Grog Shop
3/9: Lexington, KY @ Cosmic Charlies
3/10: Chicago, IL @ Reggies
3/11: Minneapolis, MN @ 7th St. Entry
3/12: Omaha, NE @ Lookout Lounge
3/13: Denver, CO @ Hi-Dive
*CONAN Only
CONAN on tour with MONOLORD:
May 04 – Berlin, DE: Desertfest*
May 05 – Nijmegen, NE: Doornroosje (w/Monster Magnet)*
May 06 – TBA*
May 07 – Birmingham, UK: Mama Roux's
May 08 – Manchester, UK: Rebellion
May 09 – Glasgow, UK: Audio
May 10 – Nottingham, UK: Rescue Rooms
May 11 – Brighton, UK: The Green Door Store
May 12 – Bournemouth, UK: The Anvil*
May 12 – Madrid, ES: Kristonfest**
May 14 – Bristol, UK: Thekla
May 15 – Dublin, IE: Voodoo Lounge
May 16 – Belfast, UK: Voodoo
May 17 – Stoke, UK: Sugarmill
May 19 – TBC
May 20 – Leiden, NE: Gebr De Nobel (Small Hall)*
*Monolord only
**Conan only
On November 17th 2017 CONAN released their demo collection titled 'Man Is Myth – Early Demos' on Napalm Records, a must-have for all collectors and nostalgics alike! To shorten your wait until the band's upcoming and brand new August- release 'Existential Void Guardian', you can purchase 'Man Is Myth – Early Demos' HERE!
Links:
http://www.hailconan.com
http://www.facebook.com/conancavemanbattledoom
http://www.napalmrecords.com
http://www.facebook.com/napalmrecords
Source of Information: Napalm Records Promotion Team
SURGERY – "Absorbing Roots"
CD-JEWEL BOX (17.2.2018)
11.2.2018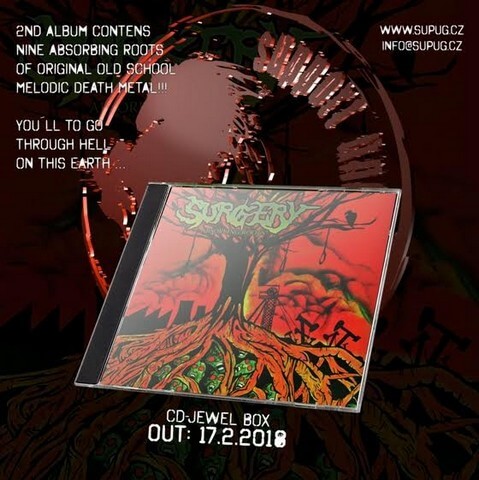 Slovak death metalists Surgery released new album "Absorbing Roots"via Czech label Support Undeground. Author of cover is Adam Parazit Šluch from studio Old Skull Artworks.
01. Absorbing Roots
02. Clinic Death
03. Image in the Mirror
04. Paradise
05. River in Silence
06. Hands in Chains
07. Mental Demise
08. Grime
09. Depressive Reality
Recorded, Mixed and Mastered by Martin Barla at MF studio, Poprad 2017
Music & Lyrics: Surgery (2014-2017)
Cover artwork: Adam Šluch – Old Skull Artworks
Photography by: Radoslav Vastuško
SURGERY:
Miroslav Tatranský – guitars
Petr Mikolaj – drums
Radoslav Body – guitars
Rastislav Šelleng – vocals
Róbert Hanečák – bass
Facebook: https://www.facebook.com/Surgery.Poprad/
Bandzone: http://bandzone.cz/surgery
Contact: helljahve@azet.sk
Trailer

Order on:
http://www.supug.cz
Source of Information: Support Underground