Hammerfall – re-released Legacy of Kings album
26. October 2018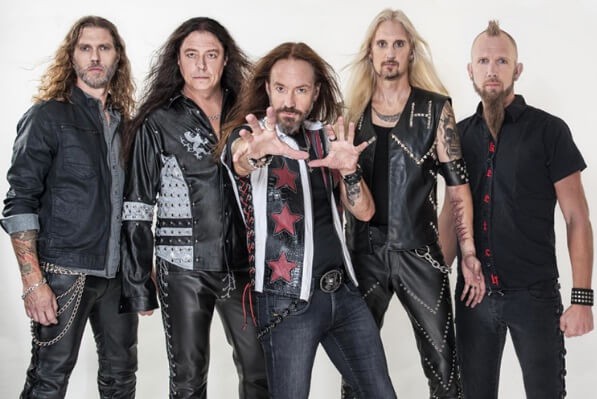 Swedes Hammerfall announced re-released legendary album Legacy of Kings like CD/DVD box set. Date of release is 7. December.
"The all-important second album. After the immediate success of Glory To The Brave, the pressure was on us to deliver. But we weren't worried, we had a vision of the perfect Heavy Metal band and were intent on following through on it", – said Oscar Dronjak
Links:
http://www.hammerfall.net/
https://www.facebook.com/hammerfall
https://www.youtube.com/user/HammerFall4REAL?
Source of Information: https://www.facebook.com/nuclearblasteurope/, photo: www.metal-archives.com
Trollfest – to release new album "Norwegian Fairytales" on January 18th, 2019!
25. October2018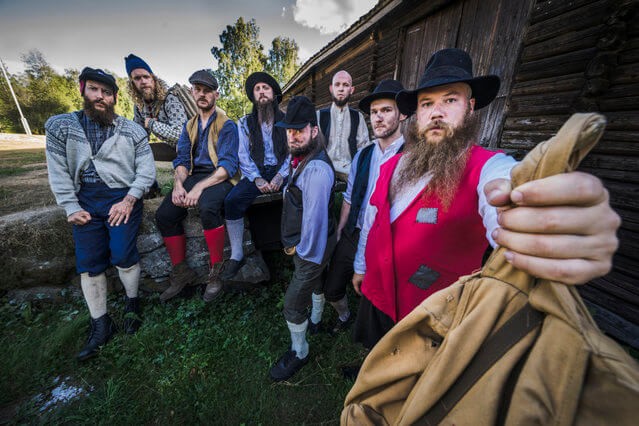 It's shortly after Christmas, that trollish activities are at their highest, so prepare for some tiny people to deliver "Norwegian Fairytales" to you on January 18th, 2019.
Oslo's folkish madmen TROLLFEST are back with a bag full of hymns and what would be a better thematical choice for their eighth album than than a concept based on various Norwegian myths and legends?
TROLLFEST states:
"With "Norwegian Fairytales" we wanted to do something we have never done before, embracing Norwegian Folk-music and Norwegian Folk-lore. When we started this project, we had no idea how difficult it would be to combine Norwegian Folk-melodies together with our Balkan-influences, but after one year of trial and error we ended up with 11 killer tracks and we can't wait to share this with the rest of the world. "Norwegian Fairytales" is 100% "True Norwegian Balkan Metal"!"
With eight full-length releases since their inception in 2004, the trollish powerhouse has constantly kept their fans busy with new music and unrivalled live shows, but this time the lyrics on beer orgies performed in their unique "Trollspråk" have made room to the more ambitious topics and legends that the band wisely chose from their ancestral books and performs in Norwegian language.
But fear not, little party goblins! With still tons of high quality entertainment, humour and unbound energy left, TROLLFEST keep their status as the craziest band in the folk metal forest!
Links:
https://www.trollfest.com
https://www.facebook.com/trollfestofficial
https://www.noiseart.eu
Source of Information:  NoiseArt Records
LORD OF THE LOST Conclude Their Successful Year With An Epic Live DVD: Confession (Live at Christuskirche)
24. October 2018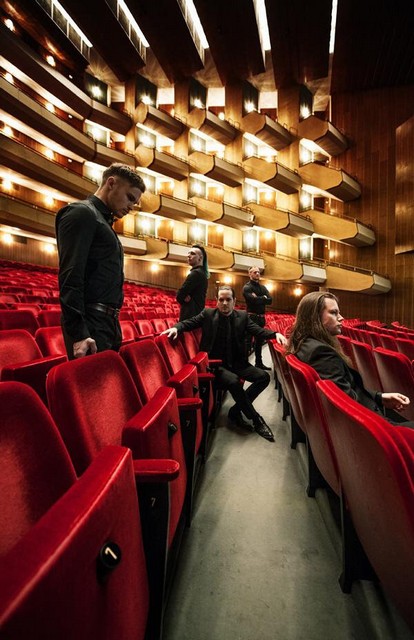 Photo Credit: Franz Schepers
2018 couldn't have been better for LORD OF THE LOST: Big headliner tour, impressive festival shows and the release of their sixth studio album Thornstar, which debuted #6 of the German album charts.
To finish the year properly the band has a special Christmas gift from November 16th: Confession (Live at Christuskirche).
There LORD OF THE LOST celebrate their unpredictable variety once again and present old songs in a new classic guise – including a live ensemble and an impressive location.Recorded in the Christuskirche Bochum during their "Swan Songs Tour 2017", stunningly arranged dark rock symphonies can be found between dramatic chamber orchestra arrangements with gentle strings and piano. The well known hard sound yields to leave some room for intense goosebumps
Linksy:
http://lordofthelost.de/
https://www.facebook.com/lordofthelost/
Source of Information: Napalm Records Promotion Team, photo: Franz Schepers
Virgin Steele – anniversary box set
22. October 2018
Virgin Steele will release special box set Seven Devils Moonshine on 3. November. It will be contains 5 CD – 3 new albums, 2 re-released classics albums.
From David DeFeis: "Cheers, Greetings & Salutations Dear Ever Faithful Eternal Metal Listeners and Friends of the Musical Realm & Written Word Domain! I am putting pen to paper today to inform you all about what we have been doing over the past year and what this Box-Set you are now holding in your hands is all about, its backstory…how we arrived here at this place, and perhaps a bit more about where we might be heading.  
As some of you may know we have been re-issuing the VIRGIN STEELE Catalogue bit by bit over the past several years, and in doing so we have consistently been adding copious amounts of Bonus Material to accompany all these various re-issue offerings. The last two albums scheduled as part of the re-issue campaign we began, are the albums: THE BOOK OF BURNING & HYMNS TO VICTORY. When those two albums first appeared they were released simultaneously, therefore we thought why not once again issue them at the exact same time, but…this time let's include a brand new album and create a kind of Box Set package. Well…once we began planning and recording for such an endeavor we very soon accumulated far more material than what could possibly fit on one disc…so…we thought OK fine…we'll plan on releasing two new discs chock full of new material to go along with these last two re-issues…and…shortly after that decision was made, we managed to record even more new material, so now we have in addition to the two re-issues, (which by the way do contain one bonus track each), well Friends we now have actually three brand new discs of VS material included within this special Box Set release!  
I wish to stress the fact that what we have done here with our Box Set is include 3 brand new albums, not bundle in merely a collection of old bonus tracks we had hanging around for ages and ages… These 3 new discs contain either brand new original songs written and recorded within just these past few months, or brand new re-written covers of songs that we enjoy and felt could be re-cast in the VS style, or…new recordings of classic VS material done either in a special orchestral type setting or stripped way down and re-imagined in vastly different form. Again at the risk of repetition…these aren't tracks that have been sitting around in the vaults waiting…these are all newly recorded tracks completed specifically for this particular Box Set release. I don't know if anyone has ever done this kind of thing before, but we felt that for us it was absolutely necessary to do this, and it makes perfect sense for where we are…at this moment.  
OK Friends with glass in hand as is only proper as proprietor of the Vineyard, I shall be your guide to this Netherworld and I shall discuss and try to reveal a bit of something about the "Spirit" and "Flavor" of each of the 5 Discs contained within this Epic Box Set we call: SEVEN DEVILS MOONSHINE."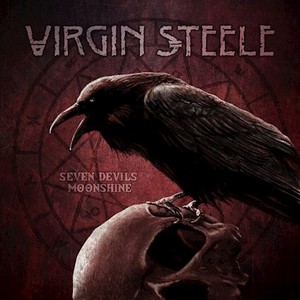 CD 1 "Ghost Harvest (The Spectral Vintage Sessions)" Vintage 1 – Black Wine For Mourning (new album)
1. SEVEN DEAD WITHIN
2. GREEN DUSK BLUES
3. PSYCHIC SLAUGHTER
4. BONEDUST (Orchestral Version)
5. HEARTS ON FIRE
6. CHILD OF THE MORNING STAR
7. MURDER IN HIGH-GLOSS RELIEF
8. FERAL
9. JUSTINE
10. PRINCESS AMY
11. WICKED GAME
Clouds Of Oblivion Medley (Tracks 12 & 13)
12. LITTLE WING
13. THE GODS DON'T REMEMBER…
CD 2 "Ghost Harvest (The Spectral Vintage Sessions)" Vintage 2 – Red Wine For Warning (new album)
1. THE EVIL IN HER EYES (Piano & Vocal Version)
2. FEELIN' ALRIGHT
3. SISTER MOON
Summertime Darkness Suite (Tracks 4, 5, & 6)
4. SWEATING INTO DAWN
5. SUMMERTIME
6. BLACK LEAVES SWIRL DOWN MY STREET
7. RIP OFF
The Gods Are Hungry Triptych (Tracks 8, 9, & 10)
8. THE GODS ARE HUNGRY POEM
9. THE POISONED WOUND
10. THE BIRTH OF BEAUTY
11. PROFESSION OF VIOLENCE…
12. ROCK STEADY
13. NUTSHELL
14. SLOW & EASY "INTRO"
15. JESUS JUST LEFT CHICAGO
Late Night Barroom Hoodoo Medley (Tracks 16, 17, 18, & 19)
16. SOUL KITCHEN
17.WHEN THE MUSIC'S OVER
18. CRAWLING KING SNAKE
19. WHEN THE MUSIC'S OVER "Reprise"
20. IMHULLU
The Drained White Suite (Tracks 21, 22, & 23)
21. AFTER DARK
22. WAKE THE DEAD
23. THE GRAVEYARD DANCE
24. THE TRIPLE GODDESS
25.TWILIGHT OF THE GODS (Live Acoustic Rehearsal Version)
26. TRANSFIGURATION (Live Acoustic Rehearsal Version)
CD 3 "Gothic Voodoo Anthems" (new album)
1. I WILL COME FOR YOU (Orchestral Version)
2. QUEEN OF THE DEAD (Orchestral Version)
3. THE ORPHEUS TABOO (Orchestral Version)
4. KINGDOM OF THE FEARLESS (The Destruction Of Troy) (Orchestral version)
5. THE BLACK LIGHT BACCHANALIA (Orchestral Version)
6. ZEUS ASCENDANT
7. BY THE HAMMER OF ZEUS (And The Wrecking Ball Of Thor) (Orchestral Version)
The Gothic Voodoo Suite (Tracks 8, 9 & 10)
8. RUMANIAN FOLK DANCE No. 3 "PE LOC"
9. DELIRIUM "Excerpt"
10. SNAKESKIN VOODOO MAN (Orchestral Version)
11. THE ENCHANTER
The Fire & Ice Medley (Tracks 12, 13 & 14)
12.  BONE CHINA
13.  NO QUARTER
14. BONE CHINA "Reprise"
Passion In The French Quarter Medley (Tracks 15 & 16)
15.  CHLOE DANCER
16. GENTLE GROOVE
17. DARKNESS-DARKNESS
18. DEATH LETTER BLUES
19. SPOONFUL
CD 4 "Hymns To Victory" (re-release)
1.   FLAMES OF THY POWER (From Blood They Rise)
2.   THROUGH THE RING OF FIRE
3.   INVICTUS
4.   CROWN OF GLORY (UNSCARRED) (In Fury Mix)
5.   KINGDOM OF THE FEARLESS (The Destruction Of Troy)
6.   THE SPIRIT OF STEELE (Acoustic Version)
7.   A SYMPHONY OF STEELE (Battle Mix)
8.   THE BURNING OF ROME (Cry For Pompeii)
9.   I WILL COME FOR YOU
10. DUST FROM THE BURNING & AMARANTH (Orchestral Versions) – Bonus Tracks
11.  NOBLE SAVAGE (Long Lost Early Mix)
12.  MISTS OF AVALON
13.  EMALAITH
CD 5 "The Book Of Burning" (re-release)
1. CONJURTION OF THE WATCHER
2. DON'T SAY GOODBYE (TONIGHT)
3. RAIN OF FIRE
4. ANNIHILATION
5. HELLFIRE WOMAN
6. CHILDREN OF THE STORM
7. THE CHOSEN ONES
8. THE SUCCUBUS
9. MINUET IN G MINOR
10. THE REDEEMER
11. I AM THE ONE
12. HOT AND WILD
13. BIRTH THROUGH FIRE
14. GUARDIANS OF THE FLAME
15. THE FINAL DAYS
16. A CRY IN THE NIGHT
17. QUEEN OF THE DEAD (Nordic Twilight Version) – Bonus Track
Links:
http://www.virgin-steele.com/
https://www.facebook.com/VIRGINSTEELEOFFICIAL/
Source of Information:  Steamhammer / SPV