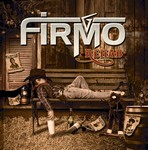 Keď pravidelne čítavate náš web viete, že talianska scéna patrí k najdynamickejším v Európe. Dôkazom je mnoho interpretov všetkých žánrov – napr. gothici Lacuna Coil, symfonic/power metaloví Rhapsody of Fire, hard rockoví Saints Trade a ďalší… Do poslednej skupiny patrí aj muzikant menom Gianluca Firmo.
Daný interpret sa preslávil ako súčasť AOR projektu Room Experience, kde spolupracoval aj so známym Davidom Readmanom (Pink Cream 69, Voodoo Circle). Album Rehab je jeho prvotinou. Okrem Európy sa dočkal aj vydania v krajine rocku a metalu zasľúbenej – Japonsku.
Jeho obal síce vyzerá ako keby išlo o nejakého country interpreta, no treba sa držať pravidla ,,nesúď album podľa obalu". Muzikou ,,Firmovcov" je veľmi pohodový a kvalitný melodický hard rock/soft rock, sem tam s prvkami bluesu. Okrem pomalších skladieb sa na albume nájdu aj energickejšie kúsky, ako napr. A Place For Judgement Day, No Prisoners, Rehab. Všetky však majú spoločné prvky – melodickosť, nenáročnosť na počúvanie a podobne.
Hlas hlavného protagonistu očarí hlavne svojou farbou a charizmou (mierne pripomína istého Jona Bon Joviho). Nie je to síce žiaden Ian Gillan, ani Roger Plant, no do takejto hudby neskutočne sedí. Jeho spev dopĺňajú vkusne vystavané doprovodné vokály.
Album Rehab je ako stvorený na to, keď si napr. chcete oddýchnuť pri príjemnej muzike. Zároveň je dôkazom, že s koncom 80tych rokov takáto muzika nevymrela. Okrem melodikov určite poteší aj ,,drsnejších rockerov".
Lineup:
Gianluca Firmo – spev, doprovodné vokály a klávesy
Davide "Dave Rox" Barbieri (Raintimes, Room Experience, Wheels Of Fire, Charming Grace) – doprovodné vokály
Mattia "Noise Maker" Tedesco (Vasco Rossi, Gianluca Grignani, Candies For Breakfast) – gitary
Nicola Iazzi (Hardline, Candies For Breakfast) – basa
Daniele Valseriati (Tragodia) – bicie a perkusie
Hostia:
Paul Laine (The Defiants, Danger Danger) – doprovodné vokály
Mario Percudani (Hungryheart, Hardline) – gitary
Stefano Zeni (Wheels Of Fire, Room Experience) – gitary
Carlo Poddighe – gitary
Pier Mazzini (Danger Zone) – klávesy
Andrea Cinelli – piano
Alessandro Moro – saxofón
Tracklist:
A Place For Judgement Day
Heart Of Stone
Shadows And Lights
Maybe Forever
No Prisoners
Didn't Wanna Care
Unbreakable
Don't Dare To Call It Love
Cowboys Once, Cowboys Forever
Rehab
Until Forever Comes
Everything
Rok vydania: 2018
Vydavateľstvo: Street Symphonies Records & Burning Minds Music Group
Youtube ukážka:

Linky:
https://www.facebook.com/glfirmo
Hodnotenie: 5/6
Páčil sa ti tento článok?