GLORYHAMMER – Release Second Single And Video "The Siege Of Dunkeld (In Hoots We Trust)"
10. May 2019

In Hoots We Trust!
Mighty warriors of the galaxy! Today, GLORYHAMMER release the second single and lyric video "The Siege Of Dunkeld (In Hoots We Trust)" from their upcoming third albumLegends from Beyond the Galactic Terrorvortex!
The epic fight of crown prince Angus McFife against evil continues!
At the end of the second GLORYHAMMER album Space 1992: Rise of the Chaos Wizards, Planet Earth had been destroyed by the Hootsman, with an explosion so powerful it ripped a hole in the very fabric of spacetime. And yet, Zargothrax was still not defeated, for he managed to use his last shreds of power to escape through the dimensional rift. Vowing to defeat the evil sorcerer, Angus McFife XIII followed him into the portal, with no idea where it might lead…
"The Siege Of Dunkeld (In Hoots We Trust)" is the first part of the third thrilling chapter of the GLORYHAMMER saga and tells what Angus McFife XIII comes upon when escaping the wormhole.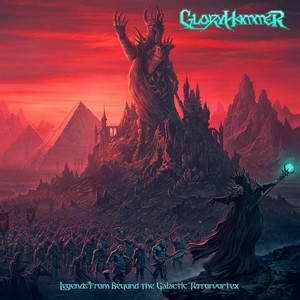 Tracklist:
Into the Terrorvortex of Kor-Virliath
The Siege of Dunkeld (In Hoots We Trust)
Masters of the Galaxy
The Land of Unicorns
Power of the Laser Dragon Fire
Legendary Enchanted Jetpack
Gloryhammer
Hootsforce
Battle for Eternity
The Fires of Ancient Cosmic Destiny
I: Dundaxian Overture
II: The Battle of Cowdenbeath
III: Return of the Astral Demigod of Unst
IV: The Knife of Evil
V: Transmission
Watch the video for "The Siege Of Dunkeld (In Hoots We Trust)":
Zargothrax on the new album:
"Oh wow! I know a lot of people have been waiting on this album for what seems like centuries. For the last three years we've been working non-stop on it in absolute secrecy, and now it is finally complete! We can't wait for y'all to hear it…this is the greatest power metal album of all time. HOOTS!"
Links:
https://gloryhammer.com/
https://www.facebook.com/gloryhammer/
Source of Information: Napalm Records Promotion Team, photo: https://www.metal-archives.com
Reveal Sign With Wormholedeath And Announce "Overlord" Album Release Date!
8. May 2019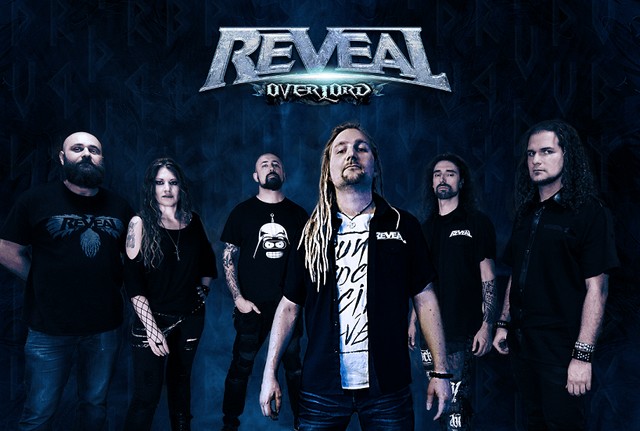 Reveal, the international Tino Hevia´s band from Spain (Darksun and Nörthwind) and the famous  Swedish Youtuber Rob Lundgren, signed with WormHoleDeath a deal for theworldwide release of their best album "Overlord" . 
"Overlord" will be out on 24/05/2019 via Wormholedeath/The Orchard/Wormholedeath USA.
Statement: 
"We are proud to work with our new family and show you our best work. "Overlord" has been recorded between 3 countries (Spain, Sweden and Germany), mixed and mastered By Marcos Rodríguez from the legendary metal band Rage, it features very special guests like Derek Sheridan (Songs of Apollo, ex- Dream Theater), Chen Balbus (from Orphaned Land & The Secret Saints) and Marcos Rodríguez from Rage.
Deluxe cover artwork by Felipe Machado (Blind Guardian, Iced Earth and many others). Is Time To Reveal.  #istimetoreveal"
Tracklist:
The Name Of Ra
I'm Elric
Master of Present and Past
The Crussaders
My Pain
Metal Skin
Path of Sorrow
It's only a Show
Remember my Words
Road of Never ending
It's only a Show (ft. Saeko) – Bonus track
Biography:
Reveal is a new band put together by Tino Hevia,one of the founders and composers of Darksun and Nörthwind. For Reveal, Tino recruited acclaimed Swedish singer Rob Lundgren, a well-known Youtube presence with more than 139,000 followers and over 500,000 new views of his videos every month. Reveal's debut album also featurescollaborations with musicians from leading metal acts, including: Marcus Siepen of Blind Guardian, Marcos Rodriguez of Rage, and Tom Nauman of Primal Fear. Reveal's recording and touring lineup is completed by well-known Spanish musicians with extensive experience in the studio and live arena: David Figuer, Dani Cabal, Jorge Ruiz, and Helena Pinto. Tino recorded two albums with Nörthwind, and has eight albums with Darksun. Throughout his career with these two bands he has shared the stage with Rage, Savatage, Sinergy, Bruce Dickinson, Angra, Motorhead, and many ot
Links:
http://www.revealband.com/
https://www.facebook.com/RevealOfficial/
Source of Information: WormHoledeath Press
CREMATORY – Sign With Napalm Records!
8. May 2019
German metal legends CREMATORY join forces with Napalm Records!
One of the pioneering acts of the fertile European goth metal scene in the 1990s,CREMATORY began as a strict death metal unit in 1991 before adding goth and industrial elements into their arsenal. In their 28 year long career, the band, centered around original members Markus Jüllich and Felix Stass, released 14 studio albums, three live albums, various compilations and splits, played hundreds of shows around the globe and they are still hungry for more.
Napalm Records is proud to announce the partnership with CREMATORY, one of the most influential bands of the last several decades and to work on their next studio album, which will be out in spring 2020.
CREMATORY also partnered up with Napalm Events Booking as their new worldwide booking agency, which will organize a massive tour in spring 2020, next to the release of the new studio album!
Crematory on the signing:
"We are looking forward to the cooperation with Napalm Records and Napalm Events Booking and we are happy to announce the release of our new studio album and tour in spring/summer 2020.
After 28 years of CREMATORY it`s great to be a part of Napalm Records and Napalm Events Booking, with their worldwide connections, distribution and their great promotion department. They are one of the leading metal labels in the world."
Markus / CREMATORY
Discography:
1993: Transmigration
1994: …Just Dreaming
1995: Illusions
1996: Crematory
1997: Awake
1999: Act Seven
2000: Believe
2004: Revolution
2006: Klagebilder
2008: Pray
2010: Infinity
2014: Antiserum
2016: Monument
2018: Oblivion
2020: TBA
Links:
http://www.crematory.de/
https://www.facebook.com/CREMATORY/
https://www.youtube.com/c/CrematoryDe
Source of Information: Napalm Records Promotion Team
AXEL RUDI PELL – upcoming album
6. May 2019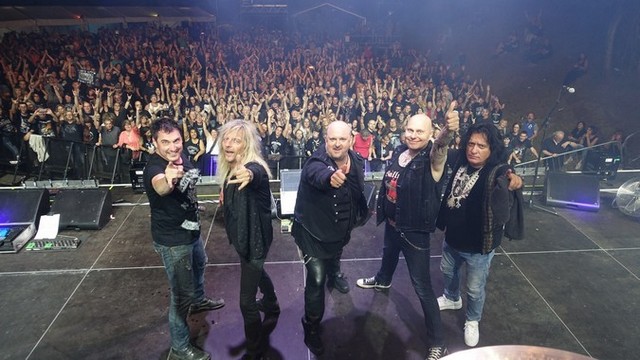 Does anybody remember 1989? When Axel Rudi Pell released his first solo effort "Wild Obsession", the Berlin Wall had just come down. It's been ages, right? And the world has changed. Axel Rudi Pell hasn't.
For three decades, the Bochum-based guitarist has ticked and worked like a Swiss clock releasing critically acclaimed hard rocking albums consistently. Like his anniversary offering, a live document of his most recent tour. And it will come out on the same record company as his debut in 1989; his contract with legendary label SPV having lasted longer than the average marriage these days. "SPV and I have grown together, we have witnessed highs and lows and we've managed to get through them all," the 58-year-old musician states with a smile. "Never change a winning team" is the secret of his success. Having sold more than 1.6 million records so far, Pell also has a ridiculous amount of online streams: his songs have been streamed more than 37.5 million times, figures he would never have dreamt of when he first started out."If the whole thing hadn't taken off, I'd be bored to tears in my trained job as an industrial management assistant to this very day." Make it or break it: Since his very first chart entry with his fourth studio album "Between The Walls" in 1994 (no. 90 in the German charts), Pell has known that he's been heading in the right direction. After that he's never taken a wrong turn. One reason for this is his flair for talent: "In Germany there hardly were and still aren't any singers who are compatible with my music." For this reason, he has thought in international terms from the start, his first few albums featuring some of the world's best vocalists in the hard rock genre: Charlie Huhn (ex-Ted Nugent, Gary Moore, Victory, now with Foghat), Rob Rock (ex-Impellitteri, Driver) and Jeff Scott Soto (ex-Yngwie Malmsteen, Talisman, now with progressive super group Sons Of Apollo). When former Hardline frontman Johnny Gioeli joined in 1998, they formed a creative unit that has lasted ever since, no end in sight. And after ex-Rainbow/Black Sabbath/Blue Öyster Cult drummer Bobby Rondinelli joined the Pell fold in 2013, the band – which also features keyboardist Ferdy Doernberg (since 1998) and bassist Volker Krawczak (since 1989) – has made another huge leap forward in terms of quality. Blood, sweat and tears mean a lot to Pell, which was recognized by the great and late Ronnie James Dio, too: When Pell and his band got the opening slot for Heaven & Hell (the Dio-fronted version of Black Sabbath) in Germany in 2009, the legendary singer knighted his support act, saying: "You've got the job because you're good."
Take it or leave it, over the last thirty years Axel Rudi Pell has been one of the constant and eminent figures of the international hard rock circus. Speaking of which: He has a long history with Wacken as well. Since 1999, Pell has played the main stage of the world's biggest heavy metal festival six times. Because: "Wacken and I have grown together, too. It's fascinating to see how many fans you can reach with your own songs." Even in Russia Pell is a star in his own right. He took the stage at an award show at the Moscow Kremlin at the end of March 2019, performing alongside renowned acts such as Chris De Burgh, Michael Bolton and Leona Lewis, selling out a 2,000-capacity venue the night after that. "The fans sang along to all the lyrics, I couldn't move anywhere without signing autographs and having selfies taken." That Pell hysteria has led to another Russian adventure: He is set to perform during the prestigious 'White Nights' festival in St. Petersburg in July 2019.
On time for this event "XXX Anniversary Live", his 30th album release in as many years, will see the light of day on June 6th 2019. A milestone by all accounts and a stunning document of his most recent tour which he did not plan at all, but the recordings, from Bochum and Budapest among others, were so good that he felt he just couldn't scrap them. They are a worthy follow-up to "Magic Moments", his 3-hour anniversary show at the 'Bang Your Head' festival in 2014, where he celebrated 25 years as a solo artist. BTW: Pell is planning to bring out another studio effort in spring 2020. The Swiss clock from the Ruhr area is till ticking. No worries there.
Release date: 7 June 2019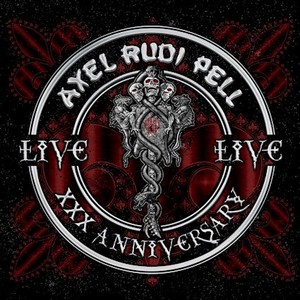 Tracklist:
CD1
The Medieval Overture (Intro)
The Wild And The Young
Wildest Dreams
Fool Fool
Oceans Of Time
Only The Strong Will Survive
Mystica (incl. Drum Solo)
Long Live Rock
CD2
Game Of Sins / Tower Of Babylon (incl. Keyboard Solo)
The Line
Warrior
Edge Of The World (incl. Band Introduction)
Truth And Lies
Carousel
The Masquerade Ball / Casbah
Rock The Nation
Links:
https://www.axel-rudi-pell.de/
https://www.facebook.com/axelrudipellofficial/
Source of Information: SPV/Steamhammer