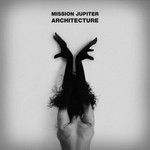 Sometimes it happens to me, that I have had a lack of contact with music from some country. But then, the first musician contact is great. And of these countries is also Belarus – I have received album Architecture from band Mission Jupiter few days ago.
Immediately intro The Dawn will show us, that we will face something special, and next song only affirm it. Experimental/alternative/dream/progressive rock on a highest level. In practise it means calm atmosphere, sophisticated compositions, alternations of softer and harder parts, beautiful woman vocal, and saxophone.
It is hard to say, which of mentioned element is the best. And honestly, we haven´t to care about it, because all of them together create original, genial result. Best high about it is fact, that these attributes are true for all songs- 9 plus intro and outro.
Record set from first second high level of a quality, and never go under across the whole album. It is the same with originality, without some purposeless experiments.
Listener will be surprised, how musicians can destroy borders of music genres. Their job done perfectly all of musicians – instrumentalist and also Nastia on vocals. I don´t know, what I can criticize.
Lineup:
Shevtsova Nastya – Vocals
Vladimir Shvakel – Guitar
Artyom Gulyakevich – Bass
Eugenue Zuev – Drums
Dmitri Soldatenko – Saxophone
Tracklist:
The Dawn
I Have to Know
Either Dream or Not
Will You Be Loved
The Sea of Hopes
The Sea of Hopes, Pt. 2
Year of Release: 2019
Label:Self-Released
Youtube teaser: