Modern Metal Favorites JINJER Return with New Album, Macro, out October 25, 2019!
23. August 2019
A cocktail of modern prog metal, 'Macro' is the album where Jinjer show us what the future of heaviness sounds like" – Loudwire
The wait is over! Following up on the release of their most recent full-length album, 2016'sKing of Everything, and this year's Micro EP, Ukrainian modern metal frontrunnersJINJER return with their game-changing new album, Macro. The album is set to be released via Napalm Records on October 25, 2019. Punishing riffs, aggressively blended vocals and astonishingly deep lyrics make Macro their most advanced and undeniable album yet – taking the listener on a journey of trauma, power struggle and greed with a progressive groove metal backdrop.
JINJER on Macro:
"Going from small things to bigger ones is the natural order of things, and we've paved a path from "Micro" to "Macro", carrying the weight of feelings, emotions and experience. This is a monumental point in the story of JINJER, the quintessence of what makes us what we are now as the people and as a band. We are proud of every single note sung and played on "Macro" and can't wait for you to give it a listen!"
In addition to announcing the release of their new album, JINJER have released a new single and official video, entitled "Judgement (& Punishment)". "How many times have we reacted harshly to something just because we simply do not understand it? It seems like there is an innate human trait in all of us, when there is something unknown or unfamiliar that we tend to question the substance, to attack and finally to destroy it … just like primitive apes. But when it strikes back it might be too much to bare. Every action causes a reaction. Judgement (& Punishment) is a reaction. Just keep that in mind."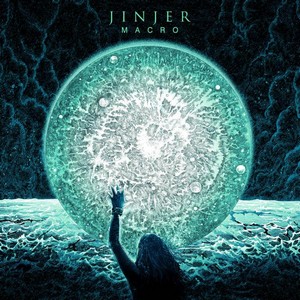 While January 2019's Micro EP proved to be a short exercise in madness and technical brilliance, fans still aren't prepared for what JINJER has in store with the absolutely unbridled Macro. Defying all boundaries, the aptly titled opening track, 'On The Top', features the band`s eclectic trademarks and obeys one law only – their own. Frontwoman Tatiana Shmaylyuk defines the unique character of the Ukrainian act with menacing whispers, enthralling clean vocals and brutal growls whilst lethally groovy riff cascades melt into twisted songwriting. There is space for a microscopic bit of reggae "Judgement (& Punishment)" in all the heaviness, the double bass is beautifully out of control on 'Pausing Death', and technically superior tracks like 'Home Back' defy gravity.
Tracklist:
On the Top
Pit of Consciousness
Judgement (& Punishment)
Retrospection
Pausing Death
Noah
Home Back
The Prophecy
IainnereP
Links:
http://www.facebook.com/JinjerOfficial
http://jinjer-metalband.com/
Source of Information: Napalm Records Promotion Team. Photo: Javier Bragado, Cover: Reuben Bhattacharya | Visual Amnesia
KOBRA AND THE LOTUS Drop Lyric Video For New Single "Get The F*ck Out of Here"
23. August 2019
"Kobra Paige has the pipes to overtake rock as the next powerhouse frontwoman."
– Loudwire
Calgary-based hard rock quintet KOBRA AND THE LOTUS have returned with their new studio album, Evolution, which will get a September 20 release via Napalm Records. Following hot on the heels of their first single "Burn", today the band releases a lyric video for the new track "Get The F*ck Out Of Here".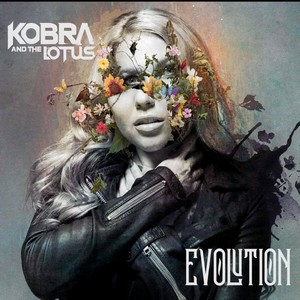 Tracklist:
Evolution
Burn!
We Come Undone
Wounds
Thundersmith
Circus
Wash Away
Liar
Get The F*ck Out Of Here
In The End
Tokyo ( Japan Version Only)
Kobra talks about the meaning behind the song: "Get The F*ck Out Of Here!" Time to get stoked, because this track was made for pumping people up and we're going to keep whipping out the unexpected on this new album. Bad juju… no way. This track is meant to put a fun spin on wiping your life of the predatory relationships that suck your energy dry and to charge you up so you can GTFO! Use it daily."
Evolution sees the band imbued with a new fire that comes through by way of undeniable hooks, soaring guitar riffs, marching drum beats, and the soulful, bombastic vocal delivery of lead singer Kobra Paige. No longer bound by old formulas and expectations from the past, Evolution comes through with a sound that is expansive and, at times, borders on outright swagger. Each song feels like an Active Rock hit in the making, while still having the grit and feverish intensity that longtime fans have come to admire from KOBRA AND THE LOTUS.
Evolution boasts the band's most cohesive and confident material to date. For the new record, KOBRA AND THE LOTUS enlisted the services of producer Michael "Elvis" Baskette [Alter Bridge, Linkin Park, Slash, Sevendust].
"The new body of work sets the tone for the music going forward. Sonically, it's still heavy. It highlights the showmanship and maintains the edge. At the same time, it's approachable. It pays tribute to our influences, but it takes the next step. So, it's a reintroduction to us and a rebirth. A firm goal was to build a strong identity and update everything. We just want to be Kobra and the Lotus; that's what we're doing, says KOBRA.
Previous single:
Burn: https://youtu.be/k5SYOVtURRY
Links:
http://www.facebook.com/KobraAndTheLotus
http://www.kobraandthelotus.com
Source of Information: Napalm Records Promotion Team, Photo: Dan Sturgess of Sturge Media
Alcest – release music video for first single, 'Protection'
23. August 2019
On October 25th, ALCEST will once again open the gateways to the otherworldly and release their sixth studio album titled »Spiritual Instinct«. Recorded at the French Drudenhaus Studios and written in bursts both during and after a prolonged period of touring in support of 2016's hugely successful »Kodama«, the new album – the first to be released via Nuclear Blast – will lead the blackgaze pioneers into dark soundscapes full of spiritual catharsis.
Frontman Neige comments:
"'Protection' is the first track I wrote for »Spiritual Instinct«. It's probably one of our most heavy, spontaneous songs. It is about inner conflict, the tension between the spiritual and darker sides of a person, facing your own anguishes in order to embrace them and then fight them. Like the other tracks on the album, writing it was a very cathartic, healing process for me."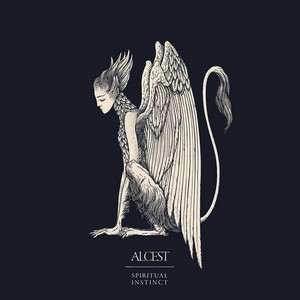 Tracklist:
Les jardins de minuit
Protection
Sapphire
L'île des morts
Le miroir
Spiritual Instinct
Today, the wait is over as singer/multi-instrumentalist Neige and drummerWinterhalter have revealed the first single 'Protection' from the band's upcoming album.
Links:
https://www.alcest-music.com/
https://www.facebook.com/alcest.official/
Source of Information: NUCLEAR BLAST Anne Swallow, Photo: William Lacalmontie
DEVILISH IMPRESSIONS unleash new single and lyric video "Interregnvm". "Postmortem Whispering Crows"
22. August 2019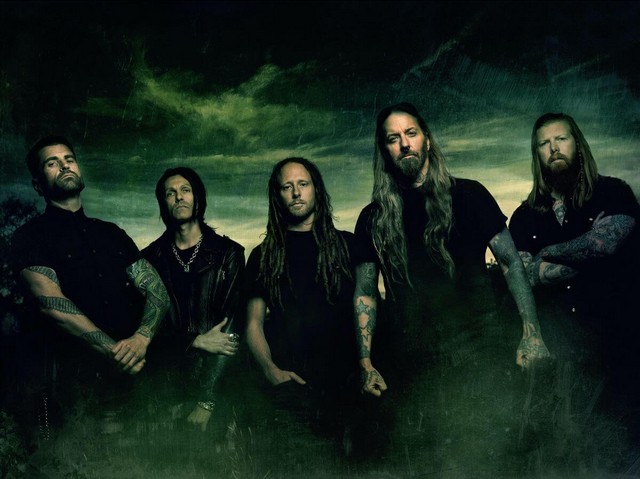 Polish melodic black / death metal mavericks DEVILISH IMPRESSIONS recently announced the signing with Non Serviam Records.
Today the band unveils the first single taken from their upcoming release, "Postmortem Whispering Crows" EP, a follow up to their critically acclaimed 4th studio record "The I".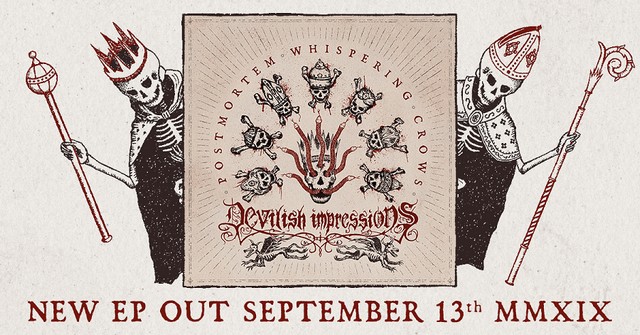 Tracklist:
Dvma
Cingvlvm Diaboli
Interregnvm
Music wise "Postmortem Whispering Crows" simply continues where "The I" left off. Having introduced some rock-like solos on the latest full-length these unreleased tracks seem to be characterized by even more open approach to the genre. "Postmortem Whispering Crows" is an epic journey across black death metal with the band's own, unique flare to it.
Quazarre (vocals / guitars) comments:
"One of my all-time greatest inspirations has always been literature of The Young Poland (a modernist period in Polish literature, covering roughly the years between 1890 and 1918). The movement promoted trends of decadence, neo-romanticism, symbolism, catastrophism and impressionism. Having quoted 'Dzieci Szatana' (Satans Kinder) by one of the period's visionary Stanisław Przybyszewski within the lyrics of our "Adventvs" EP, it's been a logical way for me to immerse both 'The I' and 'Postmortem Whispering Crows' EP even deeper into the decadent world of other haunted figures associated with the philosophy of their leader. The quoted authors following the period's concept believed in decadence, an end of all culture, the conflict between humans and their civilization, and the concept of art as the highest value."
Links:
https://www.devilish-impressions.com/
https://www.facebook.com/devilishimpressions/
https://www.twitter.com/DevilishImpress/
https://www.youtube.com/devilishimpressions/
Source of Information: WormholedeathBhattacharya | Visual Amnesia