Agnostic Front – Announce Twelfth Studio Album »Get Loud!« + Release lyric video for the first single 'Spray Painted Walls'
13. September 2019
Legendary NYHC pioneers AGNOSTIC FRONT are back to the scene with their twelfth studio album, »Get Loud!«, which will be released on November 8th via Nuclear Blast.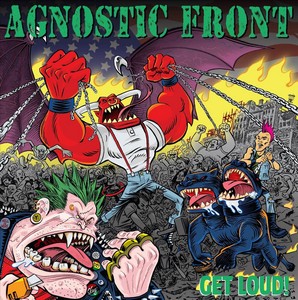 Tracklist:
Spray Painted Walls
Anti Social
Get Loud!
Conquer And Divide
I Remember
Dead Silence
AF Stomp
Urban Decay
Snitches Get Stitches
Isolated
In My Blood
Attention
Pull The Trigger
In celebration of the announcement, the band offer the lyric video for the first single,'Spray Painted Walls' which can be seen here:

Roger Miret comments, "So excited for everyone to hear our new record »Get Loud!« I really love the songs and it feels like a great mixture of what we have done our whole career! We put 100% into this from top to bottom! Everyone involved from start to finished just killed it! See you in the pit to celebrate these songs soon!"
»Get Loud!« was produced by Roger Miret while long time friend Paul Miner handled the recording, mixing and mastering of the record at Buzzbomb Studio in Orange, CA. For the artwork, the band returned to 1986's »Cause For Alarm«  artist Sean Taggart. It features the iconic CFA​ characters combined with a modern freshness.
»Get Loud!« is compiled of 14 tracks that are nothing short of classic, home grown, New York Hardcore, but still includes some thrashy and punky variety.
Links:
www.facebook.com/agnosticfront 
 Source of Information: NUCLEAR BLAST Markus Jakob
Machine Head – Chris Kontos on »Burn My Eyes« 25th anniversary
13. September 2019
Bay Area metal giants MACHINE HEAD, who recently announced the dates for their »Burn My Eyes« 25th anniversary tour, have re-recorded the legendary debut album in its entirety. The recording line-up features original BME alulmni Chris Kontos and Logan Mader as well as singer and guitarist Robb Flynn and bass player Jared MacEachern. The recordings were done at Sharkbite Studios in Oakland, California.
Links:
https://www.machinehead1.com/
https://www.facebook.com/MachineHead/
Source of Information: NUCLEAR BLAST Markus Jakob
LAMORI – Unleash New Single & Official Video "An Angel By Your Side"
13. September 2019
LAMORI are proud to present their new single and official video "An Angel By Your Side".
Statement about the single:
"An Angel By Your Side" is the third single from our upcoming album "Neo Noir". Driven by a big catchy chorus, the song also has some interesting electronic parts. Overall we believe the song will appeal to both old and new fans alike."
Links:
http://www.lamorimusic.com/
https://www.facebook.com/lamorimusic
https://www.youtube.com/user/lamorimusic
Source of Information: WormHoledeath Press
MISSION JUPITER MADE A MUSIC VIDEO FOR THE SONG "THE SEA OF
HOPES" ON THE PSYCHOLOGICAL THRILLER "INSIDE YOU"
10. September 2019
Dream-rock quintet Mission Jupiter has released a music video that reflects the development of the conflict within the main character of the movie Mission Jupiter presented their music video for the song "The Sea of Hopes" from the debut album "Architecture". The song is dedicated to a man who suffers from internal contradictions. He needs protection and a helping hand that would revive and return him to the real world.
The movie "Hidden Inside" directed by Sergei Talybov describes a similar story. The main hero, a photographer, finds himself in an intricate psychological puzzle, where a decisive role will be played by a third-party person who will show him the right way out.
Was it real, or is it just a fantasy? Where is the truth, and where is cheating feeling? The song reflects the development of the character during the music video. Watch "The Sea Of Hopes" music video here:
Links:
https://www.facebook.com/missionjupiterband/
https://www.youtube.com/channel/UCa_2HAbUqcawe7ghj8fBzgg/
Source of Information: Mission Jupiter Band