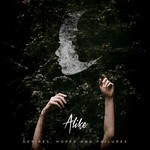 Niekedy sa stáva, že z popola jednej kapely vznikne iná kapela. A to je aj prípad českej skupiny Alike, ktorá vznikla z A SweetWater Trick. Tento rok vydali svoje debutové CD, ktoré sa ako už iste tušíte, dostalo ku mne na recenziu.
No a hneď prvá pieseň Selfish Dreams je jasným dôkazom toho, že budeme mať dočinenia s niečím veľmi originálnym, a zároveň aj kvalitným. Crossover viacerých rockových a metalových žánrov, počnúc taktiež trochou elektroník, a dôjde aj na trochu screamu k inak výrazne dominantnému melodickému spevu. Inak sa jedná o pohodovú záležitosť, ktorú by ste kľudne mohli počuť v rádiu.  Kapele sa však podarilo vyhnúť komerčnosti a nejakému kalkulu, a tak sa napriek komerčnému potenciálu jedná o kvalitnú, a najmä originálnu záležitosť.  Kúskom, ktoré určite stojí za vypichnutie sú vypaľovačka Love Temporary s perfektným riffom. Indecisive pre zmenu hrá na melancholickejšiu strunu. Najvýraznejšou skladbou je však jednoznačne I Don´t Like You, ktorá sa pohybuje na hrane hip-hopu, avšak jej koniec nás vráti do zlatej éry nu-metalu. Zbytok už potom opäť pláva vo vodách crossoveru.
V konečnom dôsledku máme možnosť počuť 11 skvelých songov, čím sa stáva tento album viac než skvelým debutom.
Lineup:
Karel Krejčí – spev, gitara
Tomáš Bartizal – violončelo
Jan Kučera – basa, doprovodný vokál
Henrich Lendacky – gitara, doprovodný vokál
Jan Divoký – bicí, sampler
Tracklist:
Selfish dream
Niky AM
Oh no!
Love temporary
Indecisive
I don't like you
Limbo light
Leave it all behind
Love and hate
Desire (single version)
Falling down (single version)
Rok vydania: 2019
Vydavateľstvo: Samovydanie
Youtube ukážka:

Linky:
https://www.alikeband.cz/
https://www.facebook.com/alikebandcz/
https://bandzone.cz/alike
Hodnotenie: 5/6
Páčil sa ti tento článok?