Korpiklaani – reveal new drummer!
13. December 2019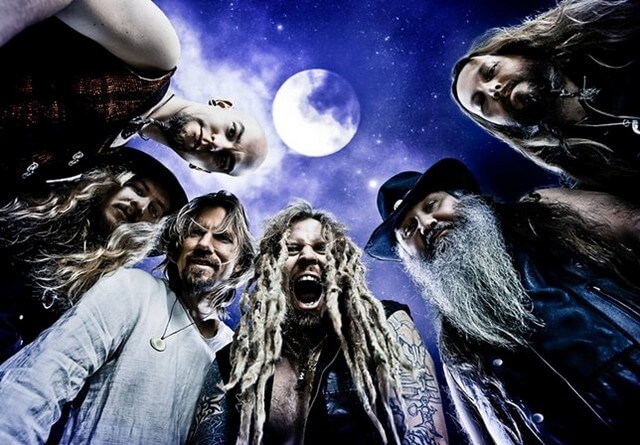 Finish folk metalists Korpiklaani wish to extend a very warm welcome to their new drummer Samuli Mikkonen!
KORPIKLAANI stated, "Every journey has a beginning and an end. After 17 years and many good memories, Matson leaves KORPIKLAANI. Our new drummer is Samuli Mikkonen. Samuli is formerly known from PROFANE OMEN and JONNE. He already drummed on our »Kulkija« album, as he played some of the tracks on the record. Samuli has also been a fill-in live drummer for BATTLE BEAST. Samuli is an energetic drummer with a bombastic playing style. Just wait and see!"
Samuli commented, "I could not be more honoured and excited to become a part of KORPIKLAANI. My journey with this music started when I joined the JONNE band back in 2013. I had a musical connection with Jonne right away and we began to make songs together. When KORPIKLAANI was making »Kulkija« in Petrax Studios in autumn 2017, I was asked to fill in for some songs. At the end of the day I had recorded drums for 'Neito,' 'Aallon alla,' 'Harmaja,' 'Kotikonnut' and 'Tuttu on tie.' I was enjoying the music and we had a great time with the band in the studio. I'm very proud of that album. I have been following the band for two decades now and I'm very thrilled to have a chance to play all those great songs live. See you on the road!"
Links:
http://korpiklaani.com/
https://www.facebook.com/korpiklaani/
Source of Information: NUCLEAR BLAST Philipp Adelsberger, Photo: Peero Lakanen
Nanowar of Steel – Valhalleluja!
 13. December 2019
In nomine IKEA et Odin, et NANOWAR OF STEEL – Valhalleluja!
NANOWAR OF STEEL and Odin, the Master of IKEA, proudly present the smash Christmas hit of the year! "Valhalleluja" it is – beckoning you out of your chair into yuletide hysteria and inspiring uncontrolled dance moves, with glorious gospel-metal power that resounds straight to the bone. Within seconds, you'll find yourself sending prayers to Odin… and your favorite piece of furniture!
Make some room under your Christmas tree for NANOWAR OF STEEL's holiday masterpiece, "Valhalleluja", featuring the powerful guest vocals of Angus McFife of Gloryhammer. The craziest Christmas present is now available as a 7" Single and includes one bonus track. This is a surefire repeat listen, not just on Christmas eve!
NANOWAR OF STEEL on Vahalleluja:
"Valhalleluja is NANOWAR's very own take on Christmas and modern-day Vikingness, featuring Sir Angus McFife of Gloryhammer. It's an epic gospel-metal song praising the virtues of our Lord and Saviour Odin, master of IKEA and protector of the stylish-furniture loving Metalheads. This song will change the way you look at your living room for good."
Links:
https://www.nanowar.it/
https://www.facebook.com/nanowarofsteel/
Source of Information: Napalm Records
SERENITY Releases New Single & Official Video For "Souls And Sins"
12. December 2019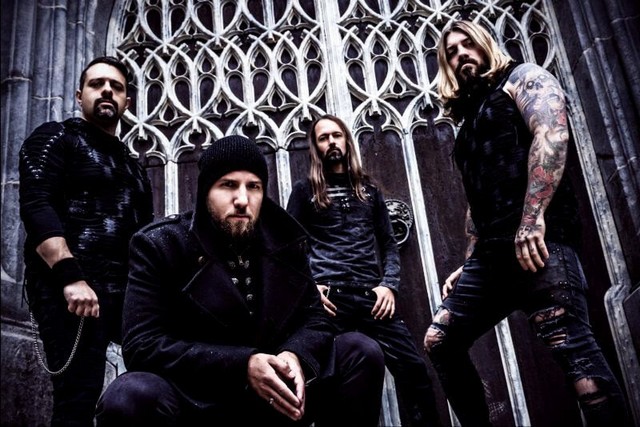 The Devil is chasing your soul and sins…
After SERENITY set the world on fire with their latest addictive piece of symphonic metal, they are now ready to overwhelm your mind with their catchy second single, "Souls And Sins", off of their upcoming album, The Last Knight, to be released via Napalm Records on January 31, 2020. Along with an artful conceptualized video, the symphonic medieval warriors capture the spirit from ancient times.
The dark occult atmosphere – in addition to the powerful basslines of Fabio D'Amore, smashing drums and the distinctive sound of Georg Neuhauser's remarkable voice – conjure the good and evil in our souls by reflecting the consequences of every action we take.
SERENITY is not just leading through the world of Maximilian I., but making connections to their own path. This song is a surefire repeat listen!
Tracklist:
The Last Knight
Invictus
Set the World on Fire
Keeper of the Knights
Souls and Sins
My Kingdom Comes
Queen of Avalon
My Farewell
Down to Hell
Wings of Pridex
Call to Arms
Oceans
SERENITY will release their seventh studio album, The Last Knight, on January 31, 2020 via Napalm Records and details the life of the Holy Roman Emperor Maximilian I. Building on that story, they've created a historical, musical concept never seen before. They have captivated their fans and audiences for nearly two decades, and they're showing no signs of stopping.
For years, the band has been a prime example of epic symphonic and melodic metal, showcasing both distinct heaviness and a lot of heart. Now, they're pushing it to the next level. SERENITY has redefined themselves without forgetting their musical roots, becoming a worthy successor for Maximilian's legacy, ready to conquer the world! Be a part of their grand quest!
The first single – Set The World On Fire (ft. Herbie Langhans)
https://youtu.be/MZx89RXf5GY
Links:
http://www.serenity-band.com/
https://www.facebook.com/serenityaustria
https://www.youtube.com/user/SERENITYAUSTRIA
Source of Information: Naplam Records, Photo: Thomas Buchberger
Magnum – upcoming album
11. December 2019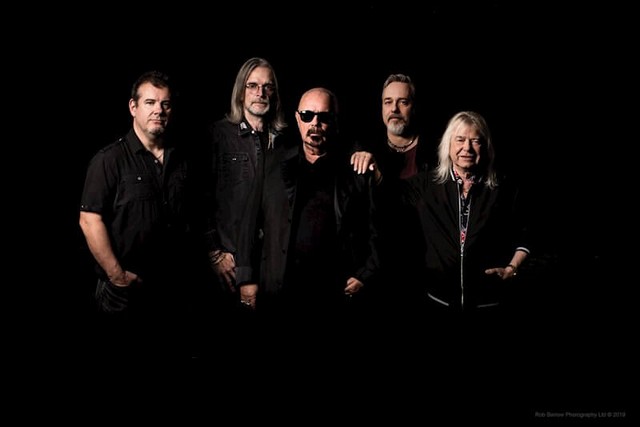 Magnum guitarist Tony Clarkin is a man who seems to never stop working. He is responsible for writing all the material released by the band, and on top of that he produces their albums from the very first demo to the final mix. "As soon as an album is finished, I start to collect new ideas," he explains. "That's how I've worked since the early seventies, for me that's the ideal method." On their latest album The Serpent Rings (available on Steamhammer/SPV from 17 January 2020 on CD, double vinyl LP, limited box set and for digital download), Clarkin and Magnum's other original member, vocalist Bob Catley, prove all over again just how perfectly this established system works.
Magnum have recorded eleven new songs which feature all the traditional strengths of the British act and also live up to the band's ambition to explore a more rock-oriented direction. "Thanks to our current record company, we enjoy full artistic freedom," Clarkin enthuses. "SPV understand how important this is to us. We've not always been in such a fortunate position. During the eighties, the label we were with at the time wanted us to sound as pop-oriented as possible because they hoped for better album sales. I used to hate that, despite the success we had."
The new album, The Serpent Rings, presents Magnum the way the musicians themselves like it: rocking and at the same time melodic, straightforward but also a little playful, powerful as well as sensitive with enchanted lyrics but also with a socio-critical approach. 'Madman Or Messiah', for example, is about the phenomenon of self-proclaimed saviours. Clarkin: "You have to approach these kinds of gurus with a lot of caution, because in reality they're taking their followers for a ride and in a worst-case scenario even seducing them into performing dubious acts, as the case of Charles Manson in the late 1960s shows." 'Man' is another sceptical number about the underbelly of human behaviour. "A lot of what mankind does to Planet Earth is based on greed and insatiability. We destroy nature just to make an even bigger profit, and we are seeing the negative results of that attitude more clearly now than ever before." But of course The Serpent Rings also presents Magnum from their dreamy, magical side, the title song being a perfect example – and a direct reflection of the amazing cover artwork courtesy of Rodney Matthews. Clarkin: "'The Serpent Rings' started out as a science fiction story but continued to evolve over time and even features a slightly bizarre side today. I'd describe the song as an eerie and somewhat creepy fairy tale."  
The new album was recorded by the Magnum line-up consisting of Clarkin, Catley, keyboardist Rick Benton and drummer Lee Morris, plus their latest addition, bassist Dennis Ward (Pink Cream 69, Place Vendome, Unisonic, among others), who joined the fold to replace Al Barrow. "Unfortunately Al had to leave the band because he didn't have enough time. He lives in the US, which had always caused organisational problems," Clarkin explains the background of the line-up change. "Tobias Sammet of Avantasia recommended Dennis, who is a great musician and vocalist, exactly what we were looking for. His contribution to The Serpent Rings surpassed our wildest expectations. We're really looking forward to touring with him." 
Talking of which: Magnum's major European tour has been scheduled to start in March 2020, initially with a number of headlining shows, to be continued by a first-rate package together with Gotthard from Switzerland. This extremely successful collaboration first passed the litmus test a few years ago, and Clarkin, Catley & Co. are very enthusiastic: "Along with some classic numbers, we will also present four or five songs from The Serpent Rings," the band promises, providing even more reasons for their fans to mark the dates in their calendars.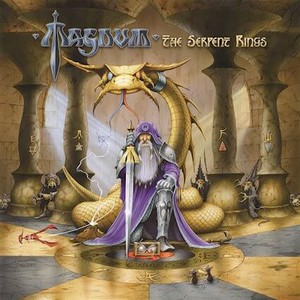 Tracklist:
Where Are You Eden?
You Can't Run Faster Than Bullets
Madman or Messiah
The Archway of Tears
Not Forgiven
The Serpent Rings
House of Kings
The Great Unknown
Man
The Last One on Earth
Crimson on the White Sand
Links:
http://www.magnumonline.co.uk/
https://www.facebook.com/magnumbandpage/
Source of Information: Steamhammer/SPV, Foto: Rob Barrow Photography Ltd