ME AND THAT MAN Releases Fifth Single And Official Video"By The River" Feat. Ihsahn
14. February 2020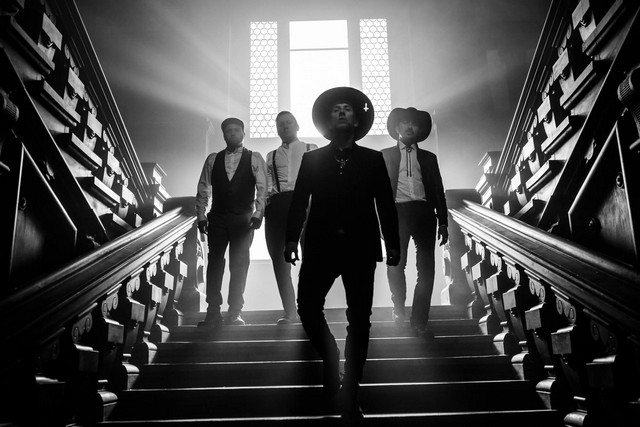 Far away from the Sun, the countdown has begun. Beat my funeral drum
Nergal's darkened blues project ME AND THAT MAN has just released yet another single fresh off its upcoming album, New Man, New Songs, Same Shit, Vol.1. "By The River" takes you on a drive with the Devil himself, straight through the aberrations of the graveyard and back. Creating a uniquely captivating atmospheric concept, the desert-tinted soundscapes weave throughout the song. Ihsahn of the legendary Emperor lends his entrancing vocals to this single and will bewitch the listener. Slow hypnotizing riffs round off the track, while a masterfully escalating guitar solo closes "By The River" on a high note.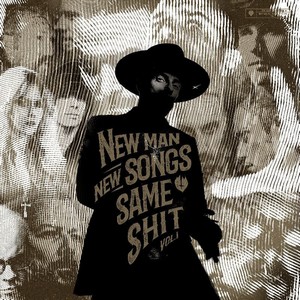 Bridging the gap to the vintage atmospheres of the previously released videos, "By The River" is the next ritual of initiation, straight into the distinctive aesthetics and stories ME AND THAT MAN tells on the upcoming album. The peculiarly alienated spaces and desert landscapes framed by an enchanting soundtrack unfold gradually in front of the viewer, taking form in a captivating odyssey through Southern landscapes, cities, villages and empty crossroads. There, maybe even a personal encounter with the Devil himself is possible!
Nergal on "By The River":
"When the rumours first emerged of me collaborating with Rob Halford and Ihsahn, the idea sparked imaginations. I guess people would expect a Nergal and Ihsahn partnership to be extreme, but what came out was a bare bones, blues banger! I've got to tell you; it wasn't an easy sell…at first Ihsahn didn't think there was much he could add – luckily, I knew different and I gave him a simple instruction, 'have fun'. A week later I got the track back and I was totally blown away! Considering the status of the man, he is humble and professional to the core. It was my pleasure to work with him and now it's our pleasure to present to you, "By The River"!"
Three years after their initial debut, ME AND THAT MAN has returned with an offering that is indeed different from the first, but in no way less brilliant. The mysterious collective has surpassed themselves with their bewitching new collection New Man, New Songs, Same Shit, Vol.1 – featuring ominous lyricism atop unfiltered blues, gothic-laced folk, outlaw country and Americana-influenced anthems. The enthralling album, set to be released on March 27, 2020, visits a completely new spectrum of dark desert vibes and sees notable heavy music icons such as Corey Taylor (Slipknot), Brent Hinds, Matt Heafy (Trivium), Ihsahn (Emperor) and Sivert Høyem (Madrugada) join the pact with the devil. New Man, New Songs, Same Shit, Vol.1 is a diversified, dynamic masterpiece that presents Nergal in a completely new light, providing a strong contrast to the heavier sounds of Behemoth. Evil has truly never sounded so good.
Predošlé single:
Męstwo: https://youtu.be/DFJxseghhU0
Surrender: https://youtu.be/fr1954pwx6o
Burning Churches: https://youtu.be/Q3UzBSWL1Ow/
Run With The Devil: https://youtu.be/ZZyLaPbmdNE/
Links:
https://www.meandthatman.com/
https://www.facebook.com/meandthatman/
Source of Information: Napalm Records, Photo: Grzegorz-Gołębiowski, Cover: Bartek Rogalewicz
Norwegian prog metallers IMPERIAL CHILD release new video, debut album out in March
14. February 2020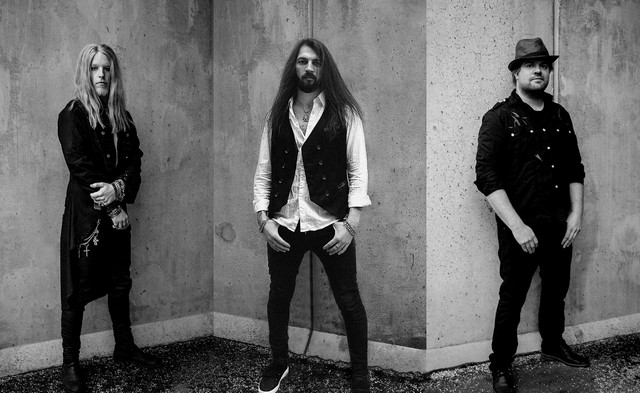 Norwegian prog metallers Imperial Child released music video to "Priscilla", another new song taken from the forthcoming studio album, "Compass Of Evil".
"…"Priscilla" is one of those songs that were written within an hour. It has an important meaning for the concept of the album, but it can also be a standalone song, with own, deep meaning" says Imperial Child vocalist and guitarist, Chris DeWolf. "We rented a theater in Varberg, Sweden to film the video. They have some amazing scenery and an amazing fortress that both can be seen in the video. Shortly after we filmed it, Vasily joined the band as a permanent bass player, and we are currently working on yet another music video" he adds.
Last month Imperial Child released the "Libertalia" lyric video, which features the ex-Savatage and current Trans Siberian Orchestra singer, Zak Stevens. "Compass Of Evil" will be released as CD, limited edition vinyl and digital download via Soulmaker Recordings, on March 13, 2020. The debut is a concept album, that contains the compelling first part of the story about William Green, a man of the living dead and his fight against the devil and the buccaneer, Darren Half-Eye. The album has been produced by the Grammy nominated guitarist and sound engineer, Andy LaRocque (King Diamond, Death) and was recorded in Sonic Train Studios in Varberg, Sweden.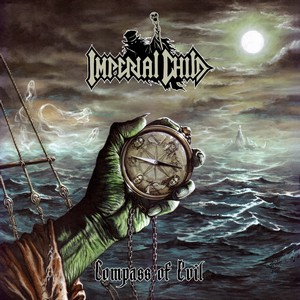 Links:
https://www.facebook.com/imperialchild/
Source of Information: Bart Gabriel
INFECTED RAIN's Lena Scissorhands Releases New Single & Official Video "All The Things She Said" (t.A.T.u. cover) feat. Nika Comet (Chase The Comet)
14. February 2020
Being with you has opened my eyes, could I ever believe such a perfect surprise?
Two compelling voices of the modern metal scene unite in an emotional duet! Lena Scissorhands (INFECTED RAIN) has just revealed an energetic cover version of t.A.T.u.'s hit single, "All The Things She Said", featuring guest vocals from Nika Comet (Chase The Comet). Creating an intimate synthesis of affection and anger, their cover only intensifies the emotions expressed in the original, while still retaining the original catchiness and melodic character of the lyrical monologue.
The energetic, yet dreamy aesthetics of the accompanying retro style audiovisual extend the story told in the song itself. Torn between hope and despair, past and present, and conclusively, between the desire to fight for love itself or simply give it up, the corresponding sequences of the video establish emotional frames for the striking vocal abilities of both artists. Lena's crystal clear, yet unmistakably strong voice merges with her growls, colliding with Nika's charming, warm vocals, re-telling the deeply dramatic story of love, hate and the irreversible decisions one has to make to choose between them.
Lena on the single:
"To the constantly stressed and thoughtful world, we decided to give some love. This song was very powerful when released by t.A.T.u. in 2002 and still is till this day. We had so much fun recording and filming for this cover song but, more so, we wanted to remind the world to remember to love. Love is the solution to so many problems. Make love, be loved and love with all your heart."
Nika on the duet:
"When Alex suggested to do a cover on the most world-renowned song by a Russian artist, I knew right away it should be a collab with no one else but my friend Lena from INFECTED RAIN. We are both coming from the USSR and speak Russian, so it seems very symbolic. With its message nowadays, this song is as current as ever and we wanted to proclaim the right of every human being to love and be loved cause love is love."
Links:
https:/www.infectedrain.com/
https://www.facebook.com/infectedrain/
Source of Information: Napalm Records
Eciton Sign With Wormholedeath And Unleash "Demagogue" Official Video!
12. February 2020
Danish death metal combo Eciton are pleased and proud to announce that they have signed with WormHoleDeath for the release of their album "Suspension of Disbelief".
"Suspension of Disbelief" will be out on 06 03 2020 via Wormholedeath/The Orchard worldwide.
Band statement:
"With the signing to WormHoleDeath, Eciton see it as a great opportunity and possibility to get people around the world to hear our music and be better known. Eciton believe that the partners that WormHoleDeath have in Japan and US is great way to get outside the borders of Europe and send Eciton in a new direction. Hopefully it can help us to play more shows around Europe and the rest of the world. "Suspension of Disbelief" consists of 10 oldschool, technically catchy death metal songs that everyone with metal in their ears should hear.. Hopefully Ecitons second release on WormHoleDeath will take place in 2021. From summer 2020 Eciton will be playing shows with the album "Suspension of disbelief"..
Cheers..!" Eciton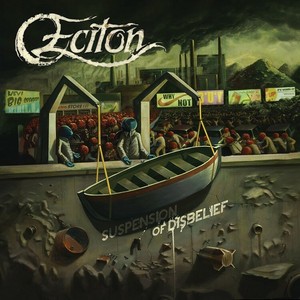 Tracklist:
Demagogue
Belief
Written awareness
Suicide protest
Twisted politics
Social pacifier
Penetrated sorrow
Thoughts
Estimated effort
Toxic Luxury
Links:
https://www.facebook.com/Eciton-103811846339979
Source of Information: Wormholedeath Records