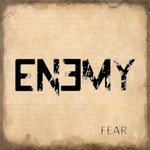 Chybou mnohých slovenských kapiel je slabá prezentácia. Často hrajú len vo svojom rodisku a jeho blízkom alebo vzdialenejšom okolí, a hlavne na svoju propagáciu veľmi nepoužívajú média, ktoré by mohli. Mám na mysli hlavne slovenské a české webové stránky. Ľudia sa tak nedozvedajú o kvalitných zoskupeniach, aké u nás máme. Medzi také patria aj heavy/power metaloví Enemy z Piešťan.
A to na našej scéne pôsobia už dosť dlho. Sformovali sa v roku 1991, vtedy ešte pod názvom Darkland. Vydali niekoľko albumov a v roku 1997 sa rozhodli zmeniť si názov na Enemy. Pomyselným uzavretím kapitoly Darkland je album z roku 2001, nazvaný jednoducho The Best of DARKLAND 1991-1996. Minulý rok vydali už druhý album pod značkou Enemy – Fear.
Hneď na úvod treba povedať, že ešte pred jeho vložením do prehrávača žiaden ,,fear" cítiť nemusíte. Obal je síce pomerne strohý, ale poznáme zlaté pravidlo ,,nesúď album podľa obalu". Na albume nájdeme 6 skladieb, ktorých základom je poctivý old school heavy metal. Jasne počuť, že páni majú už čo to odohraté. Moderné prvky by ste márne hľadali, ale vieme ,,starých muzikantov je ťažko niečo nové naučiť". Spevák Bruno Papcun využíva hlavne chrapľavý hlas a často, ako sa hovorí ,,tlačí na pílu". Škoda, že nevyužíva viac ,,ječákov". Skladba číslo 6 – Scared je dôkazom, že by to určite dokázal.
Ako správny recenzent by som sa mal vyjadriť aj k negatívnym veciam na nahrávke. Jediným záporom Fearu je iba malý počet piesní. Ani si neuvedomíte a už bude koniec.
Fear od Enemy je pekným obohatením slovenskej metalovej diskografie. Nie je to síce nejaké veľdielo, ale milovníkov tradičnejších odnoží heavy metalovej muziky určite osloví. A tí si ho určite pustia viackrát.
Lineup:
Bruno Papcun – spev, basa
Mr. J.J. Shadow – gitary
Vlad Martinkovitch – gitary
Bollonto Mishekh – bicie
Tracklist:
Touch of Eternity
Fear That Gives Men Wings
Great Reward
MadTricks
Alone
Scared
Rok vydania: 2019
Vydavateľstvo: Samovydanie
Youtube ukážka:

Linky:
https://www.facebook.com/enemymetalband/
https://bandzone.cz/enemy
https://soundcloud.com/user-330490893/sets/enemy-fear
Hodnotenie: 4,5/6