ENSLAVED release new single "Homebound"
22. May 2020
Norway's avantgarde metal heroes ENSLAVED release their new single "Homebound" from the upcoming record "Utgard", that will be released in fall 2020.
ENSLAVED will be releasing the new single on a Limited Edition 7″ vinyl format, limited to 500 pieces. The single will be out on June, 26th and can be pre-ordered here:
Tracklist:
Homebound [A-side]
Knights Of The Thunder (TNT Cover) [B-side]
The B-side of the "Homebound" Vinyl is an exclusive to this format.The band states:"Homebound' is about the greatest reward of exploring and travelling intounknown territory – to "go viking" if you will, turning Homebound at the end of the journey.It is a song that takes Enslaved on a musical journey that is as much an homage to thosewho dared so we could play our very own style of music: from nurturing blackened roots tonodding at zeppelins in the sky, beholding teutonic thrash titans and watching speedingmotorpsychos take off into the futures." 
The band recently revealed new details about the upcoming record – propelling the listener deep into their world, the musicians explain:
"Utgard bears countless meanings to us; an image, metaphor, an esoteric 'location', a word on its own etc. – on different levels and layers. From Norse mythology we know it as a landscape where the giants roam; where the gods of Asgard have no control; dangerous, chaotic, uncontrollable and where madness, creativeness, humour and chaos dwell.The album is a journey into and through Utgard. It is a place of unification of that which is above and that which lies below. It is not about avoiding fear of the pitch-black darkness (it will keep on growing until the next confrontation), but to go into the darkness itself. This is the rebirth of the individual. In a world that has become so obsessed with the false lights of greed, jealousy and egotism this is a necessary journey. Utgard is not a fairytale, it is a vital part of both your mind and your surroundings, and it has been since the dawn of mankind. Acknowledging that this realm exists and is a vital part of the self, has inspired us deeply since the early days of our lives. Enjoy our journey to the outer limits."
Links:
http://enslaved.no/
https://www.facebook.com/enslaved/
Source of Information: NUCLEAR BLAST Leoni Dowida
Cinematic Metal Icons DARK SARAH Release Second Single, "All Ears!", From Upcoming Album, Grim
21. May 2020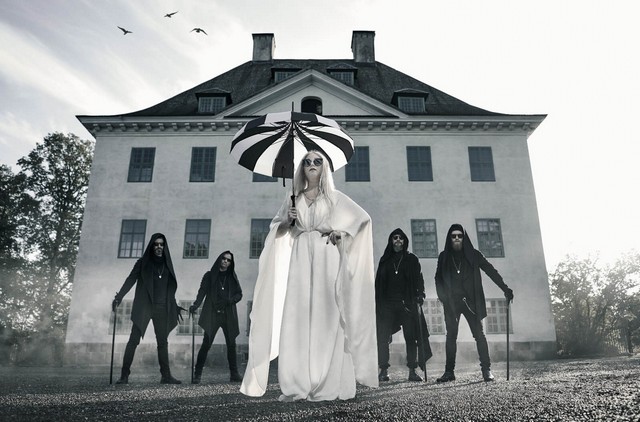 DARK SARAH continue the storyline of Orbs, Mörk and mystical, rabbit-headed people with their second single, "All Ears!", of off their upcoming album, Grim, to be released on July 17, 2020 via Napalm Records.
The marching rhythm of the horror-esque intro rises to an all-encompassing theme that coalesces with Heidi's blandishing vocals and the frightening story of Grim.
The official music video (directed by Markus Nieminen) and the energetic soundscapes draw its listener deeper into DARK SARAH's magical horror fantasy world, while the story behind "All Ears!" is perfectly visualized: The protagonist Luna casts a compelling spell over the citizens of Grim. As mighty as no one could have imagined, she rises, forming an army marching against their conjoint enemy – Mörk.
Heidi Parviainen states:
"All Ears!" is a call to unite all the people who think there is a certain power behind tales, monsters and magic! Join the coven!
The narrative of "All Ears!" follows the storyline of the Grim album. A powerful spell on the citizens of Grim empowers the protagonist Luna to fight against the evil monster Mörk who is terrorizing the city. The listener can also get a first glimpse of our new guest Jasse Jatala as Mörk. The whole Grim story will be released as a book at the same time as our album, so that our fans can get even more immersed in the story."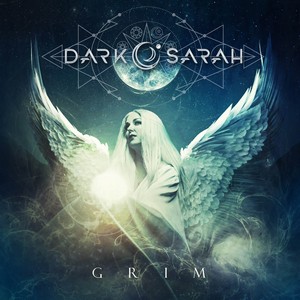 Tracklist:
My Name Is Luna
The Chosen One
Illuminate
Melancholia
Iceheart
La Folie Verte
The Wolf and the Maiden
The Hex
All Ears!
The Devil's Peak
Mörk
The Dark Throne
The first single:
Melancholia: https://youtu.be/QrKRzxWvEPM
Links:
http://www.darksarah.com
https://www.facebook.com/darksarahofficial
Source of Information: Napalm Records, Photo: Marko Simonen
BPMD – Featuring Bobby Blitz, Mike Portnoy, Mark Menghi and Phil Demmel – Releases Re-Energized Cover of Blues Standard "Evil"
20. May 2020
BPMD – the new juggernaut featuring heavy metal icons Bobby Blitz (Overkill) on vocals, drummer Mike Portnoy (The Winery Dogs, Sons of Apollo), bassist Mark Menghi (Metal Allegiance) and guitarist Phil Demmel (Vio-lence, ex-Machine Head) – recently announced the release of their upcoming full-length album of '70s rock covers, American Made! The 10-track homage to some of rock music's greatest treasures drops on June 12, 2020 via Napalm Records.
Today, the members of BPMD are thrilled to reveal another track from the album – their re-energized version of the blues standard "Evil", originally written by American blues musician Willie Nixon. BPMD's version is actually inspired by another popular re-imagining of the song by hard rock greats Cactus, and can be experienced via a brand new lyric video, linked below!
Bassist Mark Menghi says about "Evil":
"Cactus is a lost American treasure that needs more recognition. They were doing things on their instruments (and as a band) before many of their contemporaries/peers/labelmates of the time. We were fully aware that the great Willie Dixon wrote this tune for Howlin' Wolf in the early 1950's… Cactus reimagined the song for the their time of the early '70s, we reimagined Cactus' version for our generation in the early '20s… so for a tune that is 65+ years old that's still being covered says something… a good tune can stand the test of time."
Frontman Bobby Blitz adds:
"I choose my cuts on the record for two reasons: 1) how they would fit my voice, and 2) a deeper, heavier cut. I really love the grit in Rusty Day's voice on the Cactus track and wanted to replicate it with my own, not copy per se, but for sure not lose that grit. The song to me, though blues based, is the perfect bridge into the heavy metal that followed. I used the basic vocal line as to not lose the integrity but reimagined it with more of a 'metal' phrasing. 'Evil' is really one of the BPMD tracks I am most proud of.
You're a long way from home…"
Acclaimed drummer and Cactus member Carmine Appice says about the cover:
"A new twist on 'Evil', one of the best, kick-ass blues/rock songs of all time. This version will appeal to BPMD's heavy metal fans. I was glad to hear the Cactus arrangement of the song, but with the bass, drums and guitar heavied up even more… Phil's guitar solo revs up with lots of energy… with Portnoy and Menghi kicking under it, while keeping that energy going. Bobby's vocals sit nicely on top and I really liked the change in some of the phrasing. Great job, guys!"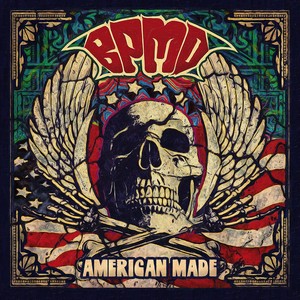 Tracklist:
Wang Dang Sweet Poontang
Toys in the Attic
Evil
Beer Drinkers & Hell Raisers
Saturday Night Special
Tattoo Vampire
D.O.A.
Walk Away
Never in My Life
We're an American Band
Watch the brand new lyric video and listen to BPMD's "Evil"
It's evident within the initial seconds of BPMD's American Made, as the legendary Bobby Blitz chants the introductory lyrics to Ted Nugent's "Wang Dang Sweet Poontang" in his signature skyscraper-high howl, that he and his equally iconic bandmates are here to have a damn good time.
Featuring 10 unforgettable rock classics reimagined as heavy bangers, American Made is a party on wax. Tracks such as the raucous "Toys in the Attic" (Aerosmith) and rager-ready "Beer Drinkers & Hell Raisers" (ZZ Top) prove that BPMD not only manages to capture the essence of each original track on the album, but skillfully transforms each classic into an unforgettable metallic anthem for a new age.
The seasoned quartet flex their musical muscles on renowned classics such as "Saturday Night Special" (Lynyrd Skynyrd), "We're an American Band" (Grand Funk Railroad) and "Walk Away" (James Gang), and introduce a whole new heavy generation to deeper cuts like blues standard "Evil" (Cactus/Willie Dixon) and "Never In My Life" (Mountain). Channeling nostalgia while maintaining a fresh attitude, American Made is a summer soundtrack for all ages.
After initially drawing inspiration from his son to start a classic rock covers project, bassist Mark Menghi connected with the members of BPMD, who then came together at Mike Portnoy's home studio in Pennsylvania to lay down the tracks in just one day.
Since the whole concept of the band was born the night Menghi was listening to "Saturday Night Special", BPMD were determined to record the song for the album. Beyond that, each individual musician picked two '70s rock tracks, then collectively made another two shared choices – and everyone had to learn them!
American Made was produced by Bobby Blitz, Mike Portnoy, Mark Menghi and Phil Demmel while Mark Lewis of MRL Studios handled the mixing and mastering. The album's cover artwork was created by renowned artist Marcelo Vasco (Slayer, Metal Allegiance, Soulfly, Hatebreed).
Previous songs:
Toys In The Attic: https://youtu.be/KvoqtNeQ5uQ
Links:
https://www.bpmdmusic.com/
https://www.facebook.com/BPMDofficial
Source of Information: Napalm Records, Photo: Scott Diussa
Heavy Metal Icon DEE SNIDER to Release For The Love of Metal Live Album & DVD/Blu-Ray via Napalm Records
19. May 2020
"While live entertainment has been curtailed for now, we cannot let the spirit of live entertainment die within us. Any music I've ever loved and listened to, I always imagine what it would be like live. 
When I was young and couldn't go to shows, all I had was what I thought the bands would be like live. We must keep our desire to see and hear the great new music out there in concert, because that's its true habitat.  Bands on stage with fans cheering them on in the audience is the way the rock gods intended it to be." – DEE SNIDER
It is abundantly clear that right now, music lovers around the world are craving the return of live concert experiences. This summer, legendary heavy metal frontman, actor and radio personality DEE SNIDER has just the thing to keep live music where it belongs – with the fans!
July 31, 2020 will mark the release of For The Love Of Metal Live – a larger than life live performance album and DVD/Blu-Ray collection hitting retailers via Napalm Records. Combined behind-the-scenes footage, various detailed interview clips, insightful personal commentary and electrifying live performances make this release an entertaining experience that every heavy metal fan needs in their collection!
The DVD/Blu-Ray and accompanying live album (available in various formats, see below) features audio captured from several DEE SNIDER festival performances worldwide – from the United States to Europe, Australia and beyond.
In addition to tracks from Snider's solo catalog like "I Am The Hurricane" and "For The Love Of Metal", Twisted Sister favorites such as "I Wanna Rock" and "We're Not Gonna Take It", and even a cover of AC/DC's "Highway to Hell", the audio portion of For The Love Of Metal Live also features a brand new original studio track, "Prove Me Wrong" – a thrashing, confident metal hit.
"Prove Me Wrong" sees DEE SNIDER asserting himself as the absolutely unstoppable legend he is – excelling throughout his years, leaving any naysayers in the dust, and cementing his legacy as one of the greatest heavy metal frontmen of all time.
DEE SNIDER says about "Prove Me Wrong":
"'Prove Me Wrong' are words that I've thought in my head since the day I began rocking. I had a monster chip on my shoulder and dared the world to knock it off… nobody ever could. At this point in my career I thought I'd let everybody in on what has kept be going all these many years. Prove me wrong!"
Watch a new lyric video and hear "Prove Me Wrong":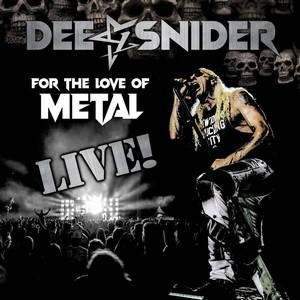 Tracklist:
Digital Album
Lies Are a Business
Tomorrow's No Concern
You Can't Stop Rock 'N' Roll
The Beast
American Made
Under the Blade
The Kids Are Back
Become the Storm
We're Not Gonna Take It
I Am the Hurricane
Burn In Hell
I Wanna Rock
For the Love of Metal
Highway To Hell
Ready to Fall
The Fire Still Burns
Roll Over You
Prove Me Wrong
CD
Lies Are A Business
Tomorrow's No Concern
You Can't Stop Rock 'N' Roll
The Beast Live
American Made
Under The Blade
The Kids Are Back
Become The Storm
We're Not Gonna Take It
I Am The Hurricane
Burn In Hell
I Wanna Rock Live
For The Love Of Metal
Highway To Hell
Prove Me Wrong
DVD/Blu-Ray
Lies Are A Business
Pain of Traveling (Interview)
Tomorrow's No Concern
You Can't Stop Rock 'N' Roll
New Record (Interview)
The Beast
American Made
Under The Blade
Song Writing (Interview)
The Kids Are Back Live
Become The Storm
We're Not Gonna Take It
WNGTI (Interview)
I Am The Hurricane
Burn In Hell Live
Rock of Ages (Interview)
I Wanna Rock
For The Love Of Metal
AC/DC (Interview)
Highway To Hell
Credits
Ready To Fall (Bonus Track)
The Fire Still Burns (Bonus Track)
Roll Over You (Bonus Track)
Suzette (Interview)
Hearing (Interview)
Strangeland (Interview)
Lemmy (Interview)
For The Love Of Metal Live will be available in the following formats:
-Deluxe Earbook Edition: CD, Bonus CD, DVD, Blu-Ray & 7″ Single with Lyric etching – Limited to 500 copies worldwide
-Shirt & Deluxe Earbook Edition Bundle – USA Napalm Webstore Only
-8 Page Digipack with Sleeve (CD, DVD, Blu Ray)
-8 Page Digipack with Sleeve (CD, DVD, Blu Ray) & Shirt Bundle
-2LP Black Gatefold & DVD
-2LP Black Gatefold & DVD & Shirt Bundle – USA Napalm Webstore Only
-2LP Silver Gatefold & DVD – Limited to 200 copies worldwide (Napalm Webstores Only)
-2LP Silver Gatefold & DVD & Shirt Bundle – USA Napalm Webstore Only
-Digital Full Length Album
Links:

https://www.facebook.com/facedeesnider/
https://napalmrecords.com
Source of Information: Napalm Records, Photo: Tim Tronckoe