MOONSPELL to Re-Release Definitive Album The Butterfly Effect Out August 7, 2020 via Napalm Records
29. May 2020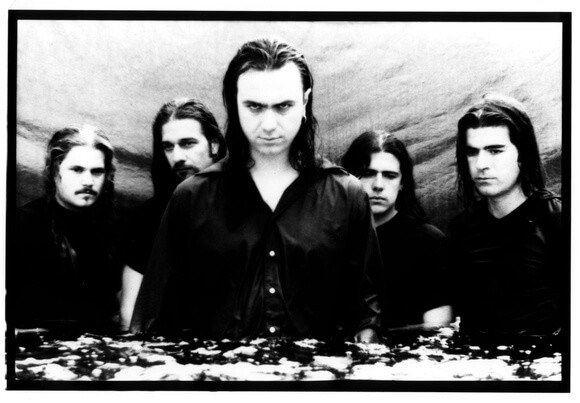 Recorded at London's Trident Studios in 1999, MOONSPELL's fourth album, The Butterfly Effect, saw the band follow more experimental paths after their impactful beginnings in gothic metal.
Influenced by industrial elements of the nineties, this full-length release from the Portuguese pioneers captivates with down-tuned guitars, an electronic veil of ghostly synths and the concept of the scientific chaos theory, proclaiming that even the smallest events in life can lead to tremendous consequences.
While the ominously calm "Can't Bee" hypnotizes with electronic trip hop elements, Fernando Ribeiro's distinctive vocals rise into a storm of aggression in the chorus of dark metal anthems such as "Lustmord" and "Angelizer", and transform this definitive album into a dynamic mix of different genres.
With The Butterfly Effect, MOONSPELL delivered some of the most courageous and exploratory songs of their career. Finally available again as LP Gatefold, digipak and even cassette tape formats, The Butterfly Effect will be re-released on August 7, 2020 via Napalm Records!
In addition, this reissue will include two new remixes, a completely re-designed cover and layout artwork, as well as an exclusive excerpt from the Butterfly FX chapter of the band's official biography,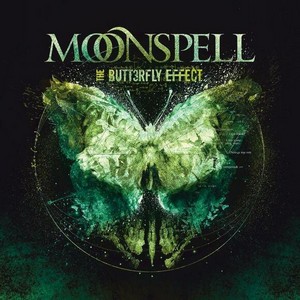 Tracklist:
Soulsick
Butterfly FX
Can't Bee
Lustmord
Selfabuse
I Am The Eternal Spectator
Solitary Vice
Dissapear Here
Adaptables
Angelizer
Tired
K
+ 7″ Vinyl Bonus Tracks:
Never Stop to Hurt You (Lustmord Remix by Pedro Paixão)
Angelized (Angelizer Remix by Pedro Paixão)
Frontman Fernando Ribeiro comments:
"The Butterfly Effect is our most eccentric and outrageous album ever. We never really knew the depth of love and hate towards it back then, as our mind was stretched and open to extensions neither us or our fans would think of. So, re-releasing and re-designing it brings this uncommon collection of songs, inspired by the Beatnik culture, electronics and technological apocalypse, under a different light. With the world gone viral, the notion of a butterfly that beats its tiny wings in the East, causing a violent earthquake in the West, has never been so accurate, which gives our 1999 extravaganza a renewed meaning and reach. Everything is everywhere, the butterfly effect."
Links:
https://www.moonspell.com
https://www.facebook.com/moonspellband
https://www.moonspell.rastilho.com
https://www.napalmrecords.com
Source of Information: All Noir – Mona Miluski
Carnifex – "Cursed (Isolation mix)"
29. May 2020
San Diego, California-based metal outfit CARNIFEX are proud to release their new single "Cursed (Isolation mix)" which was written during their downtime from the Covid-19 pandemic.
CARNIFEX comments, "Despite the chaos in the world CARNIFEX have never been in a better place creatively. We are feeling more driven than ever to fly our flag high for all of those that have lived life on the outside and those struggling with unseen opposition. We are all cursed…."
World War X was produced by CARNIFEX and Jason Suecof (DEATH ANGEL, CHELSEA GRIN, JOB FOR A COWBOY). The album was recorded and mixed by Jason at AudioHammer Studio in Sanford, Florida. Vocals for the album were tracked by Mick Kenney (ANAAL NATHRAKH, BLEEDING THROUGH) at The Barracks Studio in Huntington Beach, CA. The album artwork was created by Blake Armstrong.
Links:
http://carnifexmetal.com
https://www.facebook.com/CarnifexMetal/
Source of Information: NUCLEAR BLAST Leoni Dowidat, Foto: https://www.metal-archives.com/
Hinayana – Rising Melodic Death Quintet HINAYANA Signs with Napalm Records!
27. May 2020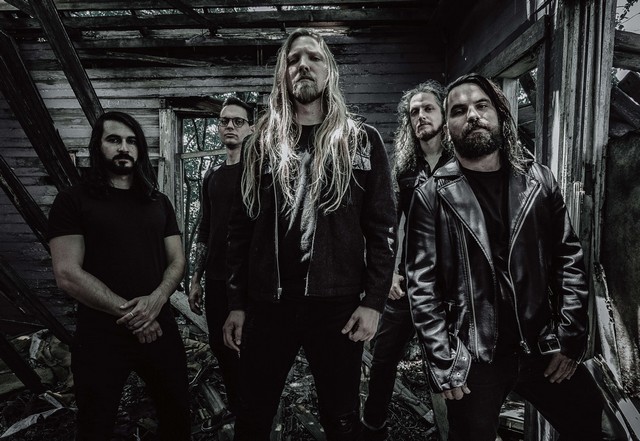 Austin, Texas, USA-based melodic death/doom upstarts HINAYANA have officially signed a worldwide contract with Napalm Records!
Originally founded as a one-man project by vocalist, guitarist and creative visionary Casey Hurd back in 2014, HINAYANA soon rounded out their full line-up and released their highly praised debut, Order Divine, in 2018. The fervent quintet scatters a remarkable sonic framework over the melodic death metal horizon whilst adding their atmospheric yet doom-driven trademark that precisely hits the heart of the scene.
HINAYANA on the signing:
"We couldn't be more proud to join the legendary roster of Napalm Records! After a long period of waiting, we've finally partnered with one of the best names in the business. I believe Napalm will be the perfect vessel for us to deliver our own brand of melodic metal to listeners all over the world. This truly marks the next chapter for HINAYANA, and we're itching to create more epic metal in collaboration with our new Napalm Records family!"
Sebastian Muench, A&R Napalm Records adds:
"We are super excited to announce the signing of HINAYANA from Austin, Texas. The band's debut album from 2018, Order Divine, was a groundbreaking masterpiece on the melodic death metal horizon. In many ways, a similar revelation to fans of bands such as WOLFHEART, BE´LAKOR and INSOMNIUM. The new songs I heard are simply brilliant!"
The band's signing with Napalm Records marks the next step in their multifaceted musical melding – stay tuned for more big news coming soon!
HINAYANA are:
Casey Hurd – vocals / guitar
Erik Shtaygrud – guitar
Daniel Vieira – drums
Michael Anstice – keyboard
Matt Bius – bass
Links:
https://www.facebook.com/hinayanamusic/
Source of Information: Napalm Records, Foto: Jackie Schutza
Amaranthe – finish studio recordings and announce new album on August, 28th!
26. May 2020
Excellent news from AMARANTHE: The band just finished the studio recordings for their new masterpiece! The sixth studio album from the Swedish modern metal heroes will be out on August, 28th, as the band revealed in a digital press conference last weekend.
The band states:
"Our sixth album is now completely DONE! Last Sunday, a few select press members and music industry professionals got the opportunity to hear our new effort, and the response was overwhelming, fanning our flames of excitement even further! We can now offically unveil that the album will be out on August 28th, and the entire AMARANTHE band and team is smouldering with anticipation to unleash this monster upon an unsuspecting world – stay tuned for  the most monumental and accomplished AMARANTHE record to date!"
More information on this highly anticipated album will follow soon. Check the AMARANTHE and NUCLEAR BLAST channels to stay up to date!
With their foundations tracing back to 2008, the group has released 5 albums since then (2011's »Amaranthe,« 2013's »The Nexus,« 2014's »Massive Addictive,« 2016's »Maximalism,« and 2018's »Helix«), consistently delivering hauntingly catchy tunes led by their unique three-part vocals.
Within their arsenal of hit singles – with 'Drop Dead Cynical' leading right at the front – a myriad tracks have been received very well via press and fans alike; having also gained countless plays on both radio stations around the globe and across streaming services (the group's songs have been streamed close to a billion times on Spotify).
A string of support tours have blazed AMARANTHE's trail in front of huge crowds as well as at their own headline concerts (the group impressively once performed in front of 10,000 fans at Liseberg, Gothenburg). They have kept working incredibly hard over the years, the latest product of which culminated in the form of »Helix,« which achieved them some of their highest chart positions in the band's history (Switzerland #21, Germany #29 etc.).
Links:
http://amaranthe.se/
https://www.facebook.com/AmarantheBand/
Source of Information: NUCLEAR BLAST Philipp Adelsberger, Foto: Jenny Milz