Anton Varga zvaný ,,Lepra" je metalovému publiku známy hlavne z formácie Abortion. Táto kapela patrí medzi priekopníkov death/grindu na Slovensku. Pred časom však rozbehol zaujímavý bočný projekt Infected Words. Ich debut dostal názov Play fast…Die Last. Aké skladby obsahuje? Kto sa podieľal na jeho nahrávaní? Chystá sa nástupca posledného albumu Abortion? Aj to sa dozviete v tomto, veľmi príjemnom rozhovore so samotným Leprom:
Zdravím Lepra. Na úvod musím povedať, že tvoj nový projekt Infected Words zaujal aj mňa, človeka – negrindera (ktorý neznesie napr. ani Vader) Skús váš nový album opísať niekomu, kto o ňom ešte nepočul.
Lepra: Nazdar! Nepúšťajte si ho. Toto nie je pre davy, ale pre zasvätených. Až chceš zažiť niečo zlé, mať pocit, že si počul, čo si nemal, smelo do toho!
Od kedy začali vznikať skladby pre váš Play Fast… Die Last a kto tvorí Infected Words?
Lepra: Kapelu tvoríme dvaja, ja Lepra – bass, vocals, a Miro Raučina – bicie. Skladby vznikali tak, že základ, teda bicie nahral Miro vo svojom domácom štúdiu a ja som potom len inštruoval, čo a ako to ma znieť. Prvotný plán bol primitívny powerviolence, ale Miro nevie hrať primitívne. 🙂  Potom som to sparoval s riffmy a nahrali do toho vokál, tiež v Mirovom štúdiu, super mega good sound and inžiniering metal familly Production štúdio.
Okrem hudby ľudí určite zaujmú hlavne názvy ,,akože songov" – Stalin´s Children´s Room, Politician Prostate Problem, Norimberg Gay Pride… Podľa čoho boli pomenované?
Lepra: Podľa akútnych problémov doby. Sú to filozofické otázky, ktoré by sme mali vedieť. Napr. Či Stalin mal detskú izbu a až áno, ako vyzerala?
A napr. Politician Prostate Problem?
Lepra: Áno. Čo si kompenzujú svojou túžbou po moci? Je to prostata? 🙂
Noooo – dobre otázky ste si kládli. Je v pláne aj fyzické vydanie albumu?
Lepra: Asi nie, možno ďalší zasek už áno, ale tento nie. Nebolo to ani v pláne.
A čo nejaké koncertné aktivity s Infected Words?
Lepra: Možno keď budeme slávny, tak za poriadne peniaze na veľkých festivaloch. Stane sa to? 🙂 🙂
Možno aj hej  🙂 Prejdime k tvojej domovskej kapele Abortion – posledný počin All You Need Is Hate ste vydali v 2017. Ako to vyzerá s jeho nástupcom.
Lepra: No je už nahratý, ešte spevy tam nie sú. Bude sa to volať "infected" a malo by to vyjsť asi koncom leta na značke Bizzare Leprous Prod., ako CD. Nahrávam to v štúdiu Vomitor sound.
Mohol by si prezradiť nejaké ďalšie podrobnosti? Bude to niečo podobné ako predošlý počin?
Lepra: Určite nie, javí sa to zatiaľ, ako dosť odlišný, čo sa týka riffov a aj spevy budú zase murmur s škrekom. Pravdaže ten základ Abortion tam bude vždy, ale teraz už priložil ruku k dielu ďalší gitarista, tak zase to bude iné.
Koronakríza pomaly končí, koncerty ožívajú. Vy zatiaľ máte na facebooku dosť strohé info. Môžeš povedať trochu viac o chystaných podujatiach?
Lepra: No začneme až od októbra hrať. Festivaly sú preložené a na leto zatiaľ okrem malých akcií, nikto radšej nič neriskuje. Po lete až sa vráti corona, tak sme v riti nadobro už.
Snáď sa tak nestane. Čomu sa venuješ v bežnom – mimohudobnom živote?
Lepra: Chodím do práce každý deň a potom klasika, priateľka, syn, čiže bežné problémy smrteľníkov.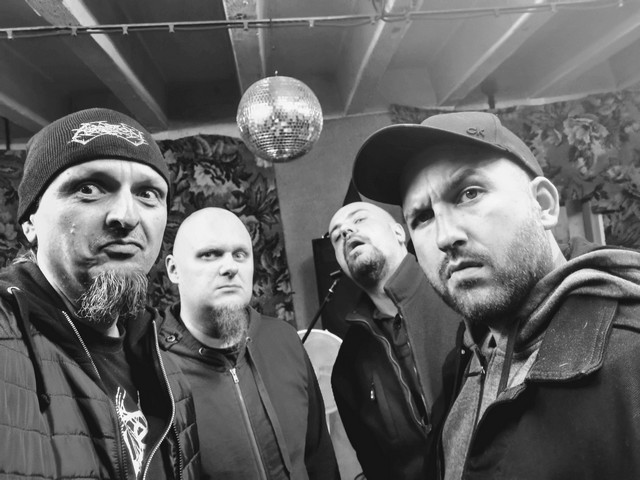 Skús rozpovedať svoj hudobný príbeh – začiatky, sformovanie Abortion a podobne….
Lepra: To je nadlho, je tomu už 30 rokov. To by bolo fakt nadlho. Možno už dokončím raz knihu a potom si to prečítaš.
Nedalo by sa aspoň v skratke?
Lepra: No asi len tak, že sme vznikali v dobe, keď neboli mobily, internet. Vieš si to predstaviť. Z pôvodnej zostavy som tu už len ja a ta momentálna je asi najlepšia, čo Abortion kedy mal. Nahrali sme 7 full albumov, plno splitiek, plno koncertov, jedno európske turné  a to je asi v skratke všetko.
A mal si pred Abortion ešte nejaké iné kapely?
Lepra: Áno, volali sme sa Atom Death a kopírovali sme Sodom a Napalm Death. Nič sme nenahrali, len tak si brnkali  robili hluk.
Ok tak to bola posledná otázka. Veľmi pekne ďakujem za rozhovor a poprosím ťa o nejaký ten odkaz pre čitateľov
Lepra: Díky za priestor a odkaz? Neverte módnym vlnám v tvrdej muzike, buďte sami sebou a nie opicou druhých!!! Dík
Ukážky:
Infected Words:
Abortion:
Linky:
Infected Words:
https://infectedwords.bandcamp.com/releases
Abortion:
https://www.facebook.com/abortiongrindcore/
https://bandzone.cz/abortion
abortionofficial.bandcamp.com