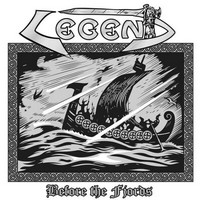 Skupina Legend fungovala len v rokoch 1978 až 1979 a potom skončila. Napriek tomu sa stala úplným kultom. Doslova definovali žáner epický metal už v roku 1979 na dokonalom debute From The Fjords. Skôr ako Cirith Ungol, Manilla Road, Manowar či Virgin Steele. Ich zámer to zrejme nebol. Len skĺbili svoju lásku k fantasy, hororu, kapelám Rush, Black Sabbath a Judas Priest. Došlo aj na psychadéliu, dokonca aj vplyv Santanu a pár vtipov. Čo by sa neskôr v žánri určite neuchytilo.
Before The Fjords je novinkové EP, ktoré bolo nahrané v roku 1978 a čakalo na vydanie 42 rokov. Je to vlastne demo. A je zaujímavé počúvať tieto iné verzie skladieb a zároveň sa čudujete prečo sa úžasné skladby ako The Court Jester a Aramis neobjavili aj na albume. Vôbec nič im nechýba.
Demu tiež dominujú neuveriteľné bicie Raymonda Frigona, ktoré nemajú konkurenciu na svete. Je z rovnakého cesta ako legendárny Neil Peart z Rush. Proste je neuveriteľné, že jediný bubeník na svete čo mohol konkurovať Peartovi nahral za život len jeden album a neskôr sa živil ako výrobca bicích nástrojov a hral s kostolnou kapelou. Skvelé riffy a melodický spev Kevina Nugenta (zomrel v roku 1983) sú veľmi originálne a k tomu skoro jazzová basgitara Johna Judga spôsobili, že aj toto demo je načisto výnimočné. Ďalší dôkaz aká obrovská škoda je že Legend sú "len" mýtickou legendou praveku metalu.
Žijúci členovia začali vyvíjať aktivity ako reedícia albumu, toto EP, tričká a podobne. Údajne chystajú aj spomienkový koncert, tak uvidíme čo ďalej. Ale pochybujem, že niekedy ešte môže nastať taká chémia ako napríklad tu.
Lineup:
Kevin Nugent – spev, gitary
John Judge – basa
Raymond Frigon – bicie
Tracklist:
The Destroyer
R.A.R.Z.
The Confrontation (instrumental)
The Court Jester
Aramis (the Lover)
Rok vydania: 2020
Vydavateľstvo: Cult Rock Classics
Youtube ukážka:
Hodnotenie: 5,5/6