Scorpions – chystaný album
24.6.2020
Legendárni Scorpions pripravujú albumovú novinku. Podľa slov frontmana Klausa Meineho pre rádio stanicu 95.5 KLOS majú zložené piesne na nový album. Na ňom nebudú chýbať tvrdšie piesnie ale ani balady, ktoré preslávili túto nemeckú legendu. Termín vydania je zatiaľ predbežne stanovený na budúci rok.
Linky:
http://www.the-scorpions.com/
https://www.facebook.com/Scorpions/
Zdroj: Blabbermouth.net, Foto: aresauburn™, CC BY-SA 2.0, Wikimedia
Svärd – ukážka z chystaného albumu
22.6.2020
Členovia Ahab a In Mourning (Tim Nedergård – spev, gitary; Björn Pettersson – gitary, vokály; Pierre Stam – basa, vokály; Cornelius Althammer – bicie) založili tohto roku nové zoskupenie Svärd. Debutové EP The Rift vydajú 3. júla.
Tracklist:
Hallowed Grounds
A Rift in the Green
Palaeocene Flames
The Burning Asylum
The Portal
Dnešný deň zverejnili lyric video k druhému singlu – The Burning Asylum:

Prvý singel:
Palaeocene Flames: https://youtu.be/Oro0EtNu8tg
Linky:
http://www.facebook.com/svardsweden
http://www.argonautarecords.com
Zdroj: All Noir – Mona Miluski
Volume – začiatok nahrávania nového albumu
23.6.2020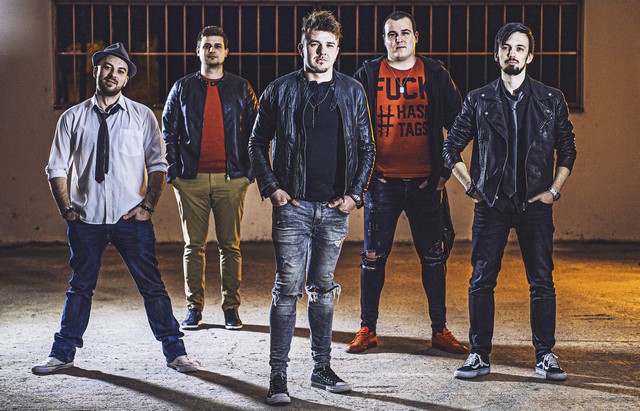 Trenčianski rockeri Volume začali nahrávať nový album, nástupcu počinu Pravá Tvár z roku 2018.
Linky:
http://www.volumeband.sk/index.php
https://www.facebook.com/volumetn/
http://bandzone.cz/volumetn
Zdroj: https://www.facebook.com/volumetn/
Dora predstavuje nového speváka v prvej ochutnávke z chystaného albumu
22. 6. 2020
Nitrianska kapela DORA, ktorá prepája folklór s rockom, sa môže pochváliť svojím druhým hraným videoklipom. Natočila ho na skladbu Heľpa, ktorú si fanúšikova kapely na koncertoch často žiadali. V nej predstavuje nového speváka a zároveň dáva ochutnať prvý kúsok z pripravovaného tretieho albumu.
Skladbu Heľpa mali chalani pripravenú už dávnejšie, rovnako ako scenár videoklipu, ktorý sa mal do audiovizuálnej podoby zhmotniť o niekoľko týždňov skôr. Keďže pandémia kapele znemožnila natáčanie, fanúšikovia si na príbehový videoklip museli počkať dlhšie. Videom ich prevedie nádejná bubeníčka, ktorá sa zapozerala do mladého muzikanta. Romantický príbeh však nemá taký koniec, aký môže divák predpokladať.
"Príbeh klipu odkazuje na to, aby ste nerobili druhým zle nielen preto, že sa to nepatrí, ale aj preto, že nikdy neviete, či raz od tohto človeka nebude záležať váš život," vysvetľuje myšlienku videa gitarista Tibor Seidl.
Heľpa je prvá skladba, v ktorej Dora predstavuje nového speváka Lukáša Slobodníka zo Šurian. Zmenu speváka kapela ohlásila už v zime. "Bolo to kvôli nezhodám v kapele a upokojeniu atmosféry. Boli len dve možnosti – buď to nechať tak a časom by sa celá kapela asi rozpadla, alebo spraviť radikálny krok a pokračovať ďalej v stabilnej zostave. Dora už jednu výmenu speváka zvládla, tak sme sa rozhodli pre tento krok," vysvetľuje Tibor. "Pre nás je kapela všetko. Každý jej obetujeme veľa času, peňazí a súkromného života. Milujeme cestovanie, spoznávanie nových ľudí, hranie koncertov,… V kapele musíte spolu nažívať ako rodina, často spolu trávite hodiny nielen na cestách a keď sa to začne kaziť, je to cítiť aj na pódiu."
Gitarista dúfa, že fanúšikovia si na zmenu rýchlo zvyknú a budú rešpektovať rozhodnutie kapely. Lukáš medzi muzikantov Tibor Seidl – gitara, Tony Marko – klávesy, Šimon Lašák – basgitara a Jaro Ozimý – bicie rýchlo zapadol a všetci veria, že speváka museli meniť naposledy.
Lukášov hlas bude znieť už aj na pripravovanom treťom albume, ktorý sa Dora chystá nahrať v letných mesiacoch. Obsahovať bude okrem skladby Heľpa ďalších 10 kúskov. Kapela sľubuje, že aj keď bude album rôznorodý, stále si udrží svoju rockovú tvár a zahrnie naň mnohé skladby, ktoré si fanúšikovia na koncertoch pýtajú (napr. Na Kráľovej holi).
Na konte má doteraz dva albumy – Pískanice s makom (2015) a Dora (2018). Mnohé kúsky z nich, ale aj novinku Heľpa, si fanúšikovia budú môcť vypočuť na viacerých chystaných letných koncertoch, aj keď mnoho akcií sa kvôli súčasnej situácii presunulo až na budúci rok. O všetkých vystúpeniach bude kapela informovať na svojom webe a sociálnych sieťach.
Videoklip Heľpa
Autorka textu: Michaela Kráľovská
Foto: archív kapely
Tlačová správa