MY DYING BRIDE ANNOUNCE NEW EP "MACABRE CABARET", OUT ON NOVEMBER 20TH
25 September 2020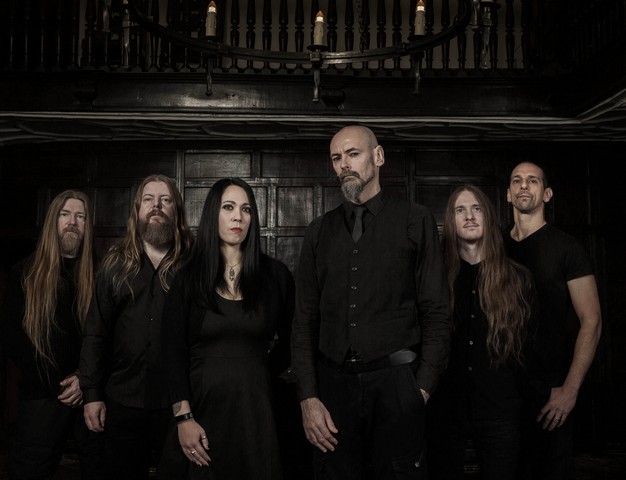 No rest for one of Britain's most melancholic exports: Just half a year after MY DYING BRIDE returned from their break with their haunting and successful (German Album Charts #12) masterpiece "The Ghost Of Orion", the kindred of Yorkshire raise the curtains to the "Macabre Cabaret" – their new MLP that will be released on November 20th via Nuclear Blast.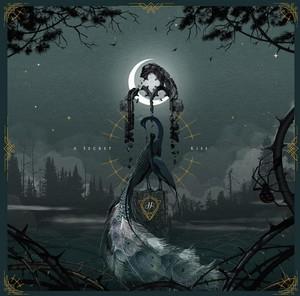 Tracklist:
Macabre Cabaret
A Secret Kiss
A Purse of Gold and Stars
Today, the band already shares a first single and a lyric video for 'A Secret Kiss'. Watch it here:
The new EP of the band offers three new songs (plus a hidden gem on the physical editions) – dark luscious Death Doom ear candies that will dive their victim into a sensual world of darkness and temptation and conceal the borders between sweet pain and destructive illusion.
Links:
https://www.mydyingbride.net/
https://www.facebook.com/MyDyingBrideOfficial/
https://www.instagram.com/mydyingbride_official/
https://www.nuclearblast.de/mydyingbride/
Source of Information: NUCLEAR BLAST Leoni Dowidat
STÄLKER Releases Raw & Apocalyptic Music Video For Brand New Single, "Intruder"
25 September 2020
New Zealand's speed metal overlords STÄLKER are returning with yet another lesson in raw and in-your-face heavy metal, breathing the spirit and danger of the glorious 80s.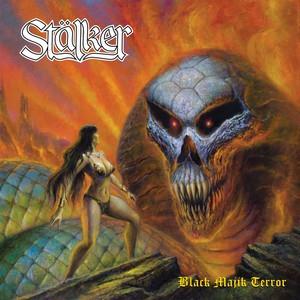 Tracklist:
Of Steel and Fire
Black Majik Terror
Sentenced To Death
Stalker
Holocene's End
Demolition
The Cross
Iron Genocide
Intruder
Following 2019's globally acclaimed Powermad EP, the band's impatiently awaited second full-length album, Black Majik Terror, will be released on October 30, 2020 via Napalm Records.
As STÄLKER weaves through tales of darkness and the ever present evil in the world, they close Black Majik Terror with the monumental "Intruder". This track employs everything the band does well – from their exaggerated vocal style to rapidly executed riffs and is an exquisite culmination of STÄLKER's work leading to this point. Everything you want from Speed Metal can be found here.
"Intruder" is the second single being released off Black Majik Terror, following the anthemic "Of Steel And Fire". The song is accompanied by a raw tale of rabid outlaws tearing through a post apocalyptic hellscape – viewers are in for a real treat!
The first single:
Of Steel And Fire: https://youtu.be/qJuR0y7sjFM
Links:
https://www.facebook.com/stalkerheavymetal
Source of Information: Napalm Records, Photo: Michael Mahne Lamb, Cover: Bob Eggleton
DEVILDRIVER Reveals Surreal Music Video for Anthemic New Single "Wishing"
25 September 2020
Top-charting dark groove metal originators DEVILDRIVER will release part one of their highly-anticipated double album, Dealing With Demons I, on its new release date of October 2, 2020 via Napalm Records.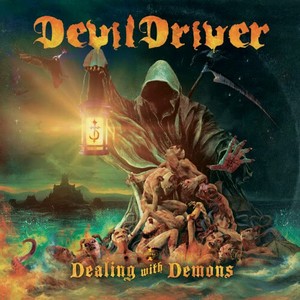 Tracklist:
Keep Away from Me
Vengeance Is Clear
Nest of Vipers
Iona
Wishing
You Give Me a Reason to Drink
Witches
Dealing with Demons
The Damned Don't Cry
Scars Me Forever
Today, DEVILDRIVER continues to bestow fans with a steady stream of content leading up to the album's impending release – following up on standout singles "Keep Away From Me", "Iona" and "Nest Of Vipers" with their most heart-wrenchingly earnest offering to date, "Wishing".
As Dealing With Demons I explores the purging of a different demon per track, "Wishing" illustrates the theme of loss – more specifically, wishing a loved one would return. The clean vocals sung on "Wishing" mark frontman Dez Fafara's first in DEVILDRIVER history, harking back to his Goth roots. Influences of Bauhaus, Sisters of Mercy and more can be heard in Dez's brooding vocal delivery on the verses, while a heavy chorus punches with raw emotion as he screams, "wishing you were with me right now!"
The dreamlike official music video for "Wishing" – the band's most surreal visual yet – places each member of DEVILDRIVER in a nightmarish state, trying to physically reach their loved ones just to have them disappear once they've nearly grasped them. Echoing the lyrical themes of the track itself, Dez and his bandmates experience this loss again and again down an eerie rabbit hole, surrounded by faceless beings and distorted imagery.
The footage seen in the "Wishing" video was filmed in separate locations by each band member, with social distancing practiced as a top priority. The finished product was directed by Vicente Cordero/Industrialism Films.
Previsious singles:
Keep Away From Me: https://youtu.be/PjACk_dw1v8
Iona: https://youtu.be/HhL6OrTq1jM
Links:
https://www.devildriver.com
https://www.facebook.com/devildriver
https://www.twitter.com/devildriver
https://www.instagram.com/devildriver
Source of Information: Napalm Records, Photo: Stephanie Cabral // Illustration: Anne Catherine Swallow;  Cover:  Johnny Jones at COMA
Evildead – upcoming album
24 September 2020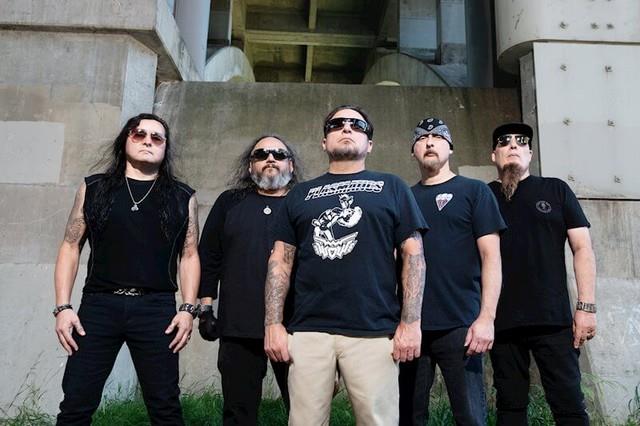 EVILDEAD was formed in 1987 with the intention to create heavy music in the thrash metal vein. EVILDEAD's debut live appearance was on April 11, 1987 at Fender's Ballroom in Long Beach, California on a bill that also featured Cryptic Slaughter, Dark Angel, and Possessed. Soon after the band entered the recording studio to record their classic 3-song demo; featuring the songs 'The Awakening',  'Sloe-Death', and 'Process: Elimination'. The EVILDEAD sound was unique; highlighting a blend of speed and thrash metal guitar riffs along with hyper drumming locked in with an over the top thundering bass with punk overtones, and lyrical themes that explored political, thought provoking social ideas; mixed with horror, and nuclear war themes.
In 1988, EVILDEAD signed a worldwide recording contract with SPV Records and released the RISE ABOVE EP featuring two original tracks; along with a cover version of the Black Flag anthem 'Rise Above' this debut generated a strong underground buzz with lots of airplay, and media support which led to a strong fan base. In the summer of 1988, EVILDEAD entered Music Grinder recording studios with Producer/Engineer Cacey McMakin (Nuclear Assault, Kreator) to record the classic full-length album ANNIHILATION OF CIVILIZATION.
In 1989 the band had some line-up changes along the way before their first successful European tour with co-headliners Laaz Rockit. In 1990 EVILDEAD returned to the recording studio with producer Warren Croyle to track their second studio album entitled THE UNDERWORLD released in 1991 to rave reviews. It attributed a more refined metal sound; featuring a cover version of the Scorpions 'He's A Woman, She's A Man' with guest appearance by vocalist and metal legend David Wayne (Metal Church). After releasing their follow up release LIVE…FROM THE DEPTHS OF THE UNDERWORLD the band disbanded in 1992 with members pursuing other projects.
In 2009 after constant inquiries and demands to reform for a reunion/live appearance; EVILDEAD returned in October. The line-up featured original drummer ROB ALANIZ, along with original guitarist JUAN GARCIA, original bassist MEL SANCHEZ, and lead guitarist ALBERT GONZALES with STEVE NELSON handling the vocal duties in place of original vocalist PHIL FLORES. The band toured Europe in 2011 co-headlining shows with Sadistic Intent. This included live-appearances at "Way Of Darkness" Festival in Germany, and also "Jalometalli" festival in Finland with additional dates throughout Europe. EVILDEAD went on hiatus a short time thereafter, but returned once again this time with original vocalist PHIL FLORES, and bassist KARLOS MEDINA from THE UNDERWORLD line-up taking over bass duties. The past few years has consisted of performing select live shows to appease a new generation of fans. EVILDEAD have been hard at work with Producer Bill Metoyer on their long awaited comeback full-length studio album.
In 2019 EVILDEAD secured a recording deal with SPV/Steamhammer for their upcoming release entitled UNITED $TATE$ OF ANARCHY (Release date: 30 October 2020). It will feature nine studio tracks plus a metalized cover version of the B-52's 'Planet Claire' as a bonus track. Seminal artist Edward J. Repka has once again illustrated the cover of the new album, to be released on CD/digipack and colored vinyl. The band has compiled a collection of new songs that are a throwback to their roots of thrash. With UNITED $TATE$ OF ANARCHY, EVILDEAD has returned more powerful than ever and awakened again to annihilate the masses.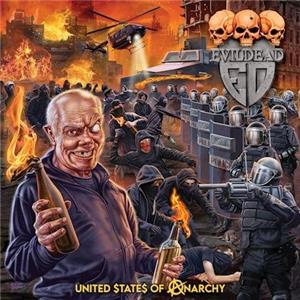 Tracklist:
The Descending
Word Of God
Napoleon Complex
Greenhouse
Without A Cause
No Difference
Blasphemy Divine
A.O.P. / War Dance
Seed Of Doubt
LP Bonus:
Planet Claire
Links:
https://www.facebook.com/Evildead.Official
https://www.instagram.com/evildeadband/
https://twitter.com/evildead1
Source of Information: Steamhammer / SPV