O bratislavských doom/gotikoch Sighisoara už dlhší čas nie je počuť. Ich klávesák Eduard Lipa však rozbehol nový projekt DWARD. Pod jeho hlavičkou produkuje originálnu, ťažko zaškatuľkovateľnú muziku. Debutový album Dark Age čoskoro uzrie svetlo sveta. O samotnom projekte, ale aj o Sighisoare, viac prezradí sám Eduard.
Zdravím Eduard. Čo ťa inšpirovalo k tomu, že si začal tvoriť nové skladby pod značkou DWARD?
Eduard Lipa: Čauko. Pretože má moja domovská kapela Sighisoara pauzu, nechcel som len tak nečinne sedieť. Hudba ma baví, tak som chcel ďalej pokračovať, ale zároveň skúsiť hrať iný štýl hudby. Mohol som tie skladby použiť do Sighisoary, ale už by to nebola Sighisoara. Preto som si založil DWARD. Všetku hudbu si skladám a nahrávam sám.
Trvalo mi asi rok, kým som nahral skladby do konečnej verzie. Hudbu som mal hotovú skôr, len som hľadal speváka. Nakoniec sa mi podarilo nájsť dvoch. Sú to Agares Baphomette zo skupiny Agares a Riddick.
Je DWARD nejaká odvodenina od tvojho mena? Alebo má to iný význam?
Eduard Lipa: Áno, je to odvodenina od môjho mena. Volám sa Eduard. Občas mi hovoria Edvard, tak z toho to vzniklo. Je to môj projekt, tak som chcel niečo, čo mi je blízke. Nemá to žiadny iný význam.
Vedel by si slovami krátko opísať muziku DWARD? Viem, že je to zrejme ťažké, ale skús.
Eduard Lipa: DWARD som nazval Metal experimental, lebo chcem experimentovať s rôznymi nástrojmi a zvukmi, ale aby to malo stále blízko k metalu. Preto mám v niektorých skladbách gajdy, akordeón, chorály, zbory. Použil som aj elektroniku, industrial prvky…je tam toho veľa. Počúvam rôznu hudbu, doom, gothic, black, industrial, elektroniku, keltskú hudbu…. Čiže inšpirácia je väčšinou z týchto štýlov hudby.
O čom hovoria texty piesní?
Eduard Lipa: Texty sú väčšinou o satanizme, antikresťanstve, Drakulovi, temných veciach, smútku…
V jednotlivých skladbách spievajú až dvaja speváci. Kto to je?
Eduard Lipa: Áno. V skladbách Dark Age a Waiting in Silence sú dvaja speváci. Ako som už spomenul vyššie, je to Agares Baphomette zo skupiny Agares a Riddick. Časť textu v skladbách napísal Agares a aj Riddick. Agares má na starosť growl a čistý spev, a Riddick zase doprovodný spev.
Väčšinou chcem využívať v skladbách growl, preto ostatné skladby otextoval a naspieval Agares.
 Spolupracoval s tebou ešte niekto okrem nich?
Eduard Lipa: Nie. Hudbu mám pod palcom ja Ed Dward. Texty a vokály zase Agares Baphomette, a Riddick.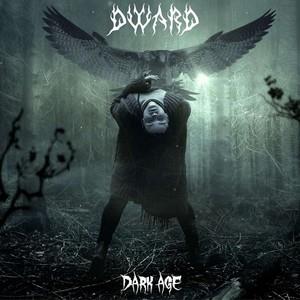 Ako sa bude volať debutový album DWARD a kedy bude vydaný?
Eduard Lipa: Debutový album DWARD sa bude volať Dark Age. Momentálne sa robí mix a mastering. Času je málo, tak to ešte chvíľu potrvá. Dúfam, že do konca roka by mohol byť album na svete.
V prípade, že sa zlepší situácia – je šanca aj na koncert DWARD?
Eduard Lipa: Ja by som si rád zahral, ale neviem či to bude pre DWARD možné. Ja bývam v Senci. Agares Baphomette v Sokolove v Čechách a Riddick zase v Topoľčanoch. My to všetko riešime mailom. Ja im pošlem hudbu, oni naspievajú skladby u seba a pošlú mi to späť. Ďalej by som musel zohnať ďalších hudobníkov na ostatné nástroje… Takže, zatiaľ to vyzerá, že DWARD bude bez koncertov.
A čo Sighisoara? Bude ešte niečo nové od vás?
Eduard Lipa: Hmmmm, ťažká otázka. Ja dúfam, že sa ešte podarí niečo nové. Len už by to bolo s niektorými novými členmi. Viacerí už máme deti, väčšina sa odsťahovala z Bratislavy, takže už bolo málo času na skúšanie. Sighisoaru som založil, tak je to ako moje dieťa…pevne verím, že aspoň nejaké nové skladby budú.
Skús vyrozprávať svoj príbeh – ako si začal s muzikou, aké boli prvé kapely a podobne.
Eduard Lipa: Muzika ma sprevádza celý život. U nás doma stále hrala hudba. Hlavne rock a neskôr aj metal. Prišli prvé koncerty, festivaly, posedenia pri pive a premýšľania s kamošmi, že by sme si tiež mohli založiť kapelu. Najprv som skúšal basgitaru, ale potom som si vypočul Mortiisa a chcel som sa naučiť hrať na klávesy. Učil som sa sám, do hudobnej školy som nechodil. Neskôr som si s kamošom založil Sighisoaru.
Zo začiatku to bolo len také hranie, ale postupne prišli ďalší členovia a už sme to brali vážnejšie. Nahrali sme dva albumy, zahrali si na rôznych koncertoch doma a aj v zahraničí. Zúčastnili sme sa aj na súťažiach. Najúspešnejšia bola Emergenza, kde sme skončili v európskom kole na 4. mieste.
A aké kapely ma inšpirovali? Je ich veľa. Skúsim pár vymenovať: Dimmu Borgir, Crematory, Paradise Lost, Mono Inc, Lord of the lost, Mortiis, Cradle of filth, Xiii.století, In Flames,In Extremo, Eluveitie, Pantera…
Slovenská scéna zažíva ťažké časy – ako bude podľa teba vyzerať po tejto kríze?
Eduard Lipa: Pokiaľ ide o metalové kapely, tie majú ťažké časy stále. Jediný, kto pomáha metalovým kapelám je: Slovak Metal Army, Metalscena, ktorá hrá slovenské a české metalové kapely, a pár internetových zinov. Ostatné rádia na metal kašlú. V každom rádiu hrajú tie isté komerčné sračky. Ja dúfam, že metalová scéna povstane, bude silnejšia a kapely budú viac držať spolu.
Ok, tak veľmi pekne ďakujem za rozhovor a poprosím ťa o nejaký ten odkaz pre čitateľov.
Eduard Lipa: Aj ja ďakujem veľmi pekne za rozhovor, za poskytnutý priestor. Čitateľom prajem v prvom rade zdravie a aby si život užívali pri dobrej hudbe.
Youtube ukážka:
Linky:
https://www.facebook.com/dwardband/
https://bandzone.cz/dward
https://www.youtube.com/channel/UCo5Yhj5iDTeeaA-fpjykavw