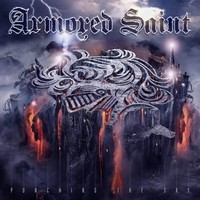 Armored Saint patrí medzi najväčšie legendy amerického heavy metalu osemdesiatych rokov. O ich speváka Johna Busha bojovala aj Metallica na svojom začiatku. A keď sa AS rozpadli išiel spievať do Anthrax, čo sa stalo moje najobľúbenejšie obdobie slávnych mosherov.
AS nevydávajú platne príliš často, ale vždy to stojí za to. Nie je tomu inak ani pri novinkovom albume Punching The Sky. Od začiatku sa na vás valí tradičný Saint v tom najlepšom duchu. US power metal ovplyvnený 70´s hard rockom. Svižný a s prirodzeným zvukom bez použitie akejkoľvek krabičky. Vynikajúce výkony a fantastické texty.
Na kapele je veľmi sympatické, že fungujú, ako rodina. Ako klan. Za skoro štyridsať rokov existencie došlo len k jednej zmene v zostave. A to len vďaka úmrtiu pôvodného gitaristu Davea Pricharda v roku 1990. K tej ich zomknutosti sa vyjadrovali aj v traileri na pripravovaný dokument o Armored Saint, na ktorý sa veľmi teším.
Punching The Sky sa nesie v podobnom duchu ako predchodca Win Hands Down, ale pribudlo ešte viac melódií. A tak sa dá porovnať aj s Revelation z roku 2000, ktorý patrí medzi vrcholy kapely. Moja najobľúbenejšia pieseň albumu je rozhodne End of the Attention Span. Dúfam, že COVID povolí a kapely budú môcť ísť na turné, a ja si ich druhýkrát vychutnám pod pódiom.
Lineup:
John Bush – spev
Phil Sandoval – gitary
Jeff Duncan – gitary
Joey Vera – basa
Gonzo Sandoval – bicie
Hostia:
Patrick D'Arcy – írske píšťaly
Jacob Ayala – perkusie
Dizzy Reed – klávesy
Tracklist:
Standing on the Shoulders of Giants
End of the Attention Span
Bubble
My Jurisdiction
Do Wrong to None
Lone Wolf
Missile to Gun
Fly in the Ointment
Bark, No Bite
Unfair
Never You Fret
Rok vydania: 2020
Vydavateľstvo: Metal Blade Records
Youtube ukážka:
Linky:
https://www.armoredsaint.com/
https://www.facebook.com/thearmoredsaint/
https://www.instagram.com/thearmoredsaint/
Hodnotenie: 5,5/6