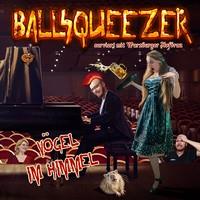 Ballsqueezer mi vždy prišli nesmierne zábavná banda. Žiaľ som ich ešte nemal možnosť počuť live, ale viem si to predstaviť.
Informácia pre neznalých: je to slovenská kapela, ktorá zvykne za jeden rok vydať aj dva albumy. No tento rok vydali iba jeden – Vögel im Himmel.
Už ani netuším ktorá v poradí platňa a priznám sa, že mi s mojou chabou nemčinou zo základky dala zabrať. Áno album je v nemčine. Asi chcú ovládnuť nemecký trh, kedže nemecká scéna trhového pivného metalu stagnuje. 😀
Zábavný, svižný a príjemne melodický zvuk. Vtipná kombinácia atletického power metalu, punk rocku a moderného hard rocku. Celá nahrávka má dobrú náladu, je to výborne zahrané a má to solídny zvuk.
Ženský vokál hodne osviežil a klávesové zvuky piana a mini moogu v sólových výpadoch ma veľmi bavia. Osobne sú to s hammondom moje najobľúbenejšie zvuky.
Táto odľahčená zábava v zbesilom tempe má svoje miesto na našej scéne. Ja som rozhodne za a dúfam, že sa s pivom čoskoro postavím na ich koncert.
Lineup:
Daddy – spev, basa
Pedro – gitary
Mikey – gitary
Peat – bicie
Hostia:
Julia Julkin – vokály
Mr. Tomas Köppl – klávesy, piano
Tracklist:
Immer Öfter
Mein Traum
Sommerleben
Unfall in der Spritzkabine
Weiss ich ob
Irenne
Gut Sabine
Friedhof neben Bahnhof
Vögel im Himmel
Würzburger Hofbräu
Rok vydania: 2020
Vydavateľstvo: Samovydanie
Youtube ukážka:
Linky:
http://www.ballsqueezer.net/
https://www.facebook.com/Ballsqueezernet-482922295082690/
http://bandzone.cz/ballsqueezer
Hodnotenie: 5/6