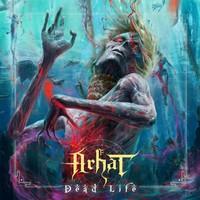 Arhat je termín používaný v džinizme a théravádovom budhizme pre praktizujúceho, ktorý prekonal desať prekážok a dosiahol nirvánu. Inak povedané, ide o človeka, ktorý dosiahol konečné vyslobodenie z neustáleho kolobehu znovuzrodenia tým, že sa zbavil týchto tzv. desiatich svetských pút : iluzórnosti ,ja', pochybovania, rituálov, zmyslovej žiadostivosti, zlovôle, lipnutia na hmotnej a nehmotnej existencii, domýšľavosti, nepokoja a nevedomosti. Neviem, či je toto v Európe možné.
Arhat je teda groove metalová kapela z ukrajinského Kyjeva. Svoje prvé demo ,Mantra' nahrali v januári 2018 a ,Mŕtvy život' je ich debutový full album. Deväť skladieb reprezentuje dobrý, agresívny zvuk a brilantné sóla. Ďalšími zaujímavými ingredienciami sú orientálne ženské vokály a perkusie.
Hudobne ide o fúziu hardcoru, groove a death metalu s etnickými aspektmi, ktorých je však poskromne. Pripomenú momenty, ktorých sa dotkli Sepultura a Soulfly, ale Arhat tomu vtisli vlastnú pečať. Myslím si, že nahrávku by oživilo viac východných vplyvov. Preto za najlepšie považujem skladby Outcast, Arhat a Mantra, kde ich môžete počuť.
Texty sú, podľa samotnej kapely, ironickou reflexiou našich drsných čias, na druhej strane sa zaoberajú zápletkami z mytológie a histórie Orientu. Album zdobí vynikajúci artwork z dielne Dmytro Yurchenka.
Lineup:
Alex Sitkoff – spev
Anton Skrebov – gitary
Anton Inov – basa
Dmytro Sychov – bicie
Tracklist:
Edge of the Abyss (intro)
Dead Life
Freedom
Outcast
Stately Ruins
Arhat
Maximalism
Danger of Death
Mantra
Rok vydania: 2020
Vydavateľstvo: Samovydanie
Youtube ukážka:
Linky:
https://www.facebook.com/arhatgroove/
https://arhat2.bandcamp.com/
https://www.instagram.com/arhatgroove/
https://www.youtube.com/channel/UCVGyGqjFMDc6odCv_VfAQJg
Hodnotenie: 4/6
Páčil sa ti tento článok?