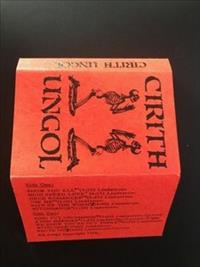 Ako recenzovať tento prastarý kult kultov? Toto demo má každý fanúšik Cirith Ungol určite doma a jeho reedícia na CD je určite sviatkom.
The Orange Album obsahuje rôzne nahrávky z ich ranného obdobia, keď v kapele ešte spieval gitarista Greg Lindstrom, ale nachádza sa tu aj jedna pieseň s pôvodným spevákom Nealom Beattie. Ten znie doslova ako mladý Alice Cooper.
Dôjde aj na prvú pieseň naspievanú legendárnym ujačancom Timom Bakerom High Speed Love. Tá už znie ako C.U. vo svojej zlatej ére. Aj keď tam Tim spieva tiež ako Alice Cooper. Na tomto deme je aj prvá verzia legendárnej pecky Atom Smasher, ale v inštrumentálnej verzii.
Aj zvukové ošetrenie je veľmi dobre (na rozdiel od Manilla Road napr.). Celá nahrávka nádherne ukazuje vývoj kapely od úplného začiatku k demu 1979, kde už sme počuli Cirith Ungol ako ich poznáme, i keď to klávesy mierne špatili.
Čiže reedícia The Orange Album bola správnym krokom. Je veľká šanca, že sa ku kapele dostanú aj ľudia, ktorí o nich nikdy nepočuli.
Lineup:
Greg Lindstrom – spev, basa, gitary
Jerry Fogle (R.I.P. 1998) – gitary
Robert Garven – bicie, vokály
Hostia:
Tim Baker – spev (2), doprovodné vokály
Neal Beattie – spev (9)
Tracklist:
Show You All
High Speed Love
Neck Romancer (instrumental)
Use Me
Bite of the Worm
Witchdance (instrumental)
King Tut Uncommon
Atom Smasher (instrumental)
We Know You're Out There
Witsucker (instrumental)
Route 666
Rok vydania: 1978 (pôvodne nahraté), 2021 vydanie

Vydavateľstvo: Samovydanie
Youtube ukážka:
Linky:
https://www.facebook.com/cirithungolofficial/
https://cirithungol.bandcamp.com/
https://www.instagram.com/cirithungolband/
Hodnotenie: 6/6
Páčil sa ti tento článok?