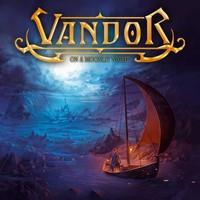 První, co z alba Vandor – "On A Moonlight Night" uvidíte je obal. Plachetnice za úplňku. S touto grafikou se v poslední době roztrhl pytel, nicméně tento obrázek má v sobě nějakou přitažlivost, nějakou zvláštní náladu, která se mi líbí.
Co se týče hudebních škatulek, jde o album, které by se mohlo líbit vám, kteří máte rádi třeba Rhapsody nebo Sonatu Arcticu. Hraje se celkem rychle, ale často jsou nástupy refrénů nebo změny čitelné příliš dopředu. V podstatě přesně podle zavedených stylových mantinelů.
Jsou tu ale i momenty, kde je to naopak. Osobně si musím z alba vybírat. Celková stopáž přes padesát tři minut ale umožňuje vybrat si dle gusta. Líbí se mi intro, které plynule přechází do první skladby, další, na kterou bych upozornil je Endless Sea, která je dle mého názoru adept na nej hit alba a taky se tu tolik nezávodí a děje se toho víc.
Je víc co poslouchat. Následující Future To Behold též. Někdy je na albu slyšet, že co se zpěvu týče, jde se až na samou hranici možností zpěváka a místy mám i pocit, že až za ní. Ale to nechám k posouzení vám.
Aranže to celkem slušně doženou. The Sword To End All Wars je zhruba sedmnáctiminutová skladba, kde je opět víc, co poslouchat. Baví mě hlavně rytmicky složitější pasáže.
On A Moonlit Night je balada, kde se zpívá převážně jen s kytarou, v pozadí s praskajícím ohněm. Postupně se nabalují další detaily. Je to ale na motiv, který už na albu jednou je.
Kruh se uzavírá. To si ale najdete sami.
Lineup:
Vide Bjerde – spev, gitary
Jack L. Stroem – gitary, doprovodné vokály, klávesy
Alve Bjerde – basa
Lova Krysell – bicie (tracks 2-3, 9)
Robin Risander – bicie (tracks 4-7, 10-11)
Hostia:
Johannes Frykholm – klávesy (tracks 2-3, 6-7, 11)
Lova Krysell – zbory (track 3, 7, 10-11)
Kammo Olayvar – zbory (track 3, 7, 10-11)
Lil Simp – zbory (track 3, 7, 10-11)
Viktor Andrén – zbory (track 3, 7, 10-11)
Tommy Henriksson – zbory (track 3, 7, 10-11)
Tracklist:
… Darkness Looms (instrumental)
Mountains of Avagale
River of Life
Endless Sea
Future to Behold
Fate of Eltoria
The Sword to End All Wars
On a Moonlit Night
Enter Twilight
Together We Fight
Serpent & Its Prey
Future to Behold (acoustic version)
Fate of Eltoria [8-bit version]
Rok vydania: 2021
Vydavateľstvo: Scarlet Records
Youtube ukážka:
Linky:
http://www.vandorband.com/
https://www.facebook.com/vandorband/
https://www.instagram.com/vandorband/
https://www.youtube.com/channel/UC9EWavzQEPNnPheLXHUrlXQ/
Hodnotenie: 4/6