Slovenská metalová scéna vždy mala a stále aj má svoje špecifiká. Jedným z nich je aj množstvo formácií, ktoré napriek svojim úspechom skončili bez akéhokoľvek oficiálneho full albumu. 80-te roky boli zlatým obdobím pre takúto muziku. Výnimkou nebolo ani Slovensko – súčasť vtedajšej Československej socialistickej republiky. No pomery u nás boli dosť špecifické.
V začiatkoch bola snaha režimu podobnú muziku priamo zakazovať, neskôr boli nastavené kruté podmienky. Kapela musela najprv vydať single (a rozhodne to nebolo umožnené všetkým). A až keď tie single mali obrovskú predajnosť, tak prišlo na rad vydanie full albumu.
Z tohto dôvodu jedinými ,,tvrdšími slovenskými kapelami", ktoré pred r. 1989 vydali plnohodnotný album boli len Tublatanka (rovnomenný debut  z r. 1985) a s istým ,,sebazaprením" – môžeme spomenúť aj Team.
Nastal tak paradoxný jav. Veľa interpretov síce malo množstvo koncertov po celej republike, úspešné klipy vo vtedajšej relácii Triangel (poprípade sa objavovali v iných reláciách), vydali niekoľko singlov, ale do dnešného dňa plnohodnotný album nikdy nenahrali.
Medzi nich patrili:
1. Hematit
Hematit, jedna z najúspešnejších slovenských heavy metalových kapiel. Vznikli v r. 1985 v Banskej Bystrici. Za minulého režimu vydali singel Slabý boxér/Dvojka zo správania (1987). Po r. 1989 sa snažili o full album, no nikdy k tomu nedošlo.
Okolo roku 2008 bol reunion. Koncertujú síce aj v dnešných dňoch, no nejaký ten of. album je zatiaľ v nedohľadne. Ak sa pozriete na členov zostáv, tak tam nájdete zaujímavé mená.V ich radoch sa mihli aj Fero Gašparík a Ľubo Lichý, neskorší členovia Metalindy. Prvý menovaný tam hrá dodnes a druhý sa mihol aj v Dereši.
A spevák Hematitu – Roman Révai na krátky čas pôsobil v Teame. Možno viete, možno nie. V r. 1997 vydali Team album Voľná zóna, jediný bez P. Haberu. Na ňom spieval práve Roman.
2. Cerberus
Osud Cerberus bol asi najkurióznejší. Toto zoskupenie sa zrodilo v 1985-tom. Zakladajúcimi členmi boli Miro Lustig – (gitara) a Peter Junas (basa). Neskôr sa pridali Miloš Škorec – (gitara), Tomáš Vojtek – (bicie), Štefan Karniš (spev).
V 80tkách hrávali množstvo koncertov po celom ČSR – napr. aj v dome Barikádniku ,,Barči" v Čechách. A nie len tam. Podarilo sa im vystúpiť aj vo Viedni. Pri koncertoch používali aj pyrotechniku a kulisy v podobe stredovekého hradu.
V r. 1991 mal v Opuse vyjsť ich album. To sa nakoniec nikdy nestalo a prišiel koniec. O pár rokov neskôr pri zachraňovaní vytopených skladov Opusu našli obal zo svojej pripravovanej platne.
Čiže: Obal bol vydaný, ale platňa nie.
Nejaké Cerberus skladby si môžte vypočuť na tomto linku.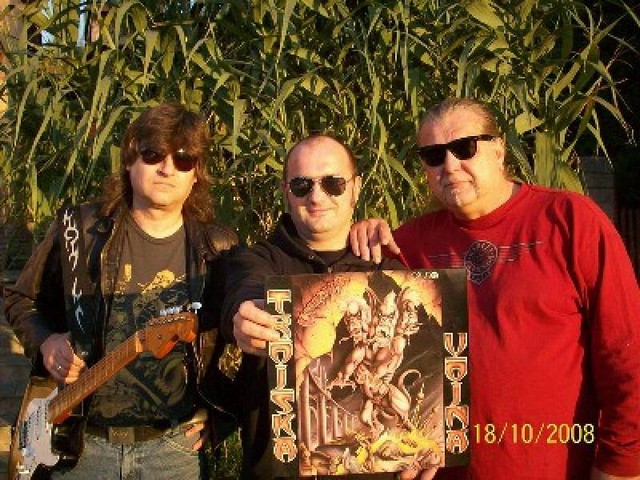 3. Kobra
Kobra bola jedna z najslávnejších bratislavských kapiel. Zrodila sa v r. 1987, pomerne často koncertovala a často sa objavovala aj vo vtedajšej TV.
No ostal po nich len jeden singel Posledný bál/Správa o počasí (1989). Podľa serveru metal-archives.com ich najznámejšia skladba, klipovka Ja chcem byť svoj, bola vydaná na kompilácii Triangel Extra – Heavy Metal Party.
Aj oni skúsili reunion (2009), ale aj u nich bolo výsledkom len zopár koncertov.
Zopár ich členov bolo neskôr aktívnych v slávnejších zoskupeniach. Spevák Tibor Fuzek bol aktívny v Metalinde (Loď pre 5 miliárd) a do Metalindy prešiel aj gitarista Mišo Kovalčík.
Počas pokusu o reunion namiesto neho na gitaru hral Eugen Pál Baláž (známy z rožňavských Sexit). Navyše viacerí členovia neskôr pôsobili (alebo pôsobia?) v revivali AC/DC.
4. IF
Za týmto krátkym názvom sa skrýva 80tkové heavy metalové zoskupenie z Ivanky pri Nitre.
Aj u nich by sme našli známych ľudí – napr. Juraj Topor (neskôr Tublatanka), Peter Varga a Peter Bugár (obaja v súčasnosti Symfobia), a dokonca sa u nich mihol na krátky čas aj samotný maestro Oto Weiter.
Po spevákovi, bohužiaľ, už nebohom Róbertovi Čerešňovi pozerali aj samotní Citron.
Aj oni mali množstvo koncertov. No po nich nenájdeme ani len ten klip. Max. niekoľko songov na youtube.
5. Regata
Regata bola bratislavská banda s dosť smutným osudom.
Vznikli v r. 1983 v hlavnom meste. V zostave ste mohli nájsť ľudí ako Peter Sámel, Ján Lapoš (obaja neskôr Metalinda). Spevákom bol Ivan Líška.
Po r. 1989 síce natočili album v štúdiu Opusu, no počas zmätkov okolo privatizácie sa nahrávky jednoducho stratili. A tak jedinou nahrávkou, ktorá po nich zostala je pieseň Založíme kapelu, z kompilácie Bratislavský nárez (2009).
P.S.: V článku neboli spomenuté zoskupenia, ako Dereš, Makar Čudra. Tie síce dlhý čas tiež nemali na konte žiaden oficiálny album, no po dlhej-predlhej dobe (cca 30 rokov) sa k of. nahrávke predsa len dopracovali.
Zdroje:
Bratislavský narez; ISBN 9788096950423
Titulná foto: Hematit, Foto Cerberus: http://www.easynet.sk/m2l.php?idi=3674,
Za spoluprácu formou konzultácii ďakujem: Marekovi Kučerovi, Milanovi Sitarovi