MUNICIPAL WASTE To Release New Album "Electrified Brain" On July 1st
1. April 2022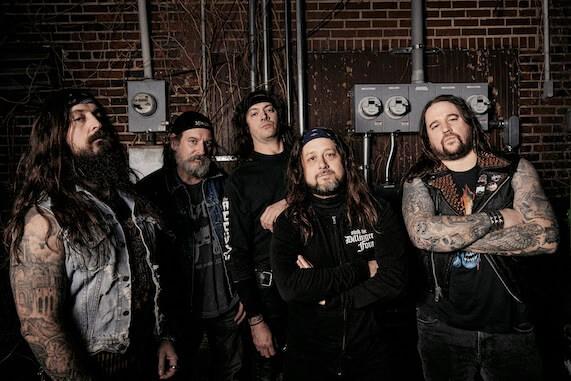 Not an April Fools' joke! Richmond's hard-partying, thrash metal maniacs MUNICIPAL WASTE will release their massively-anticipated 7th studio album, "Electrified Brain," on July 1st via Nuclear Blast. Today, the band has revealed the shocking cover artwork by James Bousema, tracklisting and the deadly single "Grave Dive."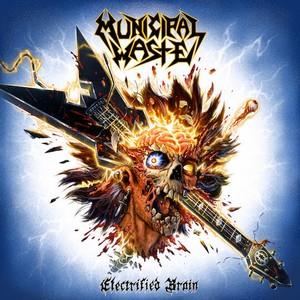 Tracklist:
Electrified Brain
Demoralizer
Last Crawl
Grave Dive
The Bite
High Speed Steel
Thermonuclear Protection
Blood Vessel / Boat Jail
Crank the Heat
Restless and Wicked
Ten Cent Beer Night
Barreled Rage
Putting on Errors
Paranormal Janitor
"Electrified Brain" marks 

MUNICIPAL

 

WASTE

's first album in 5 years, following the release of their critically exalted 2017 record "Slime and Punishment."
And don't think they've slowed down in the years since. "We're not writing any love ballads to sell records," affirms vocalist Tony Foresta. "We're just doing what we've always done since the band started—and that's try to write loud, fast, and ripping hardcorepunkmetal. We hope you walk away with some bloody ears, blown speakers, pissed off parents, black eyes, and a healthy distrust of authority."
Recorded in Philadelphia with producer Arthur Rizk (Power Trip, Code Orange), "Electrified Brain" is a high-voltage non-stop masterclass of neck-snapping thrash that'd be the ideal soundtrack for high-speed car chases and backyard steel cage matches as witnessed on the new track "Grave Dive."
"It's in the vein of songs like 'Headbanger Face Rip' and 'Wave of Death'," Tony notes. "It's an inspirational song for our fans to cause bodily harm to themselves, but in a loud and healthy way, of course."
Since 2001, Municipal Waste have uncompromisingly stuck to their guns as hard-partying and even harder-hitting torchbearers of 21st century thrash metal. The Richmond, VA quintet—Tony Foresta [vocals], Ryan Waste [guitar], Philip "Landphil" Hall [bass], Dave Witte [drums], and Nick Poulos [guitar]—have transformed from a cult favorite into metal mainstays for a generation.
Along the way, Decibel touted "The Art of Partying" in its coveted "Hall of Fame" and asserted it "revved up interest in thrash and inspired a fresh wave of youthful new bands." Metal Hammer christened "The Art of Partying" one of "The 50 Greatest Thrash Metal Albums Ever," while Loudwire pegged "The Art of Partying" as "The Best Thrash Album of 2007" and "Hazardous Mutation" as "The Best Thrash Album of 2005." 
The guys have sold out countless shows on multiple continents and piled up tens of millions of streams in the process. 2017's "Slime  and Punishment" bowed in the Top 3 of the Billboard Heatseekers Albums Chart, and "The Last Rager" EP only accelerated their momentum in 2019.
Municipal Waste maintain course as vicious and vital as ever on 2022's Electrified Brain [Nuclear Blast] as heard on tracks like "Grave Dive," "High Speed Steel" and "Crank The Heat." Recorded during the pandemic in Philadelphia with producer Arthur Rizk [Power Trip, Code Orange], the sessions would be the first time the band reunited in person after a year. Together, they achieved "a thicker and heavier sound."
In the end, "Electrified Brain" will give you everything you'd want from a Municipal Waste record or heavy metal record, period. "We hope you walk away with some bloody ears, blown speakers, pissed off parents, black eyes, and a healthy distrust of authority," says Tony.
Links:
https://www.municipalwaste.net/
https://www.facebook.com/Municipalwaste/
https://www.instagram.com/municipalwaste/
https://www.youtube.com/c/thewasteofficial/
Source of Information: NUCLEAR BLAST – Arne Jamelle, Photo: Kip Dawkins
Swedish Thrash Metallers DEFIATORY Share New Lyric Video For "Into The Unknown"!
1. April 2022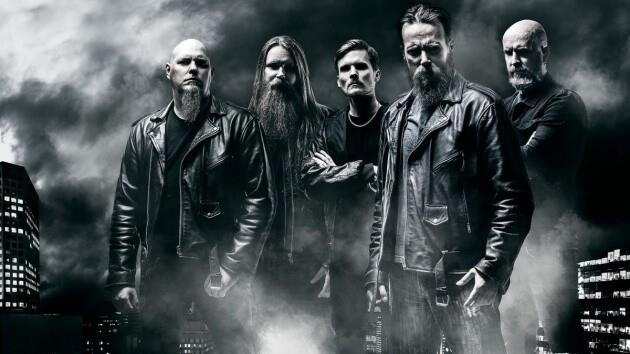 On June 3rd, Swedish thrash metallers DEFIATORY will release their highly anticipated new full-length record "Apokalyps" on Black Lion Records. In support of the upcoming album, the band has released a lyric video for the track "Into the Unknown" today.
Tracklist:
Apokalyps
Only War
Belligerent and Hostile
Into the Unknown
No Place to Hide
Knives
Let Them Burn
Assassinate
Counting Bones
Watch the video here:
"Apokalyps", the third installment by the band from Umeå, evolves from their previous two releases, adding a more sinister atmosphere, harsh melodies and ruthless tempo, as they explore the coming of the ultimate end of the world. So brace yourselves as the Swedish quartet takes you on a journey through an ever changing landscape of war, destruction and invasion from beyond the veil.
The album was produced and recorded by DEFIATORY, mixed by Patrik Wall and mastered by Erik Lindberg at Ekens Ljudkross. "Apokalyps" will be released via Black Lion Records on CD//Digital, with vinyl and tape to follow sometime in late fall and early winter
Links:
https://www.facebook.com/defiatory/
https://defiatoryblacklion.bandcamp.com
https://blacklion.nu/
https://www.facebook.com/blacklionrecordsswe/
Source of Information: Dominik Goncalves dos Reis – ALL NOIR
Finnish Fantasy Metal Force BATTLELORE Presents First Single from New Album, "The Return Of The Shadow" – Their First Record in Over 10 Years!
31. March 2022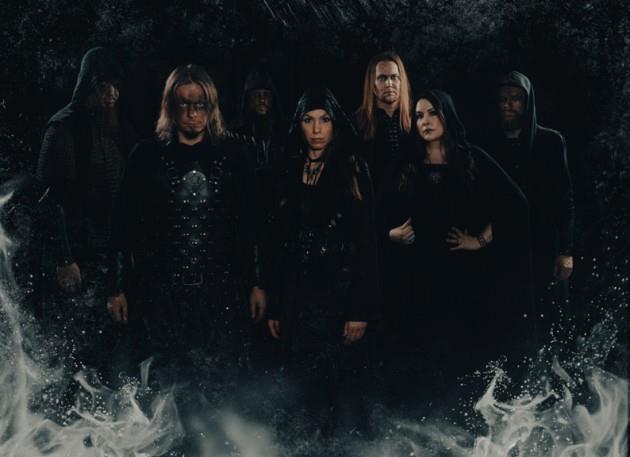 The time has come to wield your sword and charge back to the battlefield! Following their last studio album, Doombound (2011), and extensive touring, Finnish heavy metal force BATTLELORE took a creative break. On June 3, 2022, the long, lingering 10-year sleep of the collective will finally end with the release of their much awaited, seventh record, entitled The Return Of The Shadow, via Napalm Records!
"It wasn't intentional, time just passed, and we didn't want to push things to happen, because we knew that the new album would come when the stars are aligned and the time is right," vocalist Tomi Mykkänen reveals. "This is our "comeback" album and we are ready to be back!"
The album title perfectly represents their sensational comeback. Named after Tolkien's original, shelved title for his legendary epic fantasy novel Fellowship of the Ring, BATTLELORE's brand new album features nine Middle-earth themed songs, shining with the blistering aura the band has become known and loved for.
This day, they have finally shared a first track taken from The Return Of The Shadow!
On "Firekeeper", the Lappeenranta-based fantasy metal warriors showcase their exceptional songwriting skills, diving deep into dark facets of symphonic yet heavy metal realms. The vocal duets of Tomi Mykkänen's power and the fairylike voice of Kaisa Jouhki merge with otherworldly guitars on this epic metal hymn!
Guitarist Jyri Vahvanen says about the track,
"In the beginning there was nothing but silence. Then came the Creator called Ilúvatar and began a song which gave a birth to a world called Arda, and in the heart of it he set a flame, The Secret Fire. The One, All Father, Firekeeper of the World!"
Tracklist:
Minas Morgul
Chambers of Fire
Orcrist
Homecoming
Elvenking
Firekeeper
Mirrormere
True Dragons
Shadow of the East
Lost Lands Bonus EP track listing:
Avathar
Caves of the Forgotten
Isenmouthe
Watch the new BATTLELORE lyric video for "Firekeeper" HERE:
The Return Of The Shadow was recorded by Janne Saksa at the Sound Supreme Studios, Finland, and was mixed and mastered by Dan Swanö at Unisound Studios. As a special gift to fans, the album will also include a bonus EP, entitled Lost Lands, that features three songs written around the beginning of the band's hiatus that, soundwise, are different from the tracks on the main album.
"This bonus EP is something we wanted to record and release alongside the actual album, to clear the table and continue our musical career without any unpublished material haunting us from the past." Tomi explains. "The songs of the EP are from the beginning of our 10-year hiatus, so the compositions and the overall atmosphere differ from The Return Of The Shadow. Therefore, we felt that these hymns from the old days deserved their own release."
As the first single proves, the energy BATTLELORE showcases on The Return Of The Shadow – their first full-length album in more than 10 years – is immediately evident, making this record one of their strongest, heaviest and best works to date. Thankfully it's not just their shadows, but the return of one of the most thrilling acts in heavy fantasy metal – welcome back, BATTLELORE!
The Return Of The Shadow will be out on June 3, 2022 through Napalm Records,
Links:
http://www.battlelore.net/
https://www.facebook.com/BattleloreOfficial/
https://www.instagram.com/battleloreofficial/
https://label.napalmrecords.com/battlelore-2/
Source of Information: All Noir – Mona Miluski, Photo: Toni Salminen
Sinner to unleash new studio album »Brotherhood« this summer; sign to Atomic Fire Records
31. March 2022
Atomic Fire Records today welcomes German hard rock quartet SINNER to its expanding roster. The band will release a 12-track full-length, aptly titled »Brotherhood«, this summer. Produced by frontman Mat Sinner and co-produced by guitarist Tom Naumann, »Brotherhood« was recorded by Basi Roeder at Backyard Studios as well as Mitch Kunz at Apollo 13 Audio, and mixed and mastered by Jacob Hansen at Hansen Studios, Denmark.
Vocalist/bassist Mat Sinner comments, "We're enormously happy to be a new member of the Atomic Fire Records family and to work with many great ex-colleagues. »Brotherhood« simply is such a strong album that we need their motivated and loyal team to make it a big success."
Says Atomic Fire Records CEO Markus Wosgien,
"We've been connected and good friends with Mat Sinner and his band mates for a long time. To welcome SINNER at Atomic Fire Records is nothing but a matter of the heart for us because – like PRIMAL FEAR – they're a very important part of our past but now also of our present and future again; and we're even prouder and happier about their monstrous new album that was crafted in brilliant teamwork by Mat (mostly) alongside Tom Naumann. »Brotherhood« is a heavy, straight and hard-hitting opus, graced with an impressive amount of guests and friends. The album title says it all – it's definitely another masterful addition to the already long listing of great SINNER records."
More information on SINNER's upcoming record as well as a taster in the form of the first digital single and pre-order details will be presented soon.
Links:
www.matsinner.com
https://www.facebook.com/sinnerband
https://www.facebook.com/matsinnerofficial
https://www.instagram.com/mat.sinner
https://label.atomicfire-records.com/project/sinner/
Source of Information: Gregor Rothermel – Atomic Fire Records, Photo: Heiko Roith
SKULL FIST release second single/video "For The Last Time" from new album "Paid In Full"
31. March 2022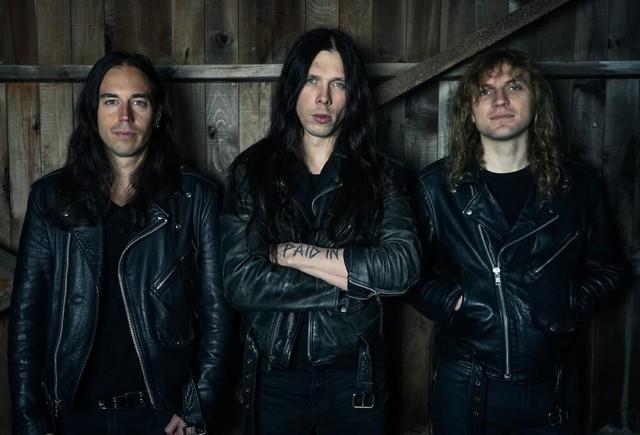 Toronto based heavy metal high-flyers SKULL FIST are giving you with "For The Last Time" another glimpse on what to expect on their new record "Paid In Full", which will be released on April 22, 2022 via Atomic Fire Records.
Zach Schottler comments: "We filmed this video in -20 C weather in my shed, for your sake I hope you are nowhere near as cold as we were when we did this. This song was actually written more recently than the other ones I think and I'm happy it's tombstone has finally been erected."
"Paid In Full" is available for pre-sale in the following formats:
– Digipak CD
– Vinyl LP (different colors)
– Deluxe CD Boxset (limited to 500 units)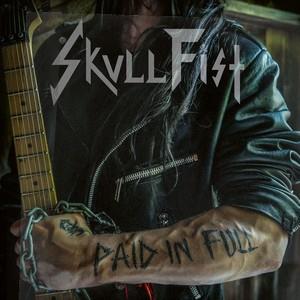 Tracklist:
Paid in Full
Long Live the Fist
Crush, Kill, Destroy
Blackout
Madman
For the Last Time
Heaver Than Metal
Warrior of the North
Check out the music video for "For The Last Time" here:
The FIST is the law! Since their steely inception back in 2006, dungeon keeper Zach Schottler and his shredding band of reckless companions have released three classic heavy metal almanacs, have eaten more dust than is good for their health, have endured various hardships (henceforth called shitty business partners) and countless beers at countless bars in countless cities.
But now, after 15 years of metal and mayhem, Zach Schottler is coming into his own with the proverbially titled »Paid In Full«, a heavy metal wonder of the defiant middle finger variant. With heads held high, empty pockets and enough gas to make the next show, SKULL FIST have just won 2022. Don't mess with the FIST.
Discography:
2006: No False Metal (Demo)
2010: Heavier Than Metal (EP, self-release)
2011: Head öf the Pack
2014: Chasing the Dream
2018: Way of the Road
The first single:
Long Live the Fist: https://youtu.be/YFgTJ_zxTxY
Links:
https://www.facebook.com/skullfisted
https://www.instagram.com/skullfistofficialgram/
https://www.youtube.com/user/SkullFistOfficial
Source of Information: Birgit Wolters – Atomic Fire Records, Photo: Sharon Ehman