French deathgrinders Haut&Court unleashed crushing new single "Relentless Humanity"
17. September 2022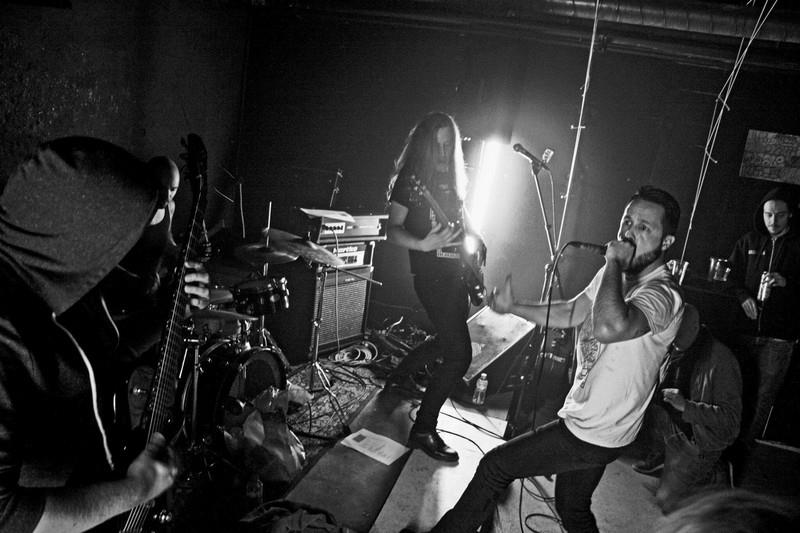 Brace yourself : about 3 years after the release of the insane 'INEFFABILIS', French agressive deathgrinders Haut&Court are back with a brand new full-length effort, celebrating their 10 years of existence.
This new album, called 'COLLAPSE' will be released on November 10th and CD, Tape & Digital formats through No Good To Anyone (Wheelfall, etc.) & Duality Records, but in the meantime, the band just unveiled a first excerpt from the effort with the crushing "Relentless Humanity", available right now on Bandcamp.
In othe news, physical pre-orders for the album are opened now through No Good To Anyone label.

…Official statement from No Good To Anyone label…
"Relentless Humility" is the first track off the album "Collapse", the new album by deathgrinders Haut&Court. from Strasbourg, France.
This one is relentless as the title stated, and begins with a powerviolence riff that will keep no one safe in the moshpit for sure. And then comes what makes Haut&Court a band apart the others: a mid-tempo death metal madness part that conclude the track.
For fans of Nasum, Nails, Wormrot, Magrudergrind, Trap Them…
Links:
https://www.facebook.com/HautCourt
https://nogoodtoanyone.bandcamp.com/
Source of Information: DMG Solutions
MESHUGGAH unleashed "I Am That Thirst" music video!
16. September 2022
Meshuggah will begin their long-awaited US headlining tour tonight, September 16th, with a sold-out show at The Palladium in Worcester, Massachusetts! In celebration of the tour's kick off, the band unleashes their stunning new video for "I Am That Thirst." The track comes off their critically lauded "Immutable" full-length, released earlier this year via Atomic Fire.
Meshuggah's month-long Immutable USA 2022 trek includes a stop at this year's editions of the Louder Than Life Festival in Louisville, Kentucky, and Aftershock Festival in Sacramento, California. Support will be provided by Torche throughout the tour's duration as well as special guests Converge from September 16th through September 30th and In Flames from October 2nd through the tour's conclusion. Tickets are selling fast. Secure yours today at meshuggah.net/tour.
As an added treat, the long-running metal icons will issue new limited vinyl editions of their "Nothing" and "Koloss" full-lengths on November 25th via Atomic Fire!
Since forming in 1987, the Swedish sound architects have developed into one of the most technically complex and virtuosic groups of players the metal realm has ever encountered, their distinctly unique brand of progressive, groove‐infused extreme metal inadvertently launching an entirely new subgenre. Called "one of the ten most important hard and heavy bands," by Rolling Stone, Meshuggah has earned the respect and admiration from fans and musicians alike.
"Nothing", the band's fourth studio album, was initially released in 2002 and is celebrating its twentieth anniversary this year! Pitchfork lauded, "a viciously crafted effort," while All Music wrote, "Nothing truly gives new meaning to the word heavy, redefining boundaries by pushing metal into the realms of abstract science; for those lucky enough to be tuned into Meshuggah's unique wavelength, the album, like all good art, tickles the subconscious while probing both the internal (the mind) and the external (space). And when Meshuggah explores, it's into uncharted territory. If only more metal bands could be so daring."
Celebrating its tenth anniversary, the band's monumental "Koloss" full-length, released in 2012, once again showcased Meshuggah at their peak.
Metal Injection crowned the band's seventh studio offering, "one of the year's best," Blabbermouth hailed, "another magnificent album," adding, "Doing wrong just isn't in the cards for Meshuggah," while Spin Magazine elaborated, "Nothing feels safe when you're listening to Meshuggah…Whether playing death metal in 7/4 time or recording epic, single-track symphonies of sickness that would be impossible to replicate live, the group has forged its own path. In a genre full of rebels, these guys are Dadaist deconstructionists, thumbing their noses at convention wherever and whenever they can. In the process, they've become underground heroes."
Links:
https://www.meshuggah.net/
https://www.facebook.com/meshuggah/
https://www.instagram.com/meshuggah/
Source of Information: Iris – Atomic Fire
In Flames announce new album Foregone + drop new single 'Foregone Pt. 1'
15. September 2022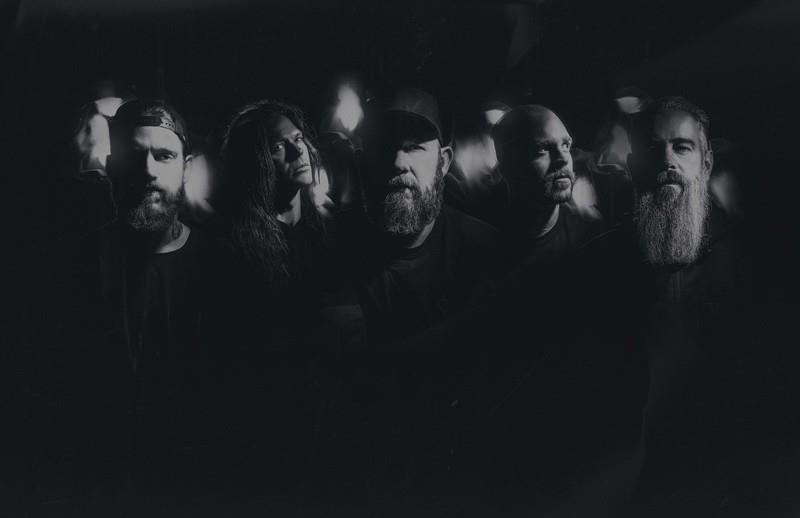 IN FLAMES represent the best of metal — past, present, and future.
As New Wave of Swedish Death Metal architects and innovative purveyors of groove and melody, the band's artistry and influence is undeniable. This day, the band shares news fans have been eagerly awaiting.
In Flames' fourteenth studio album, Foregone, arrives via Nuclear Blast on February 10, 2023.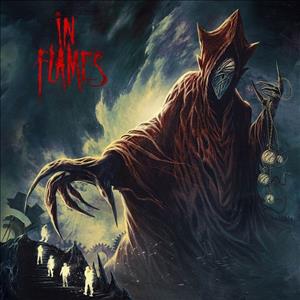 Tracklist:
The Beginning Of All Things That Will End
State Of Slow Decay
Meet Your Maker
Bleeding Out
Foregone Pt. 1
Foregone Pt. 2
Pure Light Of Mind
The Great Deceiver
In The Dark
A Dialogue in b Flat Minor
Cynosure
End The Transmission
Frontman Anders Fridén states: 
"Going into the Foregone sessions, we wanted to make a record that was heavily guitar-driven, and that had a strong foundation between the bass and drums. We still approached our songwriting the same way, as we always have, as a juxtaposition between melody and aggression. That's the DNA of our music. From the lyrical end of things, there was no shortage of inspiration to draw from, especially the concept of time."
He continues,  "Humanity as a whole was forced to slow down and take breather. In that break, many of us spent time evaluating and reprioritizing. Time is a constant, but what do we do with it and how we perceive it varies. Especially now looking at where the world seems to be headed faster than ever before."
Fridén finishes, "It's crazy that after everything we are still here and on our fourteenth album. I feel that we've found a great balance between the past, the present and the future with Forgone. This is a new era of In Flames!"
The band has also shared the visualizer for "Foregone Pt. 1.
The visualizer was created by Oleg Rooz. The Ukrainian graphic designer used groundbreaking AI technology to create the visuals. As one of the first bands relying on AI for a music video, In Flames remain on the cutting edge.
"I thought that everything we've been through these past few years would be a reminder that life is precious, and that time is not on our side," offers Fridén. "Unfortunately, I feel that we've woken up in a world that's more hostile and bleak than ever before. The clock is ticking and the countdown has begun…"
Foregone also features artwork designed by Blake Armstrong.
Links:
http://www.inflames.com/
https://www.facebook.com/inflames/
https://www.instagram.com/inflames/
Source of Information: NUCLEAR BLAST Leoni Dowidat
Dimmu Borgir release remixed & remastered version of 'Hybrid Stigmata – The Apostasy'
15. September 2022
One of Norway's most creative black metal bands DIMMU BORGIR released the groundbreaking Puritanical Euphoric Misanthropia in 2001. DIMMU BORGIR celebrate this seminal album by releasing a brand-new sonic experience. The band are now releasing the remixed & remastered version of 'Hybrid Stigmata – The Apostasy'.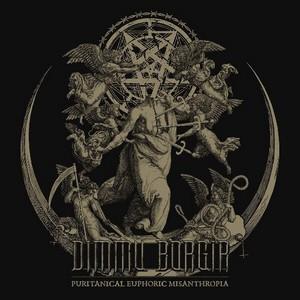 Tracklist:
Side A
Fear And Wonder (Remixed & remastered)
Blessings Upon The Throne Of Tyranny (Remixed & remastered)
Kings Of The Carnival Creation (Remixed & remastered)
Side B
Hybrid Stigmata – The Apostasy (Remixed & remastered)
Architecture Of A Genocidal Nature (Remixed & remastered)
Puritania (Remixed & remastered)
Side C
IndoctriNation (Remixed & remastered)
The Maelstrom Mephisto (Remixed & remastered)
Absolute Sole Right (Remixed & remastered)
Side D
Sympozium (Remixed & remastered)
Perfection Or Vanity (Remixed & remastered)
Burn In Hell (Remixed & remastered)
Devil's Path (Remixed & remastered)
Side E
Hybrid Stigmata – The Apostasy
Blessings Upon The Throne Of Tyranny
IndoctriNation
Architecture Of A Genocidal Nature
Absolute Sole Right
Side F
Fear And Wonder
Blessings Upon The Throne Of Tyranny
Kings Of The Carnival Creation
Puritania
The Maelstrom Mephisto
Sympozium
Dnešný deň vypustili prvý singel Hybrid Stigmata – The Apostasy:
Conceived in the heart of the Norwegian black metal scene in 1993, DIMMU BORGIR quickly broke free from the boundaries of the genre, daring to combine a traditional raven black sound with opulent symphonic orchestration.
Soon they turned into pioneers of their field, forging groundbreaking albums such as Enthrone Darkness Triumphant (1997), Spiritual Black Dimensions (1999), or Death Cult Armageddon (2003), invading the entire world with headline tours and eventually turning into the most influential act of their genre after nine full-length studio releases.
After their last two successful albums Abrahadabra and Eonian, new music from DIMMU BORGIR follows with their remixed & remastered version of Puritanical Euphoric Misanthropia which was originally released in 2001.
Links:
https://www.dimmu-borgir.com/
https://www.facebook.com/dimmuborgir/
https://www.instagram.com/dimmuborgir/
Source of Information: NUCLEAR BLAST – Tim Nottorf