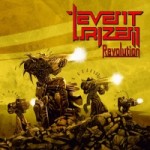 Poľska kapela Event Urizen funguje od roku 2010 a pochádzajú z Katowice / Chorzóv. EP Revolution uvoľnili minulého roku a je to také jemnejšie chytľavé 35 minútové heavy metalové šialenstvo. Album je rozdelený na 2 časti. Prvú časť tvoria 4 skladby nahraté v roku 2013 a ostatné sú len bonusové, ktoré už boli nahraté v roku 2011.
The Darkest Night má dobré riffy, rýchlo sa vryjú do pamäti a dalo by sa povedať, že časťami sú melodické. Druhá vec Walls Of Fire mi pripomína skladbu od Iron maiden-Wildest Dreams. Je to, tak trochu rozsiahlejšie dielo a je počuť dobré technické schopnosti. Trojka I´m Revolution má miernejšie verše, lyrický a dobrý refrén, ale určite by som ešte zapracoval na speve. Abyss of Hell podáva slobodu a zábavu v rock and rollovom štýle a ukazuje ľahké chytľavé kompozície.
Určite sa oplatí sledovať dianie Event Urizen,  lebo majú veľa dobrého materiálu, ktorý sa dá počúvať. Verím tomu, že to dotiahnu tam, kde oni chcú a držím im palce 🙂
Lineup:
Łukasz Krauze – spev
Radosław Matysek – gitara
Krzysztof Machura – gitara
Krzysztof Poczta – Basgitara
Marcin Pawełczyk – bicie
Tracklist:
The Darkest
Night Walls Of Fire
I,m Revolution
Abyss Of Hel
Bonusy (demo  verzie 2011):
Nightrider
Battlefield
White Skull
Rok vydania: 2013
Vydavateľstvo: Vlastné vydanie
Youtube ukážka:

Oficiálne linky:
Oficiálny web: http://eventurizen.wix.com/event-urizen
Facebook: https://www.facebook.com/Eventurizen
Hodnotenie: 4,5
Páčil sa ti tento článok?