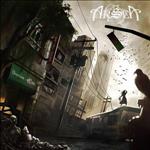 Po dlhšom čase si opäť predstavíme album kapely z Apeninského polostrova. Bude ním druhý album talianskeho zoskupenia ArseA – A New Dawn.
Podobne ako ich prvotina Dreaming a New World z roku 2008 aj toto dielo bolo vydané vo vlastnej réžii. Tvorba Arsey sa pohybuje prevažne v progresívnom heavy metale, jemne okorenenom štipkou thrashu. Čo sa týka diela A New Dawn, tak už v prvej songe po dlhočiznom intre – VIII jasne počuť, že páni stavili na o niečo dlhšie stopáže jednotlivých piesní, no melodika a zaujímavá atmosféra (Defected Light) je zárukou, že vás nebudú nudiť. A dovolím si povedať, že napr. najdlhšiu z nich – Aseptic Life by som s kľudným svedomím označil za koncertnú tutovku (a to aj napriek tomu, že mám radšej skôr kratšie kompozície 😉 ).
Spevákovi Matteovi Peluffovi by som však odporúčal, radšej držať sa pri zemi ako sa hovorí. Čo sa týka nízkych a stredných polôh je v pohode, no ale vo výškach znie dosť neprirodzene až otravne. Naplno sa to prejaví v šestke – Quantum Society a hlavne sedmičke – Cross The Line. Obidve piesne sú síce dobre spracované, ale spomínaný spev to dosť kazí.
Ostatní členovia však robia česť svojmu muzikantskému remeslu a osobne by som bol zvedavý aj na ich živé vystúpenie (poznámka na okraj: tento rok bude možné Arseu vidieť v niektorých našich mestách 😉 ). No kvôli spomínanému spevu moje výsledne hodnotenie bude 4.
Lineup:
Matteo Peluffo – spev
Enrico Fucci – gitary
Alessio Di Clementi – gitary
Giorgio Piermattei – basgitara
Ivan Fusco – klávesy
Riccardo Curti – bicie
Tracklist:
Awakening (intro)
VIII
Defected Light
Out Of My Mind
Behind
Quantum Society
Cross The Line
Aseptic Life
A New Dawn
Rok vydania: 2015
Vydavateľstvo: Revalve Records
Link na vypočutie ukážok albumu: http://www.arseaworld.com/html/eng/multimedia.html
Linky na kapelu:
Web: http://www.arseaworld.com/html/eng/multimedia.html
Facebook: https://www.facebook.com/arseaworld
Hodnotenie: 4
Páčil sa ti tento článok?