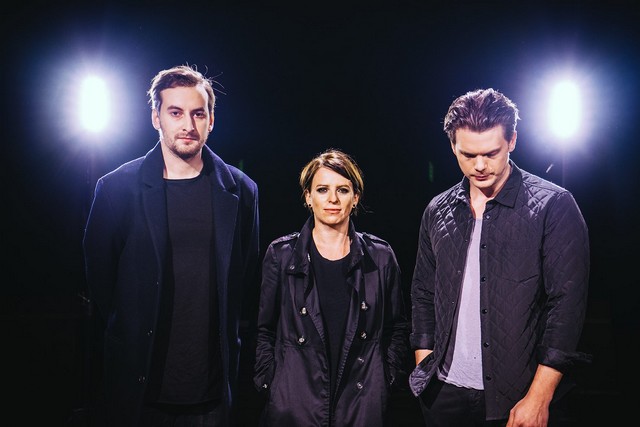 Všetkým, čo majú radi dobrý post hardcore, určite neunikla informácia o novom albume Nemcov 8Kids – Denen die wir waren. Ak túto kapelu nepoznáte, tak to určite napravte. Začať môžete aj prečítaním rozhovoru s bubeníčkou Emmou McLellan.
Ahoj! Ako sa máš?
Emma McLellan: Ahoj, mám sa veľmi dobre. Ďakujem!
Mohla by si niečo bližšie povedať o skupine 8kids?
Emma McLellan: V súčasnej zostave hráme len krátko, niečo cez 2 roky. Avšak poznáme sa už dlhšie z čias, keď sme hrávali v iných skupinách.  Našu hudbu by sme opísali ako post-hardcore a robí náš šťastnými. Hans a Jonas pochádzajú z mesta Darmstadt (blízko Frankfurtu) a ja pochádzam z Londýna.
Názov 8kids pochádza z Hansovho štýlu hry na gitaru. Predchádzajúci názov bol 8bit kids vzhľadom k tejto technike, ktorá znie podobne ako Gameboy.
Pred nedávnom vám vyšiel album Denen die wir waren, môžeš povedať niečo o procese jeho vzniku?
Emma McLellan: Dennen die wir waren vyšiel 26.5. Väčšinu roka 2015 sme strávili jeho prípravou a niektoré piesne boli napísané už niekoľko rokov predtým. Celý proces bol veľmi intenzívny, plný emócii (pozitívnych aj negatívnych), sprevádzaný novými priateľstvami, rozchodmi, rodinnými drámami a novou nádejou. To je aj dôvod, prečo je niekedy jeho zvuk tak surový.
Kto je hlavným autorom textov a hudby?
Emma McLellan: Hans Koch
Čo môžu fanúšikovia očakávať od Denen die wir waren?
Emma McLellan: Veľa melodických gitár, silné vokály a rýchle bicie. Emocionálnu cestu, v ktorej sa môže každý nájsť. Album nám taktiež umožnil objaviť nové smery v hudbe a naše hudobné cítenie. Niečo ako kreatívna hra.
 Aké sú hlavné rozdiely medzi novým albumom a vašou prvotinou EP Dämonen?
Emma McLellan: Ako sme povedali, nový album bol pre nás šancou objavovať a experimentovať s hudbou. Na jednej strane, pokiaľ vyberáš materiál pre EP, tak musíš byť dôsledný a vybrať to, čo bude najlepšie reprezentovať celú kapelu. Album je na druhej strane šanca ukázať naše hudobné cítenie, rozdiely v ponímaní hudby a taktiež nachystať pár prekvapení 😉
Čo vy a koncerty?
Emma McLellan: Milujeme byť na turné a mali sme šancu koncertovať s výbornými skupinami ako Arcane Roots, Marathonmann, Rantanplan a To the Rats and Wolves. Tento rok sme odohrali už 30 koncertov a stretli plno úžasných ľudí. Nasleduje naše vlastné turné, ktoré začne koncom mája.
Čo si myslíš o súčasnej nemeckej scéne?
Emma McLellan: Vyzerá byť silnejšia ako kedykoľvek predtým! Náš producent Kristian 'Kohle' Kohlmannslehner je v tejto scéne ako doma a spolupracuje s tak úspešnými kapelami ako Powerwolf, a Crematory. Samých seba, by sme ale skôr zaradili niekde medzi metal a hardcore scénu.
Môžeš povedať niečo bližšie o členoch kapely?
Emma McLellan: Hans je totálne metalové dieťa. Taktiež sa ale venuje cvičeniu a posilňovaniu. Jonas je zase punkové dieťa. Venuje sa štúdiu chémie na univerzite a môžeš spraviť čokoľvek, ale nikdy nesmieš pred ním kritizovať hviezdne vojny!!! Emma (Ja 🙂 ) je zas indie dieťa, a to skrz na skrz. Vyrástala s anglickou grunge scénou a miluje nemecké pivo!
Aké boli vaše hudobné začiatky?
Emma McLellan: Všetci sme hrali v rôznych skupinách, Hans v nemeckej Casket Nail a Emma spievala v indie electro skupine Beatshots so svetoznámou bubeníčkou Anikou Nilles.
Youtube ukážka:

Linky:
https://www.facebook.com/8kidsofficial/?fref=ts