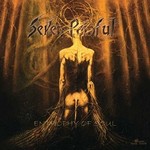 Poplach, siréna prichádza útok. "Pán kapitán, na 1 hodine hlásime útok kapely od Slovak metal army?"  Kapitán odpovie: "Čože, to nie je možné!" zoberie do ruky ďalekohľad. "To nie je možné, tí parchanti, veď to sú Seven Painful."
Progresívny death metal nie je už mladým pojmom, o zásluhu a zvelebenia toho žánru, sa postaralo mnoho kapiel, jednou z nich bola aj legenda Death. Keď som si po prvýkrát vypočul toto CD pomyslel som si: "Počkaj to odkiaľ sú? Toto mi absolútne neznie ako slovenská kapela.. snáď to bude Nemecku, Anglicko, Švédsko.. ?"
Hudobne, čo spáchali títo kriminálnici?
Milí čitatelia, toto je prog death metal na vysokej úrovni. Miestami počuť inšpiráciu velikánov tohoto žánru, ale svoj zvuk majú!  Kiež by každá kapela mala takýto debut, ako Seven Painful. Svoje skúsenosti z iných pôsobísk (Maria Chuana, Darkland) zúročili výborným spôsobom.
Nehovoriac o kompozičnej paráde, a rozumnej dĺžke skladieb. Thomas Corner prišiel s neskutočne dobrými riffmy (The siren`s Domination, Bloody Desire, Battle).
K tomu v pesničkách ako (Rise of the daemon, Battle, The maze, Devastation of Mind) sa vytiahne s krásnymi melodickými sólami, žiadne technické onanovanie.  Toto platí o všetkých členoch. Nech SP nikdy nezachádza do príliš technického smeru, nezničia svoj talent, ale aj vnímajú rozdiel medzi technický a progresívny death metalom (v druhej polovici CD bol malilinký dôraz na techniku, na miesto nápadov).
Spevácka stránka si zaslúži samotnú pozornosť. Striedanie čistého spevu s growlu nie je nič netradičné, no v ich podaní je to úplne niečo iné.  Krásny mix v jednom (pesnička "Seven Painful" to dokazuje).  Vo výškach (fazetoch), ale aj štýlom spevu mi prišiel Martin Rybár veľmi podobný speváckemu esu z Nevemore – Warrelovi Daneovi..
Okrem toho disponuje aj klasickým growlom, ale aj škrekotom (ten mi evokoval Dani Filtha z Cradle of Filth). Ach satan, z Oťapa Kozzy, skáčem od radosti, spievajúci bubeník to je šťastlivec. Dnes je málo takých, ktorý spievajú zároveň.
Dobre si pamätám na svieže spomienky od ex-Bloodshot Dawn,  Douga Andersona. Basák hrá prstami. Jeho talent zvelebil všetky skladby a vôbec nebolo nutné  pridávať ďalšiu rytmickú gitaru.
Veľmi dobrý mix (každý jeden nástroj je krásne počuť). Pri  bicích sa pozastavím… Mám pocit, že nebol najlepší nápad posunúť bicie úplne na prvé miesto, spôsobuje nevyváženosť všetkých nástrojov.  Pri masteringu boli hlavne pridaný efekt na čistý mužský hlas, ako keby bol niekde vo veľkej hale, a to určite neprospelo celému CD.
K obalu od CD, som prekvapený a zároveň potešený. Jeho myšlienka je výborná, nespadá to žiadneho klišé, tieto zemité farby, s mystickým vyobrazením človeka aj operenca dokopy a súlad všetkých grafických prvkov, mi pripomenulo dávne časy barokových majstrov  Extáza svätej Terézie od Berniniho.
Zhrnutie:  Za mňa osobne je to FAVORIT a radímho do listu TOP 2017. Ak budú pokračovať správnym smerom, jedného dňa z nich bude kapela svetového rangu. Postprodukcia mohla byť lepšie dotiahnutá, hudba je veľmi na vysokej úrovni (momenty a detaily, to skladby obsahujú).
Neskutočne som si užíval každú jednu skladbu, fakt klobúk chlapi, držím Vám palce v tvorbe a určite sa veľmi rád zastavím na vašom koncerte, a čo vy?  Kto je skutočným fanúšikom hudby nech neváha!
Lineup:
Martin Rybár – spev
Thomas Corner – gitary
Mário Marko – basa
Matej Valo a.k.a. Oťap Kozzy – bicie, vokál
Tracklist:
The Siren Domination
Violence
Bloody Desire
Rise of the Daemon
Seven Painful
Battle
Guilty Conscience
The Maze
Devastation of Mind
Right Decision
Rok vydania: 2017
Vydavateľstvo: Slovak Metal Army
Youtube ukážka:

Linky:
https://www.facebook.com/sevenpainful/?fref=ts
https://www.facebook.com/slovakmetalarmy/
Hodnotenie: 5/6