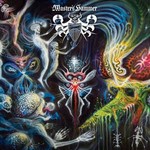 Všetci môžeme byť len hrdí na to, že je možné aj na našej (Česko-slovenskej) hudobnej scéne nájsť niekoľko legiend. A jednou z nich je bezpochyby kapela spoza rieky Moravy Master′s Hammer. Zrejme nikomu netreba predstavovať toto black metalové hudobné teleso, ktoré sa po niekoľkoročnej pauze vrátilo v plnej sile, a s dostatočne vysokou frekvenciou nás zásobuje svojimi albumami. Rovnako ako aj na začiatku tohto roku, keď svetlo sveta (alebo temnotu?) uzrela novinka Fascinator.
Celý album najlepšie vystihne úvodná – titulná skladba. Alebo ak chcete, to čo bolo napísané v booklete je napísané aj v hudbe – viacero skladieb bolo inšpirovaných cestami kapely, alebo samotného Františka po celom svete. Tým pádom môžete očakávať black metal s mnohými vplyvmi (na čo sme si už zvykli). A tak sa okrem už spomínanej metalovej hudby môžete tešiť napríklad na skvelé a tajuplné vokály v pozadí, alebo rovnako legendárne tympany.
Najviac by som potom vypichol epický a krásne mystický refrén, pričom sa táto atmosféra pretaví aj do začiatku ďalšej piesne Psychoparasit. Tá sa však nakoniec rozvinie zo svojej kukly, a my tak máme možnosť počuť jeden z najrýchlejších a najtvrdších kúskov na celej platni. Poteší aj nejaká tá gitarová melodika a samozrejme určitá nadžánrovosť a skvelá atmosférickosť. Ale nech som úprimný, posledné dva spomínané elementy sa nesú skrz na skrz celým Fascinatorom.
Stačí si vypočuť také kúsky ako Ve věži ticha s vynikajúcou hororovou atmosférou, resp. moje dve najväčšie srdcovky Estetika ďábla s geniálnym refrénom a Espíritos Creativos ako najsmutnejší počin na albume. Osobne by som práve túto nezameniteľnú schopnosť docieliť jedinečnú, fascinujúcu, pod kožu zaliezajúcu atmosféru označil za najsilnejšiu zbraň celej nahrávky.
Pretože je veľa interpretov, ktoré hrajú tvrdo. Rovnako je aj dostatok skupín, ktoré hrajú na vysokej inštrumentálnej úrovni. A taktiež existujú kapely, ktoré majú talent vytvoriť jedinečnú atmosféru vo svojej tvorbe.
Master′s Hammer však v sebe skrýva všetky tri vlastnosti naraz. Navyše s neskutočným nadhľadom. Stačí si vypočuť piesne ako Linkola, alebo Odliv mozku. Tvrdé, prekračujúce hranice black metalu, no stále plné jedinečnosti a autorského rukopisu.
Ďalšími dobrými ukážkami potvrdzujúcimi moje slová sú "severské" výtvory Kletba a čisto inštrumentálna Lost In Fjords. Nemožno opomenúť ďalšiu silnú zbraň MH, niekoľkokrát spomenutú nadžánrovosť. Black metal obohatený o mnoho vplyvov, elementov, kultúr a pod.
Avšak netreba sa báť, čierny kov je stále dominantný. Gitary, bicie, to všetko poteší duše fanúšikov metalu. Dané elementy už potom len obohacujú už aj tak veľmi kvalitnú inštrumentálnu stránku albumu.
Pri Master′s Hammer sa nemožno vyhnúť ani textom. Možno nie každému sadnú ich témy. Určite však treba uznať, že sú písané s nadhľadom, svojským pohľadom na svet a zmyslom pre humor. A v neposlednom rade, určite sa dá mnohé vyčítať medzi riadkami. Ďalší dobrý bod putuje za rodný jazyk a za to, že na ňom Master′s Hammer vytvorila za roky svojej existencie ochrannú značku svojich textov.
Fascinator je určite veľmi zaujímavým albumom. Bez pochýb má aj obrovskú hudobnú kvalitu. Osobne ma veľmi bavil takmer celý čas- až na skladby Satanská nekrofilní porna a Krokodil. A tak sa jedná o ten typ albumu, ktorý si zaslúži vysoké hodnotenie.
Lineup:
Franta Štorm – spev, gitary, klávesy
Petr "Blackie" Hošek – gitary
Petr Rámus Mecák – basa
Silenthell – Timpani
Honza Kapák – bicie, gitary
Hostia:
Necrocock – spev
Tom Rentor – doprovodný vokál (4)
Tracklist:
Fascinator
Psychoparasit
Ve věži ticha
Linkola
Satanská nekrofilní porna
Estetika ďábla
Krokodil
Astrální dvojníci
Kletba
Odliv mozků
Espíritos Creativos
Exhumace
Lost in Fjords
Rok vydania: 2018
Vydavateľstvo:  Jihosound Records
Youtube ukážka:

Linky:
http://www.mastershammer.com/
https://www.facebook.com/MastersHammerOfficial
http://bandzone.cz/mastershammer?at=news
https://www.youtube.com/channel/UC7_-fS7hBo-0PGEzNLm04TQ
Hodnotenie: 5,5/6