Amorphis – klipová ukážka z chystaného albumu
20.4.2018

Foto: Lars Johnson Photography
Do vydania nového albumu fínskych melancholikov Amorphis – Queen of Time ostáva menej než mesiac. Udeje sa tak 18. mája.
Dnes kapela zverejnila videoklip k druhému singlu z neho – Wrong Direction.
Linky:
http://www.amorphis.net/
https://www.facebook.com/amorphis/
Zdroj: https://www.facebook.com/nuclearblasteurope/
Avenger – chystaný album, prvá skladba
18.4.2018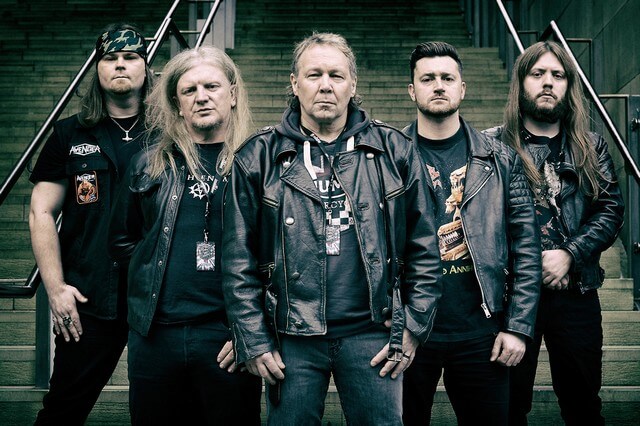 Jedna z kultových kapiel NWOBHM Avenger (kapela, kvôli ktorej si v 80tych rokoch nemeckí Avenger s Peavym na čele zmenili na Rage) 18. mája znovuvydá svoje klasické EP albumy – Blood Sports (1984) a Killer Elite (1985). Dostupné budú ako CD ale aj LP. Obe boli remastrované Bartom Gabrielom a budú obsahovať aj bonusové, predtým nevydané skladby. Vydanie budú mať na starosti vydavateľstvá Dissonance Productions a Back On Black Records.
Covery:
Blood Sports:

Killer Elite:

Revenge Attack, prvá skladba EPčka Killer Elite: https://soundcloud.com/dissonanceproductionsuk/avenger-revenge-attack-official-stream
Linky:
https://www.facebook.com/avengerukofficial
https://www.dissonanceproductions.co.uk
Zdroj: Bart Gabriel
DevilDriver – špeciálny album
17.4.2018
Americkí groove metalisti DevilDriver vydajú 6 júla špeciálny album Outlaws 'Til The End vol.1, ktorý bude obsahovať coververzie skladieb rôznych interpretov.
Videoukážka:

Predobjednať si ho môžete: tu.
Linky:
https://www.devildriver.com
https://www.facebook.com/devildriver
https://www.twitter.com/devildriver
https://www.instagram.com/devildriver
Zdroj: Napalm Records Promotion Team
Skindred – videoklip k singlu
17.4.2018
Britskí reggae-rockeri Skindred 27. apríla prídu na trh s novým album Big Things. Dôkazom jeho kvalít je aj tento videoklip k singlu That's My Jam:
Linky:
https://www.skindred.net
https://www.facebook.com/skindredofficial
https://www.napalmrecords.com
Zdroj: Napalm Records Promotion Team