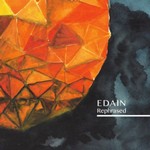 V živote to tak niekedy jednoducho býva – keď vám Boh zavrie dvere, tak vám otvorí okno. Nejak podobne by sa dala parafrázovať aj situácia kapely Edain spoza rieky Morava, ktorá sa po odchode svojho speváka pretransformovala na čisto inštrumentálne teleso. Rephrased, prvé ich CD v takejto forme, si teraz rozoberieme..
Už samotný obal naznačí, že by sa malo jednať o album, ktorý bude troška viac progresívne ladenejší. Samotná hudba doslova posúva tento žáner do vyšších sfér. Úvodná skladba Pained Oblivion krásne ukazuje, že aj čisto inštrumentálna hudba má svoje nespochybniteľné čaro. Chlapci dokázali z negatíva vyťažiť silné pozitívum. Celá nahrávka Rephrased jednoducho skvelo funguje od začiatku až do úplného konca. Už spomínaný progresívny rock občasne zasahujúci do tvrdších vôd reprezentuje skvelého (chvíľami až geniálneho) tvorivého ducha autorov.
Ináč povedané 8 výborných piesní postavených prevažne na dvoch gitarách, ktoré masírujú naše ušné bubienky množstvom nezabudnuteľných pasáží. Ja som si vždy chytľavosť nejakej piesne väčšinou spájal s nejakým hymnickým refrénom. Vytvoriť však niečo, čo sa vám vryje do pamäte v podstate hneď pri prvom počutí ide aj v čisto inštrumentálnych sférach. Na svoje si prídu najmä milovníci gitarovej melodiky, ktorej je tu ako húb po daždi, avšak ako som už spomínal, hudobníci občas aj mierne pritvrdia a zrýchlia. Tento fakt je veľmi dobre počuteľný pri bicích, keď si pán bubeník odviedol svoju prácu na jednotku. No a samozrejme nesmiem opomenúť ani pána s basgitarou, ktorý mi doprial viacero ,,sól", začo mu z mojej strany patrí veľké ĎAKUJEM.
Nech to teda zhrniem, ak si chcete vypočuť pohodovú, chytľavú, nesmierne kvalitnú hudbu v znamení progresívny rock Made in Česká republika, Edain by mal byť voľbou číslo jedna.
Lineup:
Pavel Jerabek – gitara
František Záhora – gitara
Zdeněk Záhora- basa
Jiři Stanek – bicie
Tracklist:
Pained Oblivion
Drain Out
Inside Polysphere
Critical Intelligence III
Who Am I
Knowledge Of The Hidden
Critical Intelligence IV
Endure Persistence
Rok vydania: 2018
Vydavateľstvo: Samovydanie
Youtube ukážka:

Linky:
https://www.facebook.com/aphrodisiacmetal/
http://bandzone.cz/edain
Hodnotenie: 5,5/6