Melodic death-metalcore-hardcore-groove metal bola zmes štýlov, ktorú ste mohli zažiť v piatok 28.9.2018 v košickom Collosseu. Obsadenie sme mali prevažne zo slovenskej scény, no pridala sa aj jedna kapela z Ukrajiny.
Kvôli dopravnej špičke v KE sa mi bohužiaľ nepodarilo úplne stihnúť prvú kapelu. Boli ňou domáci All the Fury (melodic death metal). Po príchode som si všimol, že už tam bolo nejakých 10 – 20 ľudí, čo je na slovenskú scénu veľmi fajn. Chalaniská fungujú od roku 2011, kedy sa postupne formovali.
Skladali nové veci, nahrávali a v marci 2017 podstúpili prvú skúšku v podobe live performance. Tohto roku 2018 v júli vydali debut Over The Line Of Meridian, ktorý mali odohrať aj na tomto koncerte. Mňa osobne príjemne prekvapil a určite som nebol sám. Takže pripájam aj link k albumu a šup popočúvať si to, a hodnotiť https://www.youtube.com/watch?v=eHwVkjCG5c8&t.
Druhá kapela, ktorá obsadila veľký stage boli True Reason. Tento HARDCORE z Topoľčian pohltil celé Collosseum. Aj keď ľudia prejavovali zo začiatku krutú lenivosť postaviť sa a ísť podporiť kapelu pred stage, predsa len sa našlo pár odvážlivcov, ktorí tak spravili. Teší ma, že hardcore na SVK  scéne sa posúva týmto smerom.
Vychytané texty, silné riffy a ešte silnejšie breaky sme si vypočuli v songách ako Mier, Bez strachu, Nostalgia alebo Železo (moja naj 😉 ). A aby toho nebolo málo, tak hneď po akcii v Collosseu na druhý deň krstili v Topoľčanoch nový album Bez Strachu.
Po krutej nádielke hardcoru mala na scénu nastúpiť kapela z Ukrajiny. Pre mňa boli veľkou neznámou. Space of Variations, tak si hovoria. V 2015 – tom vyhrali cenu The Best Ukrainian Metal Act 2015 a na ďalší rok im vyšiel album Blackmail. Už pri zvukovke bolo jasné, že toto nebude len tak hocijaký mainstreamový metalcore.
Prekvapením bol počet nástrojov – jedna gitara, jedna basa. Krásne to bolo doplnené samplami. Od začiatku do konca vedeli, čo majú robiť s publikom a na stagei. Piesne boli veľmi energické, každá jedna bola špecifická a stavba playlistu bola perfektne vyladená.  Veď posúďte sami https://www.youtube.com/watch?v=O6Wl0QxbG1c.
Určite nebol nikto, koho by ich vystúpenie nechalo chladným. Pre mňa to bola najlepšia performance tohto večera. Musím pochváliť ešte ich vlastného zvukára. Tak precíznu prácu pri mixe som dávno nevidel.
Posledným, azda najočakávanejším interpretom boli Wastage z Košíc. Škoda, že nemali vlastného zvukára. Miestami to bolo zbytočne dunivé a ťažkotonážne natlačené do spodných tónov. Pritom sám obľubujem nízke ladenia a basy. Ale všetkého veľa škodí. Každopádne koncert podali na kvalitnej úrovni. Hneď na nás vytiahli niekoľko noviniek.
V prvom rade sme si mohli všimnúť nového basgitaristu Viktora Simona. Do kapely zapadol perfektne. Prajem mu veľa šťastia a silných tónov s Wastage.Ľudia sa ku koncu celkom rozohnili a pred stageom nastal aj menší bordel. Samozrejme aj Wastage vedeli ako správne vyskladať playlist aby udržali v publiku ten správny hype.
Okrem iného zaznela aj novinka – pieseň Liberate (https://wastage1.bandcamp.com/) a záverečným songom bola No Way Out.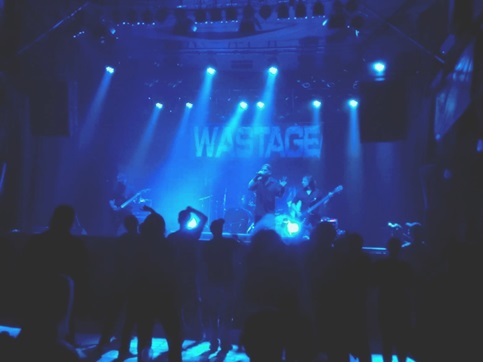 Koncert ako celok bol na dobrej úrovni. S výberom kapiel a ich performance som bol taktiež spokojný. Chcelo to možno trochu väčšiu účasť, ale je pochopiteľné, že ak akcia začne o 18:00, tak tam nebude 200 ľudí. Do budúcna by som bol rád, ak by na takýchto podujatiach bol zvukár, ktorý by stál pri mixe a doslova bol ten ďalší člen kapely. Ukrajinci nám to názorne ukázali, ako by to malo vyzerať.
Ďakujem všetkým vystupujúcim za skvelý koncert a prajem veľa úspechov do budúcnosti 😉