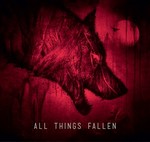 Prvého marca tohto roku Švédi Darkwater vydali nový album Human – nasledovníka 9 rokov starého Where Stories End. Ich gitarista Markus Sigfridsson mal zrejme veľa nápadov, preto sa rozhodol dať dokopy ďalšie zoskupenie All Things Fallen. Tam spojil svoje sily so spevákom Erikom Tordssonom (kolegom z kapely/projektu 7days) a bubeníkom Léom Margaritom (známym napr. z Pain of Salvation). Debut vydali taktiež 1. marca.
Ak poznáte muziku Darkwater, resp. ak sledujete aj ďalšie zoskupenia kde bol Markus aktívny viete, že progresívna muzika mu nebola nikdy cudzia. Na progresívnych prvkoch je postavený aj rovnomenný debut ATF. No veľký priestor má elektronika a budete počuť aj husle. A celkovo muzikanti dávajú veľký dôraz aj na atmosféru (z tohto hľadiska je najlepšou piesňou In the Divide).
Keďže Markus a ostatní vedia s týmito prvkami pracovať  s max. citom výsledkom je viac než 39 minút skvelej muziky, ktorá sa bude páčiť aj tým čo nezvyknú počúvať kapely ako Symphony X, Kamleot, Dream Theater a podobne. Nevýhodou je iba spomínaná doba. Po vypočutí poslednej piesne Introspection vám bude ľúto, že už je koniec.
Rovnomenný debut All Things Fallen skvele odštartoval kariéru tohto projektu. Snáď jeho nástupca uzrie svetlo sveta o niečo skôr ako o 9 rokov.
Lineup:
Erik Tordsson – spev
Markus Sigfridsson – gitary, basa, dorpovodné vokály, klávesy, programovanie
Léo Margarit – bicie
Ulrik Arturén – doprovodné vokály
Maria Grig – husle
Trackist:
I Wait for You
Mirages
In the Divide
Ex Nihilo
When Your Heroes Fall
Introspection
Rok vydania: 2019
Vydavateľstvo: Samovydanie
Youtube ukážka:

Linky:
https://www.facebook.com/allthingsfallen/
Hodnotenie: 5,5/6