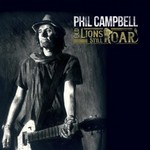 Od smrti Lemmyho Killmistera uplynul už nejaký ten rok. Jeho spoluhráči však nespia na vavrínoch. Napr. Phil Campbell, gitarista Motorhead, tento mesiac vydal svoj sólový debut Old Lions Still Roar s množstvom zaujímavých hostí. Držte si klobúky, bude to jazda na horskej dráhe.
Album je plný pekných piesní s výbornými textami. Parádna gitara a chytľavé melódie vás od začiatku do konca nútia klopkať si nohou a pokyvovať hlavou. A spomínaní hostia ako napr. Rob Halford (JUDAS PRIEST), Ben Ward (ORANGE GOBLIN), Alice Cooper, Nick Oliveri (MONDO GENERATOR), alebo Dee Snider (bývalý TWISTED SISTER) len zvyšujú jeho atraktivitu. Hej, Lemmy, toto by sa ti určite páčilo.
Najlepšie ho charakterizujú tieto songy: ROCKING CHAIR (so zastretým hlasom Leona Stanforda a s čarom starých bluesových skladieb) dve hard rockoviny FAITH IN THE FIRE a WALK THE TALK  plus nádherná balada DEAD ROSES, naspievaná Benjim Webbeom (SKINDRED).
Je to proste muzička, ktorá vás dostane. Niečo, čo si určite pustíte znova. Ak máte Phila radi, po tomto ho budete mať ešte radšej.
Staré levy stále vedia zarevať.
Lineup:                    
Tracklist:
Rocking Chair (feat. Leon Standford (spev), Todd Campbell (gitary), Will Davies (basa)
Straight Up (feat. Rob Halford (spev), Tyla Campbell (basa), Dane Campbell (bicie)
Faith In Fire (feat. Ben Ward (spev), Tim Atkinson (basa), Robyn Griffith (bicie)
Swing It (feat. Alice Cooper (spev), Chuck Garric (basa), Dane Campbell (bicie)
Left For Dead (feat. Nev MacDonald (spev), Mark King (basa), Danny Owen (klávesy), Tyla Campbell (akustická gitara), Dane Campbell (bicie)
Walk The Talk (feat. Nick Oliveri (spev, basa), Danko Jones (spev), Ray Luzier (bicie)
These Old Boots (feat. Dee Snider (spev), Mick Mars (gitary), Chris Fehn (bicie), Todd Campbell (gitary)
Dancing Dogs (Love Survives) (feat. Whitfield Crane (spev), Tyla Campbell (basa), Dane Campbell (bicie)
Dead Roses (feat. Benji Webbe (spev), Will Davies (basa), Matt Sorum (bicie)
Tears From A Glass Eye (feat. Joe Satriani)
Rok vydania: 2019
Vydavateľstvo: Nuclear Blast
Youtube ukážka:

Linky:
https://www.philcampbell.net/
https://www.facebook.com/PhilCampbellATBS/
https://www.instagram.com/phil_campbell_and_the_bs/?hl=de
Hodnotenie: 5/6