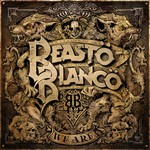 Tretí štúdiový album shock metalovej partičky Beasto Blanco, zostavenej okolo basáka Chucka Garrica (Alice Cooper Band) a jeho manželky Calico Cooper (dcéra Alice Coopera), som očakával s napätím. Ich predošlý eponymný album som doslova zožral aj s obalom. Vrámci turné k nemu navštívili aj Bratislavu, kde som zažil jeden z najlepších koncertov sezóny a mal sa možnosť s oboma hlavnými predstaviteľmi stretnúť a odfotiť. Na pódiu veľmi extrémni ľudia, no v súkromí veľmi príjemní.
Beasto Blanco hrá melodický a moderný groove metal. Možno tam sú aj glam rockové vplyvy, bluesové a samozrejme aj industriálne. Ako odrazový mostík pre ich štýl zrejme slúžil najtvrdší album Alice Coopera – Brutal Planet. No celé to tvorí fantastický celok, čo vás strhne a nepustí až do konca. Úvodná pecka The Seeker, ktorá sa stala aj prvým singlom k albumu dokonale zhrňuje o čo pôjde. Skvelé riffy, super zvuk, Chuckov spev, ktorý mi pripomína trošku Big Dad Richa z Texas Hippie Coalition, no ale hlavne Roba Zombieho. Toho posledne menovaného niekedy na nerozoznanie. Spev Calico je nežný, krásny a melodický. Niekedy pôsobí len ako vokalistka, ale odváži sa aj na sólové veci. Najlepší výraz pre túto kapelu je "chlapácka". Hudba pre motorkárov 21. storočia, pre striptérky a pre ľudí čo už niečo zažili. A nemyslím tým hry na intelektuálov a rytierov.
Pre mňa vrcholom albumu je Solitary Rave, ktorú spieva Calico. Neskutočne sexy pesnička, ktorá vo mne vyvoláva pocity v slohe niečoho čo sa tvorilo v šesťdesiatych rokoch s dievčenskými, soulovými, vokálnymi skupinami tej doby.
Tento album rozhodne odporúčam. Doslova som si ho zamiloval. Snáď sa čoskoro dočkám aj ich ďalšieho koncertu.
Lineup:
Calico – spev
Chuck Garric – gitary, vokál
Brother Latham – gitary
Jan LeGrow – basa
Sean Sellers – bicie
Tracklist:
The Seeker
Solitary Rave
Ready To Go
Down
Perception Of Me
Lets Rip
Half Life
We Got This
Follow The Bleed
I See You In It
Halcyon (Bonus Track)
Rok vydania:  2019
Vydavateľstvo: Rat Pak Records
Youtube ukážka:

Linky:
https://www.beastoblanco.com/
https://www.facebook.com/BeastoBlanco/
Hodnotenie: 5,5/6