Burning Witches – cover chystaného albumu
18.12.2019
Švajčiarske heavy/power metalistkyBurning Witches vydajú 6. marca svoj tretí album Dance With The Devil. Cover  bude vyzerať nasledovne:
Jeho autorom je známy maďarský umelec Gyula Havancsák (Blind Guardian, Accept, Powerwolf…).
Linky:
https://www.facebook.com/burningwitches666/
https://www.instagram.com/burningwitchesofficial/
https://www.twitter.com/burningwitches/
https://www.nuclearblast.de/burningwitches/
Zdroj: NUCLEAR BLAST Philipp Adelsberger, Foto: Liné Hammett,
S.D.I. – chystaný album
17.12.2019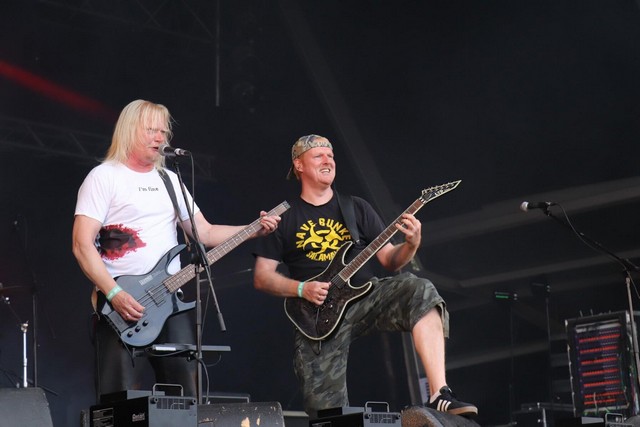 Nemeckí speed/thrash metalisti S.D.I. oznámili vydanie nástupcu ich posledného albumu Mistreated, ktorý vyšiel ešte v roku 1989. Novinka 80s Metal Band uzrie svetlo sveta 31. januára budúceho roku. Samotné vydanie bude mať na starosti vydavateľstvo MDD Records.

Tracklist:
80s Metal Band
Freeride
Porno
Action
Trash
Sneaky War
(Let the) Ball Run
Here and Now
Back Against the Wall
I Hate You
Dead and Gone
She Said
Linky:
https://www.facebook.com/sdimetal/
Zdroj: https://www.facebook.com/sdimetal/
Sinners Moon – nová speváčka
17.12.2019
Melodici Sinners Moon konečne našli náhradu za Simonu Janovičovú, ktorá momentálne pôsobí v Symfobii.
Na fb stránke oznámili:
,, A je to tu dámy a páni! Čerstvý prírastok do našich radov, krásny spev i vzhľad, veselá a zábavná osoba priamo z Brna, toto je Šárka, naša nová speváčka! Teraz sa pripravujeme predviesť vám nový Sinners Moon, nové pesničky a novú show"
Linky:
https://www.sinnersmoon.com/
https://www.facebook.com/sinnersmoonband/?fref=ts
Zdroj: https://www.facebook.com/sinnersmoonofficial/
 BigBoss – novinky
16.12.2019
Velký Šéf v těchto dnech vydal u Metal Gate svoji pátou sólovou desku. Dle jeho vlastních slov, jeho poslední. Proto je deska koncepční a textově pokrývá celý BigBossův život a je nazpívána v češtině. Textovému konceptu byla na míru šitá i hudba, jíž se zhostili muzikanti, kteří pod vedením Paramby vystupují v BigBossBandu. K albu bylo vypuštěno prvním a sice lyric video, ke skladbě Dlouhá cesta vzhůru. Klasický klip se chystá po novém roce k nejpochmurnější písni celého alba, a sice songu Ztráty, který by se měl objevit během jara. Na desku naváže během příštího roku i Poslední tour Než zemřu 2020, kde se BigBoss představí se svoji kapelou ve velice omezeném počtu koncertů v klubech, který ještě není uzavřen a vyvrcholí v létě na dvou festivalech a i tato kapitola se uzavře. Takže je zde jedinečná možnost vidět BigBossovu sólovou tvorbu živě. Koncerty budou obsahovat zářezy ze všech pěti alb, ale pilířem budou poslední dvě alba Velkého Mága. Pro více informací sledujte FB stránky BigBosse.
https://cs-cz.facebook.com/BigBosssBand/
https://www.youtube.com/watch?v=Lh_OWDsyTwc
https://www.youtube.com/watch?v=vwn5cw893lA
Zdroj: Tomas Rerucha