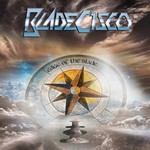 Hard rockeri Blade Cisco sú ďalšou talianskou formáciou, ktorá koncom tohto roku vydala album. Pôsobia od roku 2007. Medzi zakladajúcich členov patria  Andrea "Zanna" Zanini (spev, klávesy), Valerio "Valle" Franchi (spev, rytmická gitara), Daniele "Daniel" Carra (gitara) a Umberto "Gali" Gialdi  (bicie). Neskôr sa pripojil Michele Luppi, ktorého po čase vystriedal Cesare Cece Fioriti. Zoskupenie vydáva 13.12.2019 svoj debutový album Edge of Blade, produkovaný a mastrovaný samotným Michelom Luppim. Ten v súčasnosti pôsobí aj v legende Whitesnake a u talianskych power metalistov Secret Sphere.
Samotná platňa obsahuje 11 kvalitných rockových skladieb, výborné gitarové sóla, skvelé bicie a viac ako slušné vokály. Okrem produkcie sa Michael na ňom podieľal aj ako doprovodný vokalista. Je to klasický rock v tom najlepšom význame slova.  Už Memories naznačila, že to bude parádna jazda. Mňa osobne asi najviac zaujala Invisilbe to Me, kde dobre vyniknú oba hlasy Zanneho aj Valleho. Medzi toľkými dobrými piesňami je dosť ťažké vybrať, tak hádam ešte We Are Still Standing len preto, že som si ju pustila dvakrát po sebe.
Ak čakala táto kapela 12 rokov na vydanie debutu len preto, aby ho vyšperkovala do takejto podoby, tak urobili dobre. Som zvedavá či aj na ďalší album bude potrebné čakať tak dlho.
Lineup:
Andrea "Zanna" Zanini – spev, klávesy
Valerio "Valle" Franchi – spev, rytmická gitara
Daniele "Daniel" Carra – sólová gitara
Cesare "Cece" Fioriti – basa
Umberto "Gali" Gialdi – bicie
Hostia:
Michele Luppi – doprovodné vokály
Michele "Dr.Viossy" Vioni – akustická gitara v Grey a gitarové sólo v Invisible To Me
Marco Parmiggiani – 12 strunová akustická gitara v My Way
Tracklist:
Memories
Anything (Without Your Music)
Foolin' Myself
Rain Over Me
Life Is A Lottery
Edge Of The Blade
Hungry For Love
Grey
Invisible To Me
We Are Still Standing
My Way
Rok vydania: 2019
Vydavateľstvo: Art Of Melody Music & Burning Minds Music Group
Youtube ukážka:

Linky:
https://www.facebook.com/BladeCisco
https://www.instagram.com/bladeciscoband
https://www.facebook.com/artofmelodymusic
http://www.burningmindsgroup.com/art-of-melody-music
https://www.instagram.com/burning_minds_music_group
Hodnotenie: 5/6