Solo project by bassplayer of Opeth
24. January 2020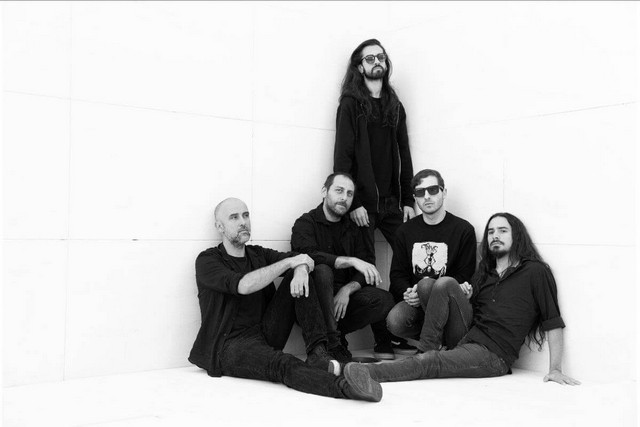 From Martin Mendez, bassist of the ubiquitous OPETH comes WHITE STONES, a solo death metal project. Recently, they announced that their debut album named "Kuarahy" (pronounced Kwa-Ra-Hee) will be released on March 13th and today, they offer their fans a first insight into the album with the first single 'Worms', that comes with a video!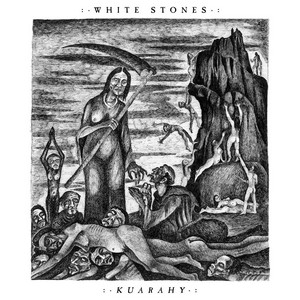 Martin Mendez comments: "Finally it's time to release a piece from the album, we are feeling very excited about sharing this song with you all! hope you dig it!
Cheers!"
Tracklist:
Kuarahy
Rusty Shell
Worms
Drowned In Time
The One
Guyra
Ashes
Infected Soul
Taste Of Blood
Jasy
Watch the clip here:

The creative process for WHITE STONES' debut album "Kuarahy" began during a year-long break OPETH took after the Sorceress tour, as a means of unwinding by exploring new avenues of creativity. Initially that's all it was ever meant to be. "I've always written music at home but never had the confidence to do anything like this" says Mendez, "I never wrote a song, never presented something I wrote for Mikael (Åkerfeldt, Opeth singer/songwriter)" he continues. "I didn't have any direction, I came up with the first song for fun. WHITE STONES has nothing to do with OPETH, I see no relation between the two. I played "Kuarahy" to Mikael a few months ago, he really liked it and was happy for me. Everyone in the band has side projects, it's important. We tour so much you can become consumed by it; it has been really nice to do something different. WHITE STONES has renewed my strength and energy."
Named after his birthplace in Uruguay, the record represents a return to his roots, both familial and musically. By exploring the forgotten paths of his ancestors via the style of music that remains his one true love – death metal. "I feel strongly connected to Uruguay still," he reflects. "I wanted to write music related to that – the sun on the Uruguayan flag I transformed into the WHITE STONES logo; there are a lot of small things that connect the record to that place. "Kuarahy" is the native Uruguayan people's word for 'Sun'", Mendez comments.
"Kuarahy" was recorded at the Farm Of Sounds studios in Barcelona and produced by Martin Mendez himself, while Jamie Gomez at the Orgone Studios in the UK was responsible for mixing and mastering.
Links:
https://www.facebook.com/WhiteStonesOfficial/
https://twitter.com/White_Stones/
https://www.instagram.com/white_stones_official/
https://www.youtube.com/channel/UCESCoAM3OwnujOTFkOJZVaQ/
Source of Information: NUCLEAR BLAST Markus Wosgien
ME AND THAT MAN Releases Fourth New Single And Official Video "Męstwo
24. January 2020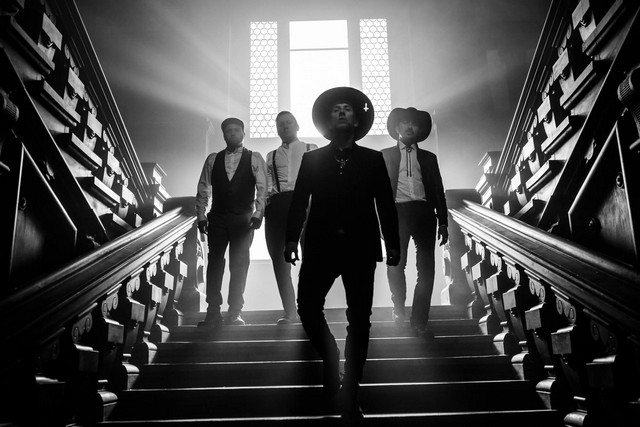 Bo nie ma dla mnie miejsca w niebie – Because there is no place for me in heaven
Nergal's inscrutable blackened blues project has revealed their fourth single "Męstwo" off their upcoming album, New Man, New Songs, Same Shit, Vol.1, to be released on March 27, 2020 via Napalm Records. The single is a fundamental part of the album and will take the listener on a sorrowful journey, showing the world that even the Devil himself is sometimes caught by feelings of self-doubt and melancholy.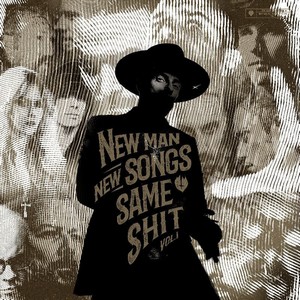 "Męstwo" is the first song that Nergal has ever performed completely in Polish, and will captivate each and every listener with its mournful and forlorn vibe. This single might be the most intimate one on this album, and it's the only song in which Nergal himself sings, making it even more special. A catchy rhythm, bluesy guitar and shuffling drums bewitch the listener on this standout song. The single is accompanied by a striking audiovisual that captures the essence of "Męstwo" perfectly. Watch it below!
Nergal on "Męstwo":
"When our drummer, Kuman first sent me the demo version of "Męstwo", I was immediately drawn to it – it's a simple song and simply written but totally honest and genuine. It's the only song on the record I sing on and it's exclusively Polish. "Męstwo" translates to manhood; in this world of judgement, prejudice and struggle, the message of the song is to remain on your own course, to stay motivated and follow your own intuition – this is what manhood represents to me."
Three years after their initial debut, ME AND THAT MAN has returned with an offering that is indeed different from the first, but in no way less brilliant. The mysterious collective has surpassed themselves with their bewitching new collection New Man, New Songs, Same Shit, Vol.1 – featuring ominous lyricism atop unfiltered blues, gothic-laced folk, outlaw country and Americana-influenced anthems. The enthralling album, set to be released on March 27, 2020, visits a completely new spectrum of dark desert vibes and sees notable heavy music icons such as Corey Taylor (Slipknot), Brent Hinds (Mastodon), Matt Heafy (Trivium), Ihsahn (Emperor) and Sivert Høyem (Madrugada) join the pact with the devil. New Man, New Songs, Same Shit, Vol.1 is a diversified, dynamic masterpiece that presents Nergal in a completely new light, providing a strong contrast to the heavier sounds of Behemoth. Evil has truly never sounded so good.
Previous singles:
Surrender: https://youtu.be/fr1954pwx6o
Burning Churches: https://youtu.be/Q3UzBSWL1Ow/
Run With The Devil: https://youtu.be/ZZyLaPbmdNE/
Links:
https://www.meandthatman.com/
https://www.facebook.com/meandthatman/
Source of Information: Napalm Records, Photo: Grzegorz-Gołębiowski, Cover: Bartek Rogalewicz
DELAIN Releases Hauntingly Beautiful New Track "Ghost House Heart"
24. January 2020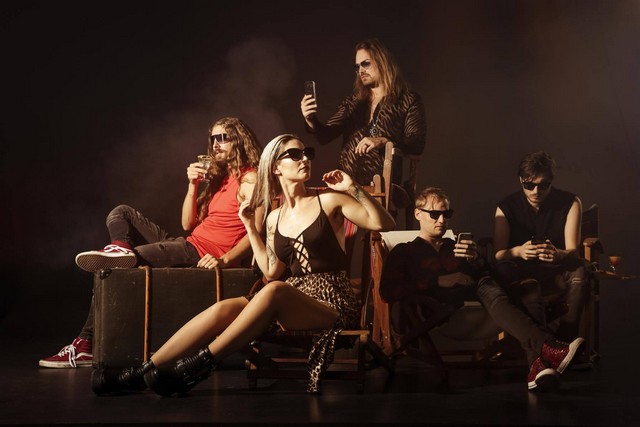 While fans eagerly await DELAIN's sixth full studio album, Apocalypse & Chill, scheduled for release on February 7, 2020, the band has generously offered a fourth single, "Ghost House Heart". The track showcases the delightful diversity of DELAIN's upcoming album – an offering that truly takes you on an amazing journey. In contrast to the bombast of "Masters of Destiny", the epic highs of "Burning Bridges" and the cool modern vibes of "One Second", DELAIN takes it back to raw essence with the hauntingly beautiful "Ghost House Heart", the first ballad to be released by DELAIN since "See Me In Shadows" from their debut album released in 2007.
Charlotte on "Ghost House Heart":
"Going back to such an intimate song after the bombast of "Masters of Destiny" and "Burning Bridges" feels a bit like switching gears, but I enjoy every minute of it. Singing this song is almost meditative, and I love the way voice, piano and violin weave together in the track. I hope our fans will love this change of pace as well, and I can't wait to perform this song live on stage during our upcoming UK tour, and our Valentine's Day release show in Utrecht."
Martijn on the creation of the new song:
"This song was created while spontaneously playing and singing together with Charlotte. It seemed to create itself. It's also a nice change of pace in relation to the other songs we have written for the new album. As a pianist, of course it is fun to play a piano song for a change. We worked with violinist Shir-Ran Yinon and I think the way the violin intertwines with the vocal lines is mesmerizing. The video was a lot fun to make and it was a beautiful set with a lot of history."
"Ghost House Heart" was filmed in the dead of winter at Woolton Hall in Liverpool, which was built in 1704 and left to decay for the last few decades. Woolton Hall's alleged haunted halls provided the perfect backdrop for "Ghost House Heart".
Musing feelings of loss, homesickness and hope, "Ghost House Heart" is sure to bury itself deep inside the heart of its listeners.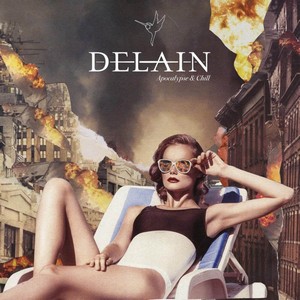 Tracklist:
One Second
We Had Everything
Chemical Redemption
Burning Bridges
Vengeance
To Live Is To Die
Let's Dance
Creatures
Ghost House Heart
Masters Of Destiny
Legions Of The Lost
The Greatest Escape
Combustion
DELAIN's newest full-length offering, Apocalypse & Chill, will hit the stores on February 7, 2020 via Napalm Records. The upcoming release explores topics of impending doom and human indifference, making this their boldest, most daring and undeniable offering yet.
Brutal riffs, synth-heavy soundscapes and fully orchestrated compositions with vocalist Charlotte Wessels' extraordinary vocal potency will enthrall the listener, while the new influences might surprise. Martijn Westerholt valorized the music and direction of the album not just as keyboard player but as producer. The broad soundscapes on Apocalypse & Chill range from anthemic rock to electronic metal and breaks all stereotypes, without losing the special DELAIN trademarked sound! Dance through the burning cities of ash with DELAIN!
DELAIN on Apocalypse & Chill:
"We think Apocalypse & Chill will surprise our listeners. It is heavy with new influences and we're really curious to find out how our audience will respond to that."
DELAIN surged into the music scene in 2006 with the release of their first album, Lucidity. Now, in 2019, the band around Martijn Westerholt and Charlotte Wessels has five successful releases – including the hit album Moonbathers which ranked in the Top 20 in the Netherlands, Germany and Switzerland, as well as Top 50 in the UK and Belgium – under their belts and continues to enchant fans the world over.
Having toured the world as headliners, as well as supporting artists for notable bands like Sabaton, Nightwish and Within Temptation, and having rocked festivals like Wacken Open Air and Download Festival, DELAIN have strongly carved their niche within the scene. Their single "Stardust" off of their chart-breaking album The Human Contradiction – with over 10 million views on YouTube and millions of streams on streaming platforms from all over the world – proves that theory, as well!
Previous singles:
Masters Of Destiny: https://youtu.be/nT14mlv92t4
Burning Bridges: https://youtu.be/OpJ1ma3I0Ag
One Second: https://youtu.be/ia-NxsV4XqU
Links:
https://www.facebook.com/delainmusic
https://www.delain.nl
Source of Information: Napalm Records, Foto: Tim Tronckoe
Georgia metal phenoms IRIST join Nuclear Blast
24. January 2020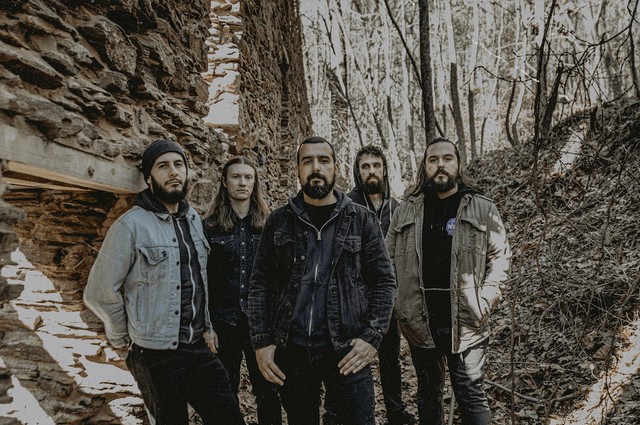 Georgia heavy metal powerhouse IRIST has joined Nuclear Blast and will release their debut, full-length album, "Order of the Mind", on March 27th. Today, the band has unveiled a monstrous new song titled 'Burning Sage', with an accompanying music video that can be viewed below: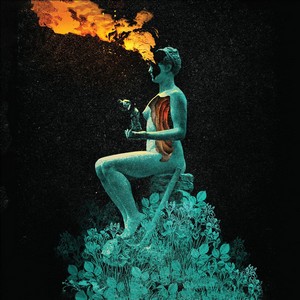 Watch the video for 'Burning Sage':

The framework for IRIST began in the summer of 2015 when South American born friends Pablo Davila (guitar) and Bruno Segovia (bass) conspired on a dream of finding success in music outside their native lands as iconic metal band Sepultura had done decades before.
After relocating from their homelands to Atlanta, the duo brought on Adam Mitchell (guitar) and Jason Belisha (drums) and began writing music. Their demos eventually made their way to Nuclear Blast executive Monte Conner who saw massive potential in the band. After the addition of vocalist Rodrigo Carvalho, the group's creative cohesion and songwriting improved immensely and after new demos were made, Conner inked a deal with them for Nuclear Blast and IRIST was officially born.
On "Order of the Mind", IRIST's skillful songwriting is jaw droppingly impressive, and although only together for a relatively short period of time, they sound years ahead of a "debut" record and more like a well-seasoned band in the prime of their career. While there are vestiges of the group's pan-South American heritage (from Andean music to SEPULTURA) throughout "Order of the Mind", the band's collective influences come from all parts of the heavy spectrum.
From THE MELIVS, RATOS DE PORAO and ALICE IN CHAINS to THE DILLINGER ESCAPE PLAN, SOUNDGARDEN, and CONVERGE, IRIST fold in, twist fervently, and scorch their faves until they're decidedly protean and uniquely a product of the fivesome's songwriting prowess.
In many respects, "Order of the Mind" is itinerant, introspective, portentous, indefatigable in its attack, but that's not all it is either. IRIST's angst-powered thrusts are distinctly advanced utilizing opposing forces, textures, and layers, so no single sonic model fits perfectly, as heard on the band's first single 'Burning Sage'.
"Order of the Mind" is full of waves of rhythms and emotions and no track echoes this more than 'Burning Sage'. It begins by catching you off guard with an intense and chaotic verse, coming in without warning. Then it breathes for a few seconds allowing a calm as a clean percussive break blasts itself into a straightforward pulsating chorus. Bruno Segovia attributes this sonic styling as being "what we thought made 'Burning Sage' the right song to introduce our sound." 
'Burning Sage' is accompanied by a music video directed by Mount Emult (PIXIES, DYING FETUS) who paints an intensely chaotic picture with a frenzied deluge of imagery on a canvas that synchs perfectly with the song's torrential soundscape.
"'Burning Sage's' frantic rhythmic patterns and ritualistic imagery made our choice to work with Mount Emult rather easy," says vocalist Rodrigo Carvalho. "We wanted to convey this song's dark atmosphere. Mount Emult's exciting collage work allowed us to do just that. 'Burning Sage' is about overcoming negative emotions – the process is represented as a ritual in which these emotions are purged. It made sense to use imagery that were a part of different cultures to illustrate how universal this theme is."
"Order of the Mind" was engineered, produced, and mixed by Lewis Johns at the Ranch Production House in Southampton, UK and mastered by Grammy Award-winning engineer Ted Jensen (METALLICA, MASTODON, DEFTONES) at Sterling Sound.
IRIST are:
Rodrigo Carvalho (vocals)
Adam Mitchell (guitar/vocals)
Pablo Davila (guitar)
Bruno Segovia (bass)
Jason Belisha (drums)
Links:
https://www.iristband.com/
https://www.facebook.com/Iristband/
https://www.instagram.com/iristband/
https://twitter.com/iristband
Source of Information: NUCLEAR BLAST Fabienne Zwicker