Epica release video for first single Abyss Of Time!
9. October 2020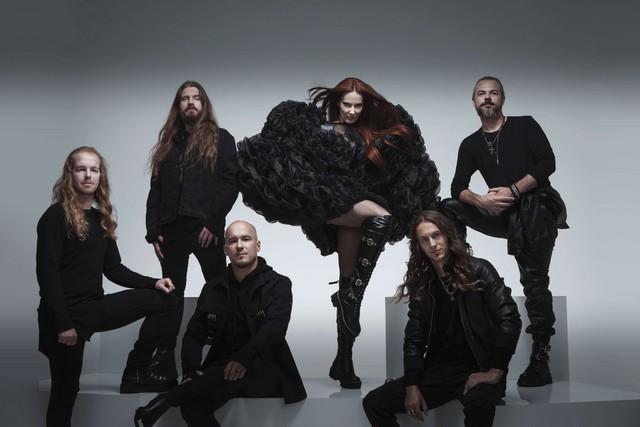 This day, Dutch Symphonic Metal Giants EPICA proudly announce the release of their new album "Omega", out on February 26th 2021 via Nuclear Blast. "Omega" is the bands first studio album in five years. EPICA have also released the first single from the album, titled 'Abyss Of Time', with an amazing accompanying video that was made in collaboration with Grupa 13.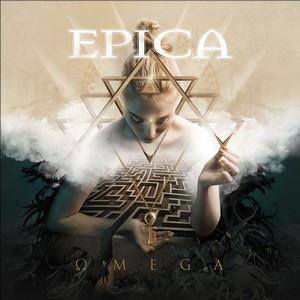 Tracklisit:
Alpha – Anteludium
Abyss Of Time – Countdown To Singularity
The Skeleton Key
Seal of Solomon
Gaia
Code Of Life
Freedom – The Wolves Within
Kingdom Of Heaven, Part 3 – The Antediluvian Universe
Rivers
Synergize – Manic Manifest
Twilight Reverie – The Hypnagogic State
Omega – Sovereign Of The Sun Spheres
Simone Simons comments: "Finally we can show you the video for our newest single 'Abyss Of Time'! We flew all the way to Poland to work with Grupa 13 for the first time. Shooting videos is one of my favorite parts of creating the visual side to our music. The costumes were insanely beautiful. It was so much fun and I hope that you like the video'.
The band also kick off the pre-order for "Omega", that will be available in the following formats:
– CD Jewelcase
– 2CD Digibook
– Earbook (48p Earbook incl. Bonus acoustic CD, orchestral CD & instrumental CD – limited to 3500)
– Vinyl-Box (incl. Earbook, PIC 2LP & hanger with Ankh symbol – limited to 1500)
– 2LP (various colors)
About the new album, Mark Jansen comments: "I am very proud of this album, as I am convinced we have written a very refreshing and well balanced album even after so many years of existence. Our strength is that we have many great songwriters in one band. We have managed to combine each other's strongest qualities and selected the best songs. It was a fruitful period of spending time together to work as one team on those tracks. I think this has made the biggest difference compared to our previous albums. Still using the advantages of comfortably sending files by the internet to each other but combining that with coming physically together again to work on all the tracks. I think I have listened to "Omega" about 50 times already and still can't get enough of it!"
Links:
http://www.epica.nl/
https://www.facebook.com/epica
Source of Information: NUCLEAR BLAST Markus Wosgien
Progressive-Rock, Alternative Metal Collective KHAIMA Shares Brand New, Trippy Video From Upcoming Album!

8. October 2020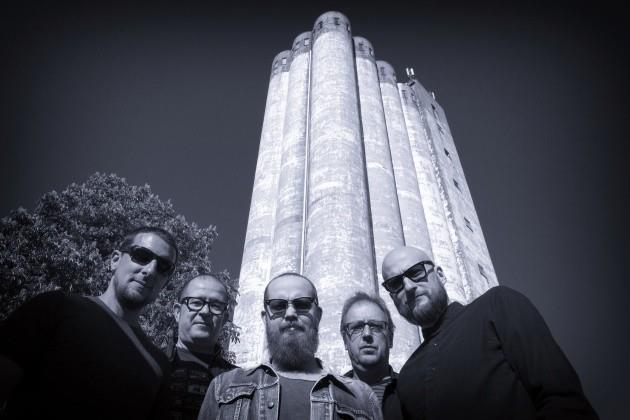 October 30th, 2020, will see progressive rock and alternative metal virtuosos, KHAIMA, release their upcoming, masterpiece debut album, "Owing To The Influence", on Barhill Records.
Following their self-titled 2016 debut EP, the German- based five-piece collective creates a dynamic, powerful yet beautiful sound landscape, influenced by various elements between progressive, alternative rock and modern metal styles. Their song structures do not follow classical or forced patterns, the oriental-like guitar arpeggios are enriched with spherical effects, thus forming the musical framework. Extroverted bass lines carry the rhythm and are not afraid of cross references to the Afro-American music of the 60s and 70s, while the drums fit perfectly into this sound bed by differentiated changes of odd meters and fragile hi-hat patterns. The synthesizer's effectively restrained soundscapes put it all together and open the view to the "big picture".
If you're into bands such as TOOL, MY SLEEPING KARMA or KING CRIMSON, then KHAIMA will be right up your alley. But find out yourself, as after they just recently premiered a first single to the mesmerizing track, Extrapolation, the band now follows up with a brand new, trippy video for "The Fox And The Grapes". Watch the clip right here: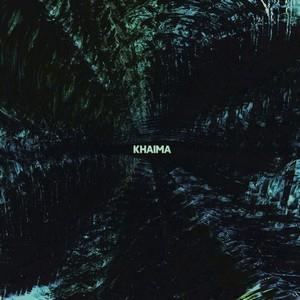 Tracklist:
Blowback
Partisanship
Assimilation
Parasomnia
The Fox And The Grapes
Le Hirak
Collidoscope
Extrapolation
Sulpiride
"Owing To The Influence", was recorded with producer Mike Balzer (member and producer of Flares) in Saarbrücken, Germany, and was mastered by Cult Of Luna's Magnus Lindberg (Refused, Dool, Russian Circles & many more).
"We count, simulate, histogram almost everything and relativize the results until the overall picture corresponds to our own imagination. Mainly for our own interests, we instrumentalize them in order to stand out and put ourselves in a better light, instead of confronting the core of the problem." The band explains the themes of their upcoming debut. "The symptoms are pushed to the fore and the cause is ignored. Populism, conspiracy theories, fake news, alternative facts – our reality unfortunately depends too often on the point of view of the observer."
Links:
https://www.khaima-music.com/
https://www.facebook.com/khaima/music/
https://www.instagram.com/khaima_music/
https://www.barhillrecords.de/
Source of Information: Mona Miluski/ALL NOIR; Foto: Jörg Karrenbauer
NANOWAR OF STEEL Reveals Music Video for New Single "Uranus" feat. Michael Starr (STEEL PANTHER)
8. October 2020
A top-notch offering of comedy metal that even the greatest gods in Valhalla would celebrate!
Kings of masterful heavy metal parodies NANOWAR OF STEEL bless the world with yet another spectacular music video for their new single "Uranus", featuring none other than glam icon Michael Starr of the legendary STEEL PANTHER! Showing off their incredible choreography skills in shiny space suits, NANOWAR OF STEEL dance their way straight into your heart – and Uranus!Michael Starr (STEEL PANTHER) says about the video for "Uranus":
"This video will make your penis bigger with one view. The more times you view it, the bigger your penis will get. You're welcome.
'Uranus' is a must watch video. It's the only way to have your first eye orgasms. A fun video with a great story line. If you don't like this song you must be deaf. If you don't like this video you must be blind."Gatto Panceri 666 of NANOWAR OF STEEL adds about the video for "Uranus":
"I know, this joke has been used and abused since 1781, from the very first day William Herschel discovered this planet. However, being a practicing astronomer and a professional idiot, I felt I had more right to use it as the subject of a song to be dignified with a Lady Gaga-level video (in all humbleness).
Perhaps it won't be the most original pun ever, but one thing we can tell you for sure: this joke turned out to be the most expensive one we've ever told so far!"
After gathering millions of clicks on YouTube and Spotify, Italy's finest up-and-coming comedy metal outfit NANOWAR OF STEEL celebrates the overwhelmingly successful release of their previously sold out 2018 album, Stairway To Valhalla, with an exclusive first ever re-issue on vinyl via Napalm Records on December 4, 2020, now available for pre-order!
The re-issued vinyl edition will be available in two different colors and comes along with a bonus CD as well as yet-unreleased fountains of fun, starting with party smashing "Uranus" featuring Michael Starr (STEEL PANTHER). On their forth full-length, the five-piece offers hits such as "The Call of Cthulhu" and "Barbie, Milf Princess of the Twilight" featuring Fabio Lione (Turilli/Lione Rhapsody). The Bonus CD also contains NANOWAR OF STEEL's smashers "Norwegian Reggaeton" and "Valhalleluja" amongst others!
Links:
https://www.nanowar.it/
https://www.facebook.com/nanowarofsteel/
Source of Information: Napalm Records
Melodic Death Metal act CIPHER SYSTEM signs to Noble Demon and announce new EP + new vocalist!
5. October 2020
Melodic Death Metal collective, CIPHER SYSTEM, has announced the signing with Noble Demon, who proudly welcomes the band to their eclectic artist roster! Formed in 1996, at a time when the famed Gothenburg sound of Death Metal was at its peak, the band from Sweden has grown into relentless and remorseless mechanical perfection, playing their very own unforgiving sound forged with fearsome skill and precision.
To celebrate the signing in glorious style and following their latest, critically acclaimed record – "Communicate the Storm" (Nuclear Blast / 2011) – CIPHER SYSTEM will release a brand new EP in early 2021 via Noble Demon (Digital) and Black Lion Records (Digipack CD). It will be the first release of the band introducing their new vocalist, no one else than Christian Älvestam of mighty Death Metalers Scar Symmetry, who will from now on join the band as a full time member.
"We tend to keep our fans waiting and longing for more after every release. And the number 8 seem to be a number of importance. From that the band formed it took us 8 years to release our first album "Central tunnel 8". Then it took us 8 years to release a follow up. Now here we are in 2020, 8 years after the release of "Communicate the Storms" with a new release. This time we teamed up with both Black Lion and Noble demon records for the release. We are very excited to have our Christian Älvestam onboard, and we hope you are too!" CIPHER SYSTEM comments.
Furthermore Christian Älvestam adds:
"When Henric and I started discussing the possibilities of me joining Cipher System, back in the summer, I'd already been a fan of their sound in general and their first album in particular, for a long time. In fact, I still pop 'Central Tunnel Eight' in the car every now and then. Brilliant stuff through and through. Having that said, it's an honor and a privilege to now be part of the next chapter of this excellent ambassador of Swedish melodic death metal."
More info about release date, artwork, tracklist, pre-order etc of the coming EP will follow very soon!
Links:
https://www.facebook.com/ciphersystem
https://www.instagram.com/ciphersystemofficial/
http://nobledemon.com
https://fb.me/nobledemonrecords
https://www.youtube.com/c/NobleDemon?sub_confirmation=1
Source of Information: Dominik Goncalves dos Reis/All Noir