New group of Max Cavalera 
29. January 2021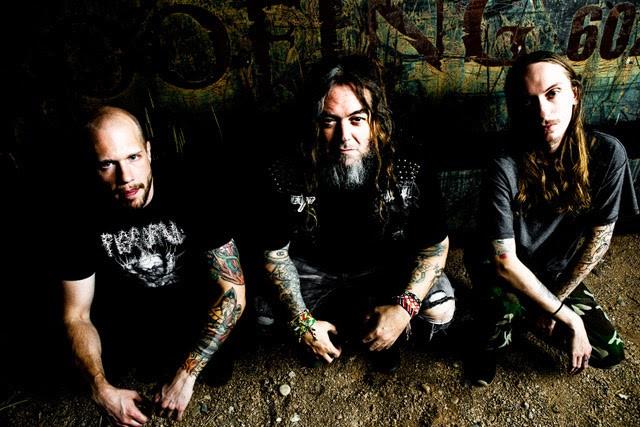 Nuclear Blast is proud to announce the signing of Arizona's GO AHEAD AND DIE. The band features vocalist and guitarist Max Cavalera joining forces with his son, singer, guitar and bass player, Igor Amadeus Cavalera as well as Zach Coleman on drums to produce a sound that mixes elements of Death and Thrash Metal with early CELTIC FROST influences and a punk rock attitude.
Max Cavalera comments, "One of a kind father/son collaboration bringing the old school with a new attitude! Sick riffs and abrasive lyrics from Igor and brutal drumming from Zach Coleman (BLACK CURSE, KHEMMIS) inspired me! Extreme times call for extreme music!"
Igor Amadeus Cavalera states, "We are beyond excited to sign with Nuclear Blast. They are definitely the right choice for this colossally heavy record. G.A.A.D. will deliver fast-paced, hate-fueled energy that hasn't been heard in years." 
Zach Coleman adds, "I could not be more excited to be a part of G.A.A.D. and to have the album come out on Nuclear Blast! I feel like we were able to capture (extreme) aggression with the record. It's a mix of old school (think '89 era metal/punk) style and newer sounds that reflect what's going on around us. Protest and Survive!"
Nuclear Blast comments. "For such a heavy, brutal, and pissed-off record; GO AHEAD AND DIE will leave any Metal fan with a smile on their face. With riffs the size of boulders and a genuine fuck off attitude that speaks about today's horrors, this album will without a doubt leave a mark in Metal and we are happy to be part of the journey."
Stay tuned for more information on the upcoming debut album.
Lineup:
Max Cavalera –  Guitar and Vocals
Igor Amadeus Cavalera – Bass, Guitar and Vocals
Zach Coleman – Drums
Source of Information: NUCLEAR BLAST – Leoni Dowidat, Photo: Jim Louvrau
ROB ZOMBIE – releases new single "The Eternal Struggles Of The Howling Man"
29. January 2021
 ROB ZOMBIE releases his second single "The Eternal Struggles Of The Howling Man" off of The Lunar Injection Kool Aid Eclipse Conspiracy, to be released March 12th, 2021 via Nuclear Blast.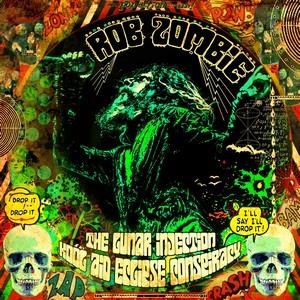 Tracklist:
Expanding the Head of Zed
The Triumph of King Freak (A Crypt of Preservation and Superstition)
The Ballad of Sleazy Rider
Hovering Over the Dull Earth
Shadow of the Cemetery Man
A Brief Static Hum and Then the Radio Blared
18th Century Cannibals, Excitable Morlocks and a One-Way Ticket On the Ghost Train
The Eternal Struggles of the Howling Man
The Much Talked of Metamorphosis
The Satanic Rites of Blacula
Shower of Stones
Shake Your Ass-Smoke Your Grass
Boom-Boom-Boom
What You Gonna Do with That Gun Mama
Get Loose
The Serenity of Witches
Crow Killer Blues
Watch the new music video:
The LP is ROB ZOMBIE's seventh studio album and marks his first new album in nearly five years. The Lunar Injection Kool Aid Eclipse Conspiracy is a classic Zombie album to its core with high-energy rages like "The Eternal Struggles of the Howling Man" and "Get Loose" to heavy-groove thumpers like "Shadow Of The Cemetery Man" and "Shake Your Ass-Smoke Your Grass." The new album is produced by ZEUSS
CRITICAL PRAISE FOR LEAD SINGLE "THE TRIUMPH OF KING FREAK"
"A ferocious blast." – Rolling Stone
"Magnet to the weird and wild." – Revolver
"Shock-rock mastermind." – Alt Press
"Industrialized thunder." – Stereogum
"Just the bit of monster movie-style fun we need right now." – Consequence of Sound
"So good it'll make you forget every sh*tty thing about 2020" – Louder
As a rock icon and filmmaker with a unique vision, ROB ZOMBIE has continuously challenged audiences as he stretches the boundaries of both music and film. ROB ZOMBIE is a 7-time Grammy nominee, has sold fifteen million albums worldwide to date, and is the only artist to experience unprecedented success in both music and film as the writer/director of eight feature films with a worldwide gross totaling more than $150 million. His re-imagining of John Carpenter's Halloween in 2007 debuted at #1 and still holds a Box Office record for Labor Day Weekend.
The first single:
The Triumph of King Freak (A Crypt of Preservation and Superstition): https://youtu.be/0WULTU6zl2E
Links:
https://robzombie.com
https://instagram.com/robzombieofficial
https://twitter.com/RobZombie
https://facebook.com/RobZombie
https://youtube.com/user/robzombie
Source of Information: NUCLEAR BLAST Leoni Dowidat
Battle Beast re-sign to Nuclear Blast!
25. January 2021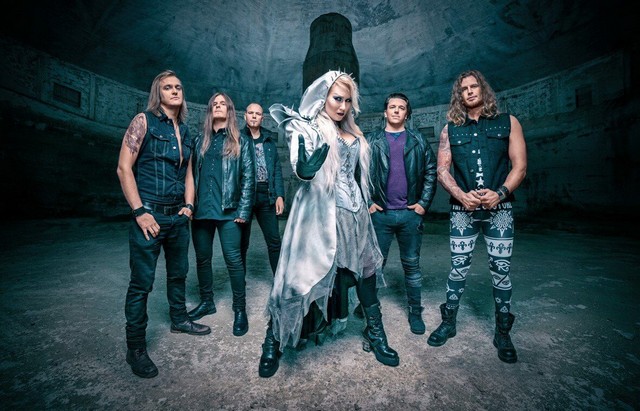 BATTLE BEAST and NUCLEAR BLAST have renewed the bond of their sucessful partnership: The Finnish heavy metal sextet re-signed to the metal global player!
Eero Sipilä, bassist of BATTLE BEAST states: "We are thrilled to announce our continued co-operation with the metal titans Nuclear Blast records. With 200+ million plays on the various streaming services and high chartings around the world there's absolutely no questioning the fruit our long partnership has borne. The work for the next Battle Beast opus is well under way, and we can't wait to hit the stages around the world once this disease has blown over!
Here's to many more great years to come! Cheers!"
Marcus Hammer, Managing Director NUCLEAR BLAST Europe, comments: "I am very happy and proud that we were able to extend the partnership with Battle Beast and can continue this success story! As we can see there are still Hollywood Endings to some stories. We are stoked to open together the next chapter for this remarkable career."
Since their 2011's debut album "Steel", the band achieved over 200 million streams on digital streaming platforms. Alongside the huge #1 success of their last three albums in the album charts of their home country, Finland, the last album "Hollywood Endings" (2019) reached a remarkable #11 in German album charts.
After conquering Europe on several tours and all major festivals, BATTLE BEAST first toured North America in 2017, supporting Sabaton.
The band also inked a deal with Artist Group International (METALLICA, GHOST, SABATON) for their North American booking and their European joint venture partner K2 for the European booking (excluding Finland).
Links:
http://www.battlebeast.fi/
https://www.facebook.com/battlebeastofficial/?fref=ts
http://twitter.com/battlebeast
http://instagram.com/battlebeastband
https://www.youtube.com/battlebeastband
Source of Information: NUCLEAR BLAST Leoni Dowidat, Photo: Jarmo Katila
SILVER LAKE – solo project of Esa Holopainen (AMORPHIS) to sign with Nuclear Blast!
25. January 2021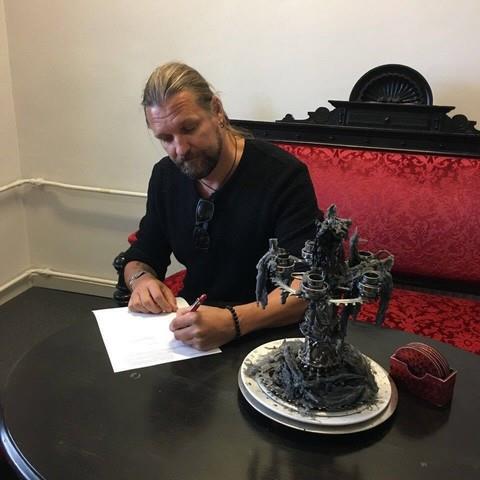 Nuclear Blast proudly announce the signing of the solo project of AMORPHIS guitarist Esa Holopainen, SILVER LAKE. Esa Holopainen made good use of his time in 2020 and fulfilled an old dream of his by recording his first solo album at the Sonic Pump studios.
"As some of you might have noticed, I've been working on my first solo album. Well actually, I'd rather call this a project which I'm leading as it includes different musicians and vocalists that I've had great privilege to meet during these years. I've had this idea in the back of my head for years and now that Covid-19 hit hard on all of us, it was time to be creative and start this project.

The project is titled SILVER LAKE by Esa Holopainen and I am really happy to announce that SILVER LAKE is now signed to Nuclear Blast, which was a very obvious choice as NB is also AMORPHIS' record label and I know all the label-personnel super well. Another natural move is that Grey Beard Concerts & Management is managing my solo stuff as well. I look forward to revealing more news about the artists who are collaborating with me in SILVER LAKE", comments Esa Holopainen.
Markus Staiger, Owner and CEO of Nuclear Blast Tonträger Produktion und Vertriebs GmbH adds: "An old friendship of almost three decades, that goes back to the very beginnings of AMORPHIS, connects me to Esa Holopainen. Back then we just licenced the band from Relapse for the European market. Esa Holopainen is a remarkable guitarist, whos innovative way of playing is super recognizable. You can hear it right away if he's involved and it was just natural for us, to work together in releasing his solo album. I was so surprised of how diverse the final product sounded and how Esa keeps revealing hidden sides of his music. The fact that many friends worked on the album as guests just makes this fantastic record complete and I'm convinced that not only fans of AMORPHIS will love it. I want to thank Esa for his loyalty and this truly beautiful jewel of an album."
More infos about the upcoming SILVER LAKE album will follow soon, so stay tuned!
Links:
https://www.facebook.com/SilverLakeEH
https://www.instagram.com/silver_lake_eh/
https://twitter.com/Silver_Lake_EH
Source of Information: Nuclear Blast – Markus Wosgien