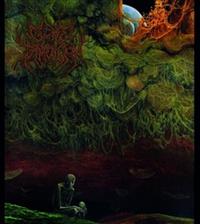 V našich končinách zatiaľ neznáma turecká banda Gore Dimension, ktorá vyplávala z hlbín metalového podsvetia v oblasti Istanbul / Ankara, nahrala debut Ethereal Realm. Tridsaťšesť minútový album nadväzuje na prvotný singel Crypts Of Obscurity spred dvoch rokov. Odvtedy sa datuje aj vznik kapely.
,Éterickú ríšu' otvára temne zlovestné intro a končí nemenej desivé outro. ,Krvavý rozmer' sa snaží vyťažiť maximum zo všetkých možných rytmov a postupov. Vokál je absolútne neľudský a perfektne dopĺňa technicky prepracovaný brutal death metal.
Ich hudba vás má varovať pred nekonečným procesom vyhladenia ľudskej rasy, ktorému sami napomáhajú. Skúsení muzikanti, ktorí prešli množstvom kapiel, uznávajú svoje nemilosrdné korene v old schoolových temnotách minulosti death metalu a grindu. Riffy a zvuk plnia ústa hltajúcich bohov vnútornosťami šialených detí.
Na albume nájdete aj sample z kultového filmu Heavy Metal. Aj vďaka tomu sa javí táto abnormálna groteska ako prirodzená a jej ,obyvatelia' žijú v čisto vražednej spoločnosti, kde jediným platidlom je smrť a kde každý prehráva.
Ich texty vám predstavia novú tvár smrti a psychického mučenia jednotlivca. Debut navyše zdobí vynikajúci artwork. Táto kapela si určite zaslúži viac pozornosti, pretože je to celkom príjemná nočná mora.
Lineup:
Yunus Efe – spev
Ateş Baran Tüzün – gitary
Emre Bingöl – basa
Eren Gürsoy – bicie
Tracklist:
Intro
Summoning for the Endless Obliteration
Roots of Unmerciful
Reborn from Abstract
I Savor Like Entrails of Mad Children
Fraudulent Memoriam
Drawned and Suffocated
Agateophobia
Devouring the Gods
Outro
Rok vydania: 2021
Vydavateľstvo: Samovydanie
Youtube ukážka:
Linky:
https://www.facebook.com/goredimension/
https://goredimension.bandcamp.com/
https://www.instagram.com/goredimension/
Hodnotenie: 5/6