Symphonic Metal Masters EDENBRIDGE Premiere New Song, "The Road To Shangri-La" + Lyric Video Of Upcoming Album!
20. May 2022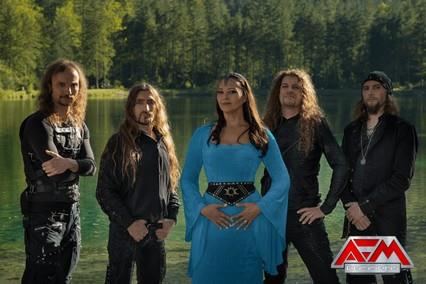 August 26, 2022, will see Austrian symphonic metal force, EDENBRIDGE, release their eleventh studio album, Shangri-La, on AFM Records.
With its nine epic, new tracks, Shangri-La takes the dedicated EDENBRIDGE listener on a musical ride into the realms of finest symphonic metal.
Their forthcoming album not only unleashes a sophisticated range of compositions along with an intoxicating and bombastic sound atmosphere EDENBRIDGE are known and loved for, but the band created their most diverse record to date.
Despite constantly high quality standards and as the new offering proves, EDENBRIDGE continually expands their musical expression from album to album without abandoning their trademarks. This time, the band has created a fine balance between emotionally magical moments, an ever-present mystical atmosphere and heavy, fast-paced riffage.
Tracklist:
Disc 1
At First Light
The Call of Eden
Hall of Shame
Savage Land
Somewhere Else but Here
Freedom Is a Roof Made of Stars
Arcadia (The Great Escape)
The Road to Shangri-La
The Bonding (Part 2) [The Bonding Overture; Alpha and Omega; The Eleventh Hour; Round and Round; The Timeless Now – Finale]
Disc 2
At First Light (instrumental)
The Call of Eden (instrumental)
Hall of Shame (instrumental)
Savage Land (instrumental)
Somewhere Else but Here (instrumental)
Freedom Is a Roof Made of Stars (instrumental)
Arcadia (The Great Escape) (instrumental)
The Road to Shangri-La (instrumental)
The Bonding (Part 2) [The Bonding Overture; Alpha and Omega; The Eleventh Hour; Round and Round; The Timeless Now – Finale]
Watch the new EDENBRIDGE video for 'The Road To Shangri-La' here:
Following the first, previously released single 'Somewhere Else But Here', today EDENBRIDGE have shared a new song taken of Shangri-La!
Vocalist Sabine Edelsbacher about 'The Road To Shangri-La': 
"Destruction and separation, or healing and conjointness. The compass shows the confusion, but the closely guarded mysteries in the treasure chest can be found by everybody any time. It is our decision." 
Formed in 1998, EDENBRIDE belongs to one of the most style-defining bands of their genre, spearheading its domain since their pathbreaking debut album "Sunrise in Eden" (2000).
Their forthcoming magnum opus, Shangri-La, was recorded at the Farpoint Station Studio, mixed by Karl Groom and was produced by Lanvall himself. "Instead of going on a European tour in spring 2020, it was a matter of flipping on our creative switch and channelling those intense energies into a transformative song writing process for the new album," he says.
The cover art was created by United Arab Emirates artist, Muhammad K. Nazia, and features a pictorial representation of Shangri-La embodied as a synonym for paradise. The term was first mentioned in the novel "Lost Horizon" by James Hilton. It is described as a mystical place where people live in peace and harmony.
However, the story itself is based on the ancient Far Eastern legend of "Shambala" depicted in long-preserved Buddhist scriptures. The legend depicts a paradise that is to become accessible again only when humankind is ready for it and only when a few have the spiritual maturity to understand and preserve the teachings.
Sabine reveals: 
"For me, 'Shangri-La' is a wellspring of wisdom, a deeply secluded spiritual centre and a realm of retreat that casts a magical allure over we humans. And there is a reason why it is so meaningfully said: 'You do not enter paradise with your feet, but with your heart'."
The first single:
Somewhere Else But Here: https://www.youtube.com/watch?v=d4pdqRBQYIE
Links:
https://www.edenbridge.org/
https://www.facebook.com/EdenbridgeOfficial/
https://www.instagram.com/edenbridgeofficial/
https://www.afm-records.de/
Source of Information: Mona Miluski – All Noir
MSG – Michael Schenker Group "Universal" – Atomic Fire – May 27, 2022
20. May 2022
There are few rock guitarists on this planet who have had such a lasting influence on so many renowned musicians as Michael Schenker.
With his outstandingly fluid style, inexhaustible wealth of ideas and instinctive feel for hooks and melodies, Michael Schenker is a living legend who, despite his longstanding and distinguished history, still impresses with his unflagging energy and drive.
The blond axeman from Sarstedt began his international career in the early 1970s with the Scorpions, achieved worldwide fame after joining British rock group U.F.O. and then seamlessly continued his exceptional global success story under his own name, as well as with acts such as Michael Schenker Group (MSG for short), Temple Of Rock and Michael Schenker Fest. Schenker and his career, which has spanned more than fifty years, are absolute exceptions in the otherwise short-lived music industry.
Now his latest MSG album is about to be unleashed, scheduled for release on Atomic Fire Records on 27 May 2022 under the all-encompassing moniker of Universal.
His latest offering will feature all the strengths of this exceptional musician: first-rate songs with anthemic melodies, catchy guitar riffs and inspiring solos.
As we have come to expect from him, Schenker has once again enlisted a number of prestigious fellow musicians for the recording of his new studio production, among them, as main vocalist, Ronnie Romero (Rainbow, Vandenberg), who will also be MSG's frontman on their upcoming tour, Michael Kiske (Helloween) and Ralf Scheepers (Primal Fear), drummers Simon Phillips (Toto, The Who), Brian Tichy (Whitesnake, Foreigner), Bobby Rondinelli (Rainbow) and Bodo Schopf (Eloy), as well as legendary bassists Bob Daisley (Black Sabbath), Barry Sparks (Malmsteen, Dokken) and Barend Courbois (Blind Guardian, Zakk Wylde), with Tom Carey as a very special guest. But more about that later.
First, let's talk about the basic parameters of the new recording
Like its predecessor Immortal (2019) and the Michael Schenker Fest albums Resurrection (2018) and Revelation (2019), Universal was produced by Michael Schenker and Michael Voss (Lessmann/Voss, Mad Max) at Voss's Kidroom Studio, which has become something of a creative home-away-from-home for Schenker.
"Michael Voss is happy to wait until I have worked out an idea and takes the time to really get to know the song, simultaneously developing ideas for the vocals," Schenker describes the fruitful collaboration which has one cog intermesh with the other.
"Then we work out the drums, bass and some keyboard parts together. He always has plenty of great ideas up his sleeve."
Compositional highlights abound on Universal, from the haunting opener 'Emergency' and the subsequent 'Under Attack' with its casually driving groove to 'The Universe', featuring an atmospheric duet by Ronnie Romero and Gary Barden, 'Wrecking Ball', performed as brilliantly as ever by Ralf Scheepers, and 'London Calling' with its homage to the British capital's musical spirit.
The rock anthem 'A King Has Gone' and its intro 'Calling Baal' both have a special significance
The track, sung by Helloween frontman Michael Kiske, is a tribute to the immortal Ronnie James Dio, in particular to his performance on the 1976 hard rock classic Rainbow Rising.
For this reason, Schenker has brought together an original Rainbow rhythm section consisting of Bobby Rondinelli and Bob Daisley, additionally enlisting keyboardist Tony Carey, who also played on Rainbow Rising, for a terrific Moog synth intro – a direct reference to the iconic intro of the 1976 album opener 'Tarot Woman'.
The impressive result 'Calling Baal'/'A King Has Gone' is already considered to be one of the most important and successful songs in Schenker's career to date, both musically and lyrically.
In line with all these highlights, the spectacular album cover designed by Zsofia Dankova (Powerwolf, among others) features Schenker in a futuristic spaceship, floating high up in orbit. The artwork is based on the guitarist's own visions:
"I had the original idea for the album cover a few years ago, but only now does it seem to fit perfectly. So I sent some older sketches to my label Atomic Fire Records, and based on this the final artwork and album title were created."
No doubt about it: The title, artwork and new songs suit MSG as perfectly as his characteristic Flying V suits Michael Schenker!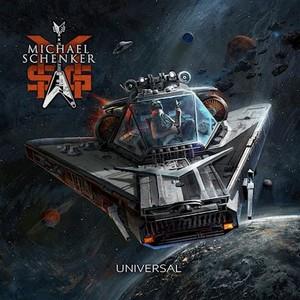 Tracklist:
Emergency
Under Attack
Calling Baal
A King Has Gone
The Universe
Long Long Road
Wrecking Ball
Yesterday Is Dead
London Calling
Sad Is The Song
Au Revoir
Turn Off The World (Bonus Track)
Fighter (Bonus Track)
Teaser:

Links:
https://www.facebook.com/MichaelSchenkerRocks
https://www.instagram.com/michaelschenkerrocks/
https://music.apple.com/us/artist/the-michael-schenker-group/543268
Source of Information: Birgit Wolters – Atomic Fire Records
ORDEN OGAN Releases New Single Version Of "It Is Over", featuring ANY GIVEN DAY Vocalist Dennis Diehl!
19. May 2022
Following their latest studio album Final Days (2021, AFM Records), that hit a phenomenal #3 in the German Album Charts, power metal masters ORDEN OGAN have released a brand new single version of "It Is Over"! As a very special surprise, the song is featuring ANY GIVEN DAY vocalist Dennis Diehl!
Says ORDEN OGAN frontman Sebastian "Seeb" Levermann:
"ORDEN OGAN is said to be one of the 'modern' power metal bands. "If you take away Seeb's clean vocals and the choirs, some of the riffs sound very hard, some parts could even be metalcore" is a sentence that we heard quite often in one way or another. We were wondering, what an ORDEN OGAN track would sound like with a "modern metalcore shouter". One of the best representatives of this species lives right around the corner with Dennis Diehl from Any Given Day, so it made sense to try this experiment.
Any Given Day have rightfully built a huge fan base over the last few years, and Dennis is a phenomenal singer. We are very happy that he was up for it. It's really interesting how different the track sounds with his vocals. Check it out yourself!
 Listen to the blistering, new version of "It Is Over", and watch a music video clip featuring Dennis Diehl on guest vocals right here:
The original song version with Seeb is featured on ORDEN OGAN's much acclaimed, latest magnum opus, Final Days, that has been released in March 2021 via AFM Records.
The album, once again produced by the extraordinary vocalist himself, turned into a real smasher and proves: the Germans are among the best songwriters in heavy metal! Final Days combines finesse with huge riffs, clever arrangements with great melodies and even after the umpteenth spin you still discover something new.
Links:
http://www.ordenogan.de/
https://www.facebook.com/ORDENOGAN/?fref=ts
https://www.instagram.com/ordenoganofficial/
Source of Information: Mona Miluski – ALL NOIR
Ukrainian Metal Unit SPACE OF VARIATIONS Reveals New Single "IMAGO" + Mesmerizing Music Video
18. May 2022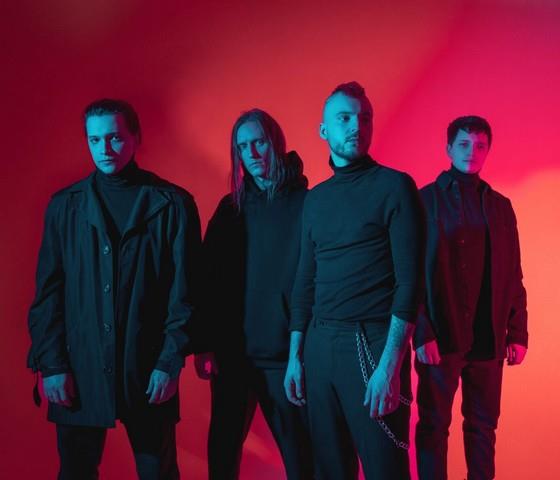 Ukranian metalcore force SPACE OF VARIATIONS is unstoppable – while living through the horrors of war in their home country, the band still manages to express themselves through their creative, emotional and hard-hitting music and videos. Today, SPACE OF VARIATIONS reveals a new, mesmerizing music video for the powerful album title track "IMAGO"!
SPACE OF VARIATIONS have also announced that the album release of IMAGO is being delayed once more to September 23, 2022, given the current circumstances.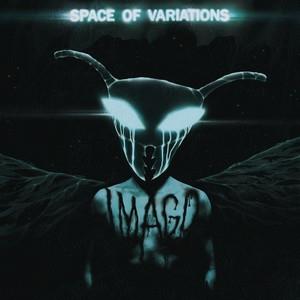 Tracklist:
SOMEONE ELSE
vein
NON-HUMAN CLUB 2.0
DNA molecule in a million of dimensions
Slaughterhouse (ぬ死)
OUTER SPACE
1M followers (feat. Denis Stoff)
OCEAN OF MADNESS
FACE TO FACE
IMAGO
Brahmastra
serial killer
ULTRABEAT (feat. alyona alyona)
ellipsis…
SPACE OF VARIATIONS about the release of IMAGO:
"Hello world! The war in our country has changed everything. New reality is ruthless. Although it's hard, we keep trying to be SOV – the band you've always known. Therefore, as much as it's possible, we'll be seeking balance in this chaos and sharing what we created before this terrible war began."
The band has also announced the launch of their Patreon, which gives fans a chance to support SPACE OF VARIATIONS directly. Watch SPACE OF VARIATIONS's statement and support them through their Patreon here:
The first single:
Someone Else: https://youtu.be/o0x8mMRuDfo
Links:
https://spaceofvariations.bandcamp.com/
https://www.facebook.com/SpaceOfVariations/
Source of Information: Napalm Records, Photo: Arina Kasatkina