Twilight Force release first single '

Twilight

 

Force

'
11. November 2022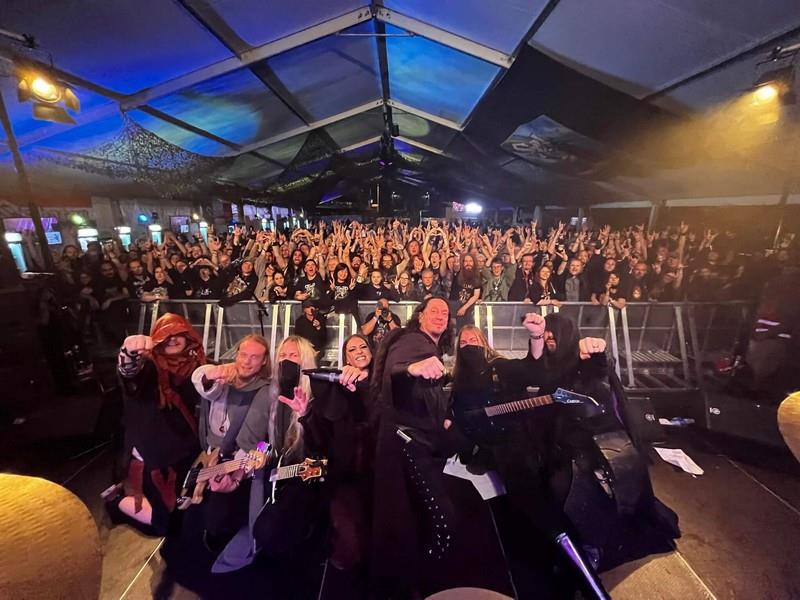 The new opus of Swedish adventure metallers TWILIGHT FORCE, At the Heart of Wintervale, will see the light of day on January 20, 2023 through Nuclear Blast.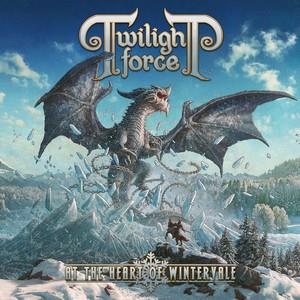 Tracklist:
Twilight Force
At the Heart of Wintervale
Dragonborn
Highlands of the Elder Dragon
Skyknights of Aldaria
A Familiar Memory
Sunlight Knight
The Last Crystal Bearer
This day, the band has unveiled the first epic tale off the much anticipated album. The first single 'Twilight Force' comes along with an official lyric video allowing you to dive word by word into the new adventure of TWILIGHT FORCE. The visual portrayal of this song is created by Tullius Heuer.
TWILIGHT FORCE comments:
"Rejoice and Revel!! We are extraordinarily elated and proud to finally share the first track and single from our fourth opus: 'Twilight Force'.

Our self-titled track is the tale of the Six Crystal Bearers and their quest for the glory of the Seven Kingdoms. The six heroes, as foretold by the Book of Time, are the protectors of the realms and the saviours who shall lead the Twilight Kingdoms into eternal prosperity and triumph. So come, follow the Crystal Bearer's journey throughout this swift and classic piece, where the sounds and sights of old and new are fused into one sparkling concoction of extraordinary adventures! Join us, partake in the adventure once again, and May the Power of the Dragon Guide You!"
Links:
https://www.facebook.com/twilightforce/
https://www.instagram.com/twilight_force/
https://www.youtube.com/channel/UCCC2vosEc_9UsSLkE36T3yA
Source of Information: NUCLEAR BLAST – Kosmas Kokotas
EPICA – release music 

video

 feat. Charlotte Wessels & Myrkur
11. November 2022
This day, symphonic metal titans EPICA finally unleash "The Alchemy Project", a unique collaboration featuring 13 bands and musicians who co-wrote and performed the 7 new tracks with them.
For this special occasion, EPICA present another true gem from the release, in form of a music video for a hauntingly dark track with a majestic chorus: 'Sirens – Of Blood And Water' was co-written and performed with melodic metal queen Charlotte Wessels and folk/black metal pioneer Myrkur, and together with Simone Simons, these 3 leading ladies of heavy music form the most spectacular trinity of this autumn.
"Charlotte and I go back many years, but we never really worked on music together. Since she started releasing her solo songs, I became an admirer of her work and reached out to her to create a song for 'The Alchemy Project'." Simone Simons remembers. "That collaboration resulted in the beautiful haunting song, 'Sirens – Of Blood And Water'. We both have a fascination for mermaids, the fairytale from H.C. Andersen and wanted to write a song from the perspective of the sisters of the little mermaid. I loved how our creative minds flowed into the song and having Myrkur, who happens to be Danish just like the author of the story, add her unique voice to the song was the perfect match that we needed to complete the story."
If this ain't the best possible way to conclude their 20 Year Anniversary Celebrations, then we don't know what it is. Get lured into the deep waters and watch 'Sirens – Of Blood And Water' directed by Patric Ullaeus (rEvolver.se), here:
Links:
http://www.epica.nl/
https://www.facebook.com/epica
https://www.instagram.com/epicaofficial/
https://www.youtube.com/user/epica/
Source of Information: Anne – Atomic Fire Records
URIAH HEEP ANNOUNCE RELEASE OF 25TH STUDIO ALBUM
8. November 2022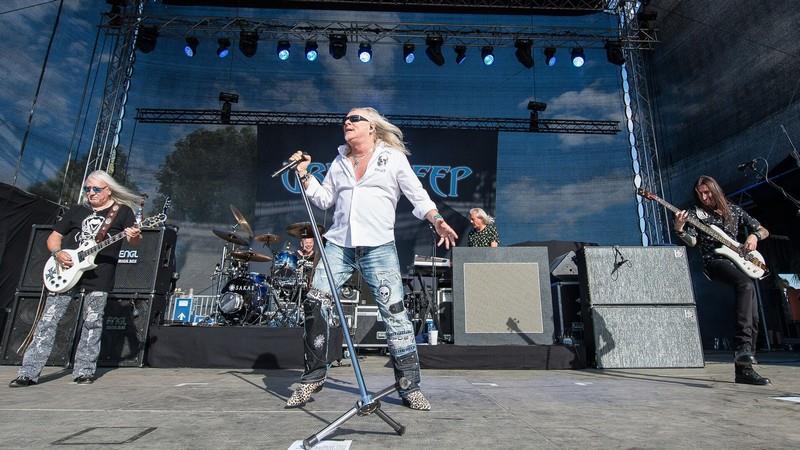 British hard rock legends and progenators Uriah Heep announce the release of their 25th studio album, Chaos & Colour, set for release January 27th, 2023 via Silver Lining Music
Tracklist:
Save Me Tonight
Silver Sunlight
Hail the Sunrise
Age of Changes*
Hurricane
One Nation, One Sun
Golden Light
You'll Never Be Alone
Fly Like an Eagle
Freedom to Be Free
Closer to Your Dreams*
Save Me Tonight (Demo)
Watch the video and listen to the first single, the buoyant and blistering "Save Me Tonight", (video by Natalia Jonderko Śmiechowicz).
"Save Me Tonight" is another powerful melodic rock track which we have chosen to be the first single as well as the opening track of the album," says Mick Box, Uriah Heep's venerable and effervescent founding member, "it is made for rock radio and will surely be included on our new set list in 2023."
"Save Me Tonight comes from a place of frustration and helplessness" adds co-writer and bass player Rimmer, "living through these unprecedented past couple of years but hanging on to this raging hope that we would all meet again! Once again, collaborating with Jeff Scott Soto has been a natural and very creative experience and the perfect platform for me to express these feelings and to carry on the Heep legacy."
Chaos & Colour is an album which bristles with explosive classic rock guitars, supreme harmonies, and Heep's famously generous keyboard foundation. It is, unsurprisingly, an album that found its extra thrust during the COVID-19 pandemic, which was as bizarre for Uriah Heep as it was for humanity in general.
"The album title reflects that we were in chaotic times with being locked down, tours being cancelled, businesses folding, and all the chaos that was thrown into the world," explains Box, "and as far as I could see it, the only colour people had was through music. It helped so many people get through those difficult years, using that strength and power which music has, to make those bad times not quite so bad."
There were still the looming spectre of protocols and rules to follow in the middle of 2021, as the world tried to find its feet. Heep slowly found their way into Chapel Studios in London during the summer of 2021 as restrictions were tentatively lifted, working once again with Jay Ruston (Anthrax, Corey Taylor, Black Star Riders).
"Jay was completely on board with what we are trying to achieve in the studio," says Box. "We're a band that has a fantastic heritage and to carry on that tradition it was vitally important that the band recorded in the studio all playing at the same time. Jay understood that and he pulled out the best of us as a band, as well as individual players, while getting us some amazing sounds."
Led by Box, it is no surprise that themes of light, love and, ultimately, positivity are constant through the album eleven tracks. "One Nation, One Sun" is a journey of soaring balladic contemplation, "Fly Like An Eagle" takes the listener on a journey of meditation, whilst "Closer To Your Dreams" is a battle cry for all rockers to get out there and do it, with Shaw imploring that "So many have tried but slipped away/Now it's time for you to have your say." During the entire album, Bernie Shaw's timeless vocals sit expertly beside the band's phenomenal artistry (Mick Box – guitar, Phil Lanzon – keyboard, Russell Gilbrook – drums, Dave Rimmer – bass), rounding out exceptional performances throughout.
Produced by Jay Ruston, and engineered by Pieter Rietkerk, Chaos & Colour is a superb album of quality hard rock from the pioneers of the genre who continue to create top class material. Old fans will be reinvigorated whilst new fans will surely find Chaos & Colour an exceptional discovery.
Following the intense disruption to live music caused by the pandemic, the band are ecstatic to be back on the road and continue to bring their live show across Europe this winter. For a full list of confirmed dates, tickets, and additional information visit this this location
Links
http://www.uriah-heep.com/newa/index.php
https://www.facebook.com/uriahheepofficial/
https://www.instagram.com/uriahheepofficial/
Source of Information: Hadlee Wolfram, Photo: Stefan Brending, Creative Commons by-sa-3.0 de, Wikimedia
NANOWAR OF STEEL Reveal Brand New Single "Armpits Of Immortals" Featuring Ross The Boss (ex Manowar)
10. November 2022
NANOWAR OF STEEL have proven themselves to be the masters of comedic and parody-infused metal! After numerous shows this year at Europe's biggest festivals like Hellfest and Summer Breeze, the legendary Italian parody metallers successfully close the festival season with their brand-new single "Armpits Of Immortals", out now via Napalm Records!
Once again, the band presents comedic writing as they describe the pleasant smell of armpits being lifted to the air. Joining the quintet is former Manowar guitarist Ross "The Boss" Friedman, playing some amazing riffs.
The heavy metal hymn, "Armpits Of Immortals", will shake you to the core with energetic riffs and powerful chants. NANOWAR OF STEEL give audiences a really good time and the festival season is already sorely missed by the band and their fans alike. The video, produced by Valerio Fea and Beaver Prod, catches the incredible feeling of rocking out with the Italian band.
NANOWAR OF STEEL on "Armpits Of Immortals":
"This song is a celebration of the coming back of the festival season, not because we like to play live but because we like smelling other people's strong body odor!"
Links:
https://www.nanowar.it/
https://www.facebook.com/nanowarofsteel/
https://www.instagram.com/nanowarofsteel/
Source of Information: Napalm Records